Interviews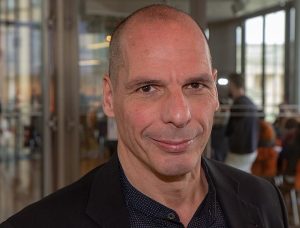 Yanis Varoufakis talks to Ceasefire's Laura Siegler about building a transnational movement to tackle climate change, the ongoing crisis of capitalism, and his return to Greek politics.
Hamja Ahsan talks to artist Navine G. Khan-Dossos, whose latest exhibition, 'There Is No Alternative', examines the UK government's controversial pre-crime and surveillance policies, notably the Prevent programme.

A year ago this week, Salah Hamouri, a well-known French-Palestinian human rights activist was arrested in a pre-dawn raid by Israeli soldiers at his home in occupied East Jerusalem. He has been in indefinite detention ever since. Sawsan Bastawy speaks to his wife, Elsa Lefort, about her anger at the French government's indifference and her steadfast optimism for the future.

To mark World Press Freedom Day, Amnesty International's Stefan Simanowitz spoke to Peter Greste and Mohamed Fahmy, detained for 400 days in Egypt for their journalism, and Sue Turton who led the #FreeAJStaff campaign for their release.

After a long hiatus, one of the UK's most celebrated political artists, Lowkey, has returned with new music and a UK tour. His forthcoming video, "Lords of War", deals with the issue of drone warfare and the arms trade. He talks to Tom Barns about foreign policy, austerity and militarism.

Ceasefire's Usayd Younis and Cassie Quarless spoke to Director Kirby Dick at the UK premiere of his latest release ,'The Hunting Ground,' which addresses the growing pandemic of sexual assaults across US college campuses in recent years.

Ceasefire's Usayd Younis and Cassie Quarless talk to acclaimed director Stanley Nelson, whose new documentary film, 'Black Panthers: Vanguard of the Revolution', received its European première at the The Sheffield International Documentary Festival last month.

Bridget Anderson, Professor of Migration at the University of Oxford, speaks to Ceasefire's Luke De Noronha about Europe's response to the Mediterranean crisis and how borders are 'a dystopian project whose enforcement exposes the horrific violence of the state.'

Roger Bromley talks to journalist and author Gary Younge, one of our foremost commentators on race, identity and politics.

As he embarks on a two-month tour of the US, Australian comic Aamer Rahman talks to Myriam Francois-Cerrah about race, politics and being surprised by his own success.