New in Ceasefire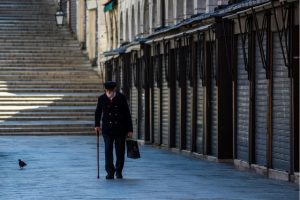 Protecting the health of the public must remain the top priority of states tackling COVID-19, but emergency measures cannot ignore the economic realities and pressures facing the poor and vulnerable.
Last week, Harvey Weinstein and Roman Polanski faced different, though not totally dissimilar, public consequences for their long histories of sexual violence against women. These are significant victories for #MeToo, but the fightback must go on, Jennifer Izaakson writes.

Last week's shocking defeat is a national tragedy. We now need a Labour Party that is the sum of its parts, rather than a party in which one faction defeats the other, writes Matt Carr.

As it prepares to fight again, the British Labour left should not make the same errors committed by its centrist adversaries, argues James A. Smith.

The poems in 'Galaxy Walk', Shareefa Energy's debut collection, come together to form a picture of a woman whose writing has offered her a way to live in a traumatic and complicated world, writes Rachel Seoighe in her review.

In 2018, more than 700 homeless people died on the streets of Britain. As temperatures plummet, an initiative offering warm clothing to the homeless and rough-sleepers is launched this week in the UK. One of the organisers, Stefan Simanowitz, reports.

The failure of much of the British media, and the BBC in particular, to understand, or at least acknowledge, their role in the spreading of fake news, is potentially disastrous for our political future, writes Paul Bernal.

By focusing on personalities at the cost of structural issues, 'Official Secrets' ignores too much of the ideological and structural paradigms behind the Iraq War, writes Georgie Carr.

Zaynab Kahina reports from a historic "Stop Islamophobia" demonstration in France, the biggest anti-racism march the country has seen in almost 40 years.

'Palestine +100', a landmark collection of science fiction short stories, offers a fresh and compelling portraits of the Palestinian experience, writes Asim Qureshi.