New in Ceasefire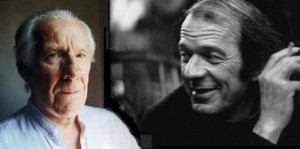 In the tenth and final instalment of his series on the French thinker, Andrew Robinson compares and contrasts Badiou's work with one of Robinson's favourite theorists, and Badiou's béte noire: Gilles Deleuze.
This week evidence has emerged of a LibDem parliamentary candidate sexually assaulting a lap dancer. The indifference of the culprit, his party, and the political class at large to this behaviour epitomises the establishment's toxic attitude towards women and sexual abuse, argues Jennifer Izaakson.

In our latest 'Radar Reports' column, correspondents from On Our Radar's Nigeria network report on a historical moment in their country's history.

While pundits and journalists have rushed to paint the current Saudi-led intervention in Yemen through a sectarian lens, the geopolitical dimensions of the conflict are far more significant, argues Dilly Hussain.

The recent mob murder of a young woman in Afghanistan is the latest in a long series of similar crimes, from the UK to India. Global media coverage, however, routinely occludes the key context to these cases: extreme male violence perpetrated against women. We must change that, argues Jumanah Younis.

In addition to his influential role in contemporary philosophy, Alain Badiou​ is also a political activist. In the penultimate essay of his series on the French thinker's ideas, Andrew Robinson summarises Badiou's work with the Organisation Politique in the context of a wider critique of his political theories.

As he embarks on a two-month tour of the US, Australian comic Aamer Rahman talks to Myriam Francois-Cerrah about race, politics and being surprised by his own success.

A court case against Lutfur Rahman, Britain's first elected Muslim Mayor, concluded last week, with a verdict expected in early April. A defeat for Rahman would represent a huge blow against a genuine proponent of progressive change and a victory for the forces of reaction and anti-Muslim bigotry, argues Jennifer Izaakson.

While recent years have seen a renewed interest in anarchistic thought and theory, it is refreshing and exciting to see a new volume bringing an explicitly anarchist lens to bear on English literature, argues Tom Malleson in his review of 'Unmaking Merlin: Anarchist Tendencies in English Literature' by Elliot Murphy.

The public mob lynching last week of a young Afghan woman has sent shockwaves across the country and beyond. This horrendous crime should be a wake-up call for all Afghans, writes Saeeq Shajjan from Kabul.