New in Ceasefire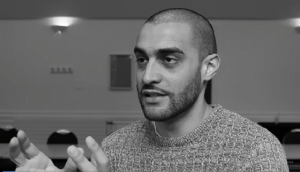 After a long hiatus, one of the UK's most celebrated political artists, Lowkey, has returned with new music and a UK tour. His forthcoming video, "Lords of War", deals with the issue of drone warfare and the arms trade. He talks to Tom Barns about foreign policy, austerity and militarism.
New measures introduced by EU states, notably Italy, are focusing on reducing the numbers of people crossing the Mediterranean rather than on saving lives. Sabrina Tucci reports.

Asim Qureshi reviews Samantha Silva's new novel, 'Mr Dickens and his Carol', and wonders how Dickens would have felt were he to see Grenfell's mass grave of the impoverished and downtrodden, standing as an edifice to our indifference.

If the left is to have the same degree of success in translating online cultures into political movements, then it needs to understand both the online world and its own history. Kill All Normies helps with neither of those things, and is unlikely to win support beyond those already convinced of its central, conservative, thesis, writes Josh Davies.

This week, activists from all over the UK have come to London to stop military equipment from getting into the setup of DSEI, one of the world's biggest arms fairs. We will unite and mobilise as many people as possible against DSEI's message of perpetual-war and military escalation, writes Andrew Smith of Campaign Against Arms Trade.

As another round of Brexit negotiations disintegrates, we need to ask questions about the mental maps UK representatives bring to the negotiations and decide whether they are fit for purpose, writes Paul Walsh.

In the final essay in our three-part #StopDSEI series, Paul Cudenec reports on the toxic politics at the heart of DSEI, the world's largest arms fair, and the protest action set to greet it in London's Docklands next week, with opponents aiming to physically to stop it being set up.

In the second essay in our three-part #StopDSEI series, Safa Al-Shamy gives her perspective on the motivations for the Saudi attack on her country, Yemen, the humanitarian crisis it has caused, and the UK's role in supporting it.

In the first essay in our three-part #StopDSEI series, Tom Anderson reviews the roots of the crisis in Yemen, where the civilian population has been enduring a brutal bombing campaign by a Saudi-led coalition, supported by the UK, since 2015.

In the last of his seven-part series on the radical dramatist Augusto Boal, Andrew Robinson looks at the Rainbow of Desire, a set of techniques designed to deal with internalised oppression. Robinson surveys Boal's continuing influence, and the thorny question of whether theatrical challenges to oppression are always emancipatory.
More Ideas
More In Politics
More In Features
More In Profiles
More In Arts & Culture