New in Ceasefire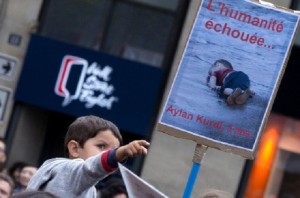 In his latest column, Roger Bromley examines the evolution of Western responses, by governments, the media and the public, to the refugee question in the wake of pivotal turning points such as the drowning of Aylan Kurdi and the Paris attacks.
The UK visit this week by Narendra Modi, the Prime Minister of India, has met with outrage and condemnation among human rights groups. While Modi promotes India as an industrial Hi-Tech hub abroad, he has allowed mob rule and impunity to reign at home, argues Aisha Maniar.

In the last essay of his three-part series on the medieval philosopher, Andrew Robinson examines the political thought of Thomas Aquinas, notably his ideas on the state, the limits of state power, and the uses and abuses of the idea of the common good.

Yesterday, the London premiere of the film 'Sufragette' was disrupted by a red carpet direct action led by protesters from activist collective Sisters Uncut. They explain why their action was both appropriate and necessary.

On his visit to Jamaica this week, instead of addressing widening calls for historical reparations, David Cameron announced plans for a UK-funded prison on the island to transfer Jamaican offenders from the UK. Luke de Noronha examines the wider context.

This summer's Labour Leadership race, which culminated in Jeremy Corbyn's election two weeks ago, offers valuable lessons on the power of mass movements, argues Frank Barat.

Ceasefire's Usayd Younis and Cassie Quarless spoke to Director Kirby Dick at the UK premiere of his latest release ,'The Hunting Ground,' which addresses the growing pandemic of sexual assaults across US college campuses in recent years.

Why was a planned exhibition of cartoons of the prophet Mohammed - scheduled to take place in London on 18 September and featuring far-right Dutch politician Geert Wilders – cancelled two weeks ago? Hilary Aked investigates for Ceasefire.

In the second of his three-part series on the medieval philosopher, Andrew Robinson examines Thomas Aquinas's ethical theory, and the virtues and principles it promotes. He also explores Aquinas's critique of usury, and its usefulness to an anti-capitalist critique of capital accumulation.

Social Anthropologist Dr Alice Wilson reviews Settled Wanderers: the poetry of Western Sahara, by Sam Berkson and Mohamed Sulaiman, a recent volume of poems written from within or about the liberation movement from Western Sahara.
More Ideas
More In Politics
More In Features
More In Profiles
More In Arts & Culture