New in Ceasefire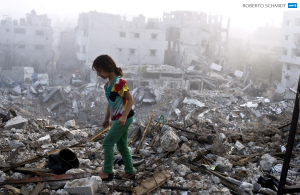 Israel's proposed annexation of parts of the West Bank is a grave violation and injustice against the people of Palestine. The UK's rhetorical objections are not enough, there must be an end to UK arms sales to Israel and the message of political and military support that they send, writes Andrew Smith.
"Why is nobody asking us, the Palestinians, what we think?" Author and playwright Ahmed Masoud offers his perspective on the Maxine Peake controversy.

At a moment when demands for police and prison abolition have travelled from the radical fringes into mainstream prominence, the radical social transformation that we seek requires nothing less than the abolition of the category of 'terrorism' altogether and the dismantling of the global counter-terrorism infrastructure, writes Eda Seyhan.

"A guide and a balm, a meditation on the politics of survival and an appeal to extend our arms towards each other". Chav Solidarity, by D. Hunter, is a book that must be read, writes Ayesha Manazir Siddiqi.

Self-described white allies must stop indulging in facile, exploitative narratives surrounding the BLM protests, writes Jamie Ranger.

If the global War on Terror has taught us anything, it is that it is very easy to write badly about Muslims, particularly in the context of conflict. Darryl Li's 'The Universal Enemy' stands as a salutary antidote to so much that passes for scholarship on the subject, writes Asim Qureshi in his review.

The killing on May 30th of Eyad Hallaq, an autistic Palestinian young man in Jerusalem, by Israeli police, has elicited enormous sympathy and outrage. It also provides a stark reminder that racist state violence remains a daily reality for Palestinians, Yousef Al-Helou reports.

Global lockdown is finally giving way to a period of economic crash and social unrest. Yet the state response to the outpouring of justified anger at police atrocities is remarkably similar to its response to the coronavirus pandemic. In the second of his series on lockdown theories, Andy McLaverty-Robinson looks at securitisation, notably the long history of shifting framings of healthcare and the creeping securitisation of social problems.

We are governed by pathological liars, buffoons, and brutish aristocrats, yet they keep getting away with it. Just what will it take to make the truth count and hold them accountable? Asks Sita Balani.

Matt Hancock and Boris Johnson are trying to persuade us that it's our civic duty to take part in their Covid-19 'test and track' programme. But their approach - based on secrecy, exceptionalism and deception - means our civic duty may well be to resist the programme actively, argues Paul Bernal.