Politics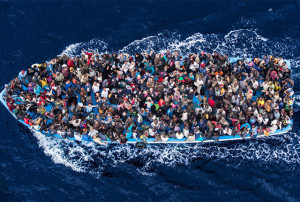 Bridget Anderson, Professor of Migration at the University of Oxford, speaks to Ceasefire's Luke De Noronha about Europe's response to the Mediterranean crisis and how borders are 'a dystopian project whose enforcement exposes the horrific violence of the state.'
The Labour Party's decision to field as one of its General Election candidates a member and supporter of a political dynasty with an atrocious record of human rights violations in Bangladesh is a scandal.

This week evidence has emerged of a LibDem parliamentary candidate sexually assaulting a lap dancer. The indifference of the culprit, his party, and the political class at large to this behaviour epitomises the establishment's toxic attitude towards women and sexual abuse, argues Jennifer Izaakson.

While pundits and journalists have rushed to paint the current Saudi-led intervention in Yemen through a sectarian lens, the geopolitical dimensions of the conflict are far more significant, argues Dilly Hussain.

A court case against Lutfur Rahman, Britain's first elected Muslim Mayor, concluded last week, with a verdict expected in early April. A defeat for Rahman would represent a huge blow against a genuine proponent of progressive change and a victory for the forces of reaction and anti-Muslim bigotry, argues Jennifer Izaakson.

The public mob lynching last week of a young Afghan woman has sent shockwaves across the country and beyond. This horrendous crime should be a wake-up call for all Afghans, writes Saeeq Shajjan from Kabul.

The #BlackLivesMatter campaign highlights the necessity for a global movement of solidarity against racially-motivated state violence.

Attacks by the media and political establishment on campaigning charity Cage over its statements on Mohammed Emwazi are wrong-headed and obscure the real debate we need to be having, argues Yvonne Ridley.

Western media reactions to the murder of three Muslim-Americans earlier this week have, once again, reflected and highlighted deep-rooted and systemic issues in mainstream representations of Muslims in the West, argues Ali M Latifi.

Amrit Wilson examines Narendra Modi's record in power in the six months since the BJP's electoral victory in May.
More Ideas
More In Politics
More In Features
More In Profiles
More In Arts & Culture