Politics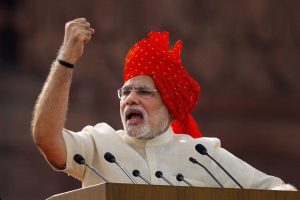 India's ongoing crackdown in Kashmir should alert the world to the fascistic, tyrannical impulses driving Narendra Modi and his BJP movement, writes Katy Sian.
This week's mass shootings in El Paso and Dayton, Ohio, have added another dismal chapter to America's seemingly unstoppable litany of mass gun homicides. For the first time in American history, a generation of white supremacists and white nationalists are taking active inspiration from the man who occupies the White House, writes Matt Carr.

On Saturday, Bahrain executed two political prisoners, Ali Al-Arab and Ahmed Al-Malali, amidst worldwide condemnation by politicians and human rights campaigners. The complicit silence of the UK government shows Britain has no respect for human rights, write Sam Walton and Eman Hashim.

As the Tory leadership race enters its final phase, one word unlikely to be invoked by either Boris Johnson or Jeremy Hunt is Yemen. This comes in spite — or rather because — of the disastrous role both men have played in exacerbating the worst humanitarian crisis in the world.

It now seems almost certain that the Tory Party will make Boris Johnson the next UK Prime Minister. Narcissistic, opportunistic, incompetent, shallow, devoid of loyalty or decency, he has wanted the Big Job for a long time, and has said and done everything to get it.

Gavin Williamson's reckless comments highlight the need for the UK to move away from its history of military interventionism and peddling arms to despots and embrace a more positive role in the world, writes Andrew Smith.

Last week, a homeless man was found dead yards away from the Houses of Parliament, the latest victim of Britain's homelessness crisis. Sam Asumadu reflects on the roots and lessons of a national scandal.

For decades, successive UK governments have fuelled, armed and enabled a terrible regime to continue its authoritarian rule over Saudi Arabia. It shouldn't take the disappearance and death of a journalist for UK politicians to realise this must end, writes Andrew Smith.

Two months ago, Abdi Ali, a 17-year-old Londoner, was found murdered a few miles from his home. He had been missing for eight months. Ahead of a fundraiser in his memory tomorrow, Sam Asumadu asks why his story has received so little attention or coverage.

I have been on a hunger strike for almost two months to save my father's life and shed light on the suffering of all those who, like him, are paying the price for believing in democratic values in Bahrain, writes Ali Mushaima.
More Ideas
More In Politics
More In Features
More In Profiles
More In Arts & Culture