Ceasefire Bites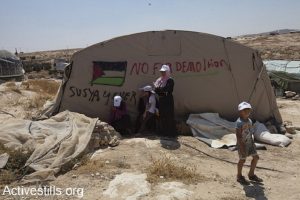 Two weeks ago, Israel announced a plan to demolish 20 buildings in the West Bank village of Susiya, a fifth of the village. Today, the villagers were handed a document and map showing almost half their village is set to be demolished. If enacted, this demolition will constitute a violation of the most basic human rights of the people of Susiya as well as their most basic humanitarian needs for shelter.
Shocking new evidence has emerged of GCHQ's attempts to avoid independent scrutiny of its deeply intrusive surveillance activities. Once again, it has embarrassed itself publicly in trying to avoid public embarrassment, writes Privacy International's Millie Graham Wood.

Following legal action by HOPE not hate, right-wing politician Nigel Farage has withdrawn claims that Britain's largest anti-racism organisation pursued "violent and undemocratic means".

In light of newspaper layoffs and in the interests of continued professional education, we at Ceasefire are proud to continue our free online advisory course for journalists. This week's topic: how do you report violent death?

Alan Dershowitz's latest attempt to bring his usual "proportionality" to a farcical New York Times "debate" on extra-judicial killings leaves Peter Warren unimpressed.

A recent quote attributed to Noam Chomsky, on Israel's current assault on Gaza, has been widely circulated over the past few days. Except that it is neither recent nor (entirely) by Chomsky.

Amid the whirlwind of allegations and denials over the past few days and weeks, Terence Elliott-Cooper looks at the recent cases of overt racism in football, and the options available to those who are serious about kicking it out.

An exceptionally moving and informative film, 'Extradition', directed by Turab Shah, tells the tale of Babar Ahmed and Talha Ahsan who have been kept in prison without trial, and face extradition to the US, a country they have never set foot in.

Amna Khan reports on the discriminatory interrogation she faced at the hands of immigration officials at Tel Aviv's Ben Gurion Airport and argues that, although her treatment might sound all too familiar to some, it should not be allowed to become normalised.

Today the UK's leading black newspaper, The Voice, announced that they have been denied access to the Olympic Stadium for the London 2012 Games. While happy to exploit the sporting achievements of black athletes, the British Olympic Association are now literally unwilling to give black people a voice, argues Samantha Asumadu.