Theatre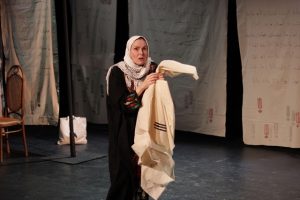 In the Shroud Maker, Palestinian playwright Ahmed Masoud brings a welcome dose of gallows humour to the most tragic of canvasses, writes Christa Blackmon.
The recent National Theatre production of Brian Friel's 'Translations' is a remarkable take on the central — and perennially relevant — questions of place, belonging and dislocation, argues Ananya Wilson-Bhattacharya in her review.

The new production of 'My Name is Rachel Corrie' offers not only compelling theatre but a searingly humane portrait of an extraordinary life, writes Hicham Yezza.

Richard Pilgrim reviews a new production of a great classic of German pre-war theatre, Bertolt Brecht's 'The Threepenny Opera'.

'My Judy Garland Life', the new play by acclaimed writer Amanda Whittington, brilliantly combines glitzy escapism with thought-provoking drama on the vagaries of ambition and fame, argues Richard Pilgrim.

The Royal Court's new play 'Hero' is billed as an intricate and provocative take on modern attitudes to sexuality. Samuel A. crown, who didn't agree, explains why he left during the interval.

Next week sees the UK premiere of Unto the Breach, an adaptation of Shakespeare's Henry V by Al Zayotuna, Europe's most renowned Palestinian theatre and dance company. Ahmed Masoud and Souraya Qabbani explore the parallels and paradoxes behind the production.

Sheyma Buali reviews the world premiere of a boisterous Tunisian take on Shakespeare's tale of the corruption of power, where the eponymous tyrant and his wife are reincarnated as Leïla and Zine Ben Ali.

Part of the 'Globe to Globe' programme of 37 plays in 37 languages, the SSTC's Cymbeline is heavy with historical and political parallels. Ceasefire's Derek Oakley is impressed.

A Soviet-nostalgia revival seems to be under way, with John Hodge's new play 'The Collaborators' and the Royal Academy's new exhibition on Soviet Art and Architecture. Musab Younis, Ceasefire's deputy editor, reviews.