Exhibition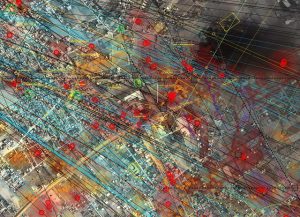 From Gaza to Grenfell, Forensic Architecture's latest exhibition, Cloud Studies, documents the perpetration of, and resistance to, slow violence as it is enacted by states and corporations, writes Esther Kaner in her review.
Rachida Lamri reviews the 'Pop Art From North Africa' exhibition, currently running at the P21 gallery in London. Walking among the engagingly parodic displays feels like a stroll into the psyches not of individual artists but of collective identities and narratives, she writes.

Rachel Seoighe reviews this year's DIY Cultures festival, held at the Rich Mix centre in London, and its accompanying exhibition, titled 'DIY Justice', which closes on Friday.

In early May, students at Cooper Union - one of the last tuition-free colleges in the US - occupied the offices of CU president Jamshed Bharucha in protest at the proposed introduction of tuition fees next year. For the past two weeks, their reclaimed territory has been open for a landmark exhibition.

Ceasefire's Cordelia Lynn reviews the just-opened Damien Hirst retrospective at Tate Modern.

Janine DeFeo reviews Lisson Gallery's recently concluded major retrospective of video and new works by Spanish artist Santiago Sierra.

Decolonizing Architecture/Art Residency (DAAR,) are an art and architecture collective based in Palestine, whose work critically examines the role played by architecture in the occupation of the Palestinian territories. Tom Bennett visited 'Common Assembly' their current exhibition at Nottingham Contemporary.

Ceasefire's Janine DeFeo reviews an exhibition of Basque artist Asier Mendizabal's work at the Raven Row gallery in London, his largest exhibition outside Spain to date.

The Jewish Museum in New York is currently exhibiting images by the 'Photo League', a group of photographers whose socio-political work was blacklisted in Cold War America. Janine DeFeo, Ceasefire's art critic, explores the exhibition.

A Soviet-nostalgia revival seems to be under way, with John Hodge's new play 'The Collaborators' and the Royal Academy's new exhibition on Soviet Art and Architecture. Musab Younis, Ceasefire's deputy editor, reviews.