Interview | Elsa Lefort: "The fate of my husband, Salah Hamouri, does not matter to our leaders"
A year ago this week, Salah Hamouri, a well-known French-Palestinian human rights activist was arrested in a pre-dawn raid by Israeli soldiers at his home in occupied East Jerusalem. He has been in indefinite detention ever since. Sawsan Bastawy speaks to his wife, Elsa Lefort, about her anger at the French government's indifference and her steadfast optimism for the future.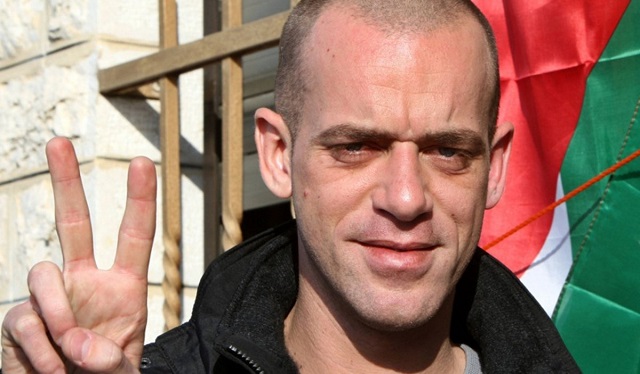 In the absence of her husband — the French-Palestinian political prisoner Salah Hamouri— Elsa Lefort has cultivated an optimism that is striking given the circumstances in which they are now forced to live.
"I think that what is most painful for Salah is not being able to see his child grow up or hug him, and not knowing when he will be reunited with his family," says Lefort, who has herself been banned from entering Israel since 2016 — when she was six-months pregnant. "Nonetheless, we must keep our spirits up and continue the fight."
Hamouri, a well-known human rights defender, lawyer and field researcher with Addameer, a human rights organisation, was arrested in a pre-dawn raid on their home in occupied East Jerusalem on August 23, 2017. Israeli soldiers shook down the entire building in search of Hamouri. When they found him, they bound his hands and feet together, blindfolded him, and forced him into a military vehicle. Just three days earlier, he had passed the Palestinian Bar exam.
Hamouri has since been held by Israel under an administrative detention order, a practice in which detainees are held indefinitely without charge or trial on the basis of secret evidence which neither the detainee nor their lawyer can see.
In the occupied West Bank, where only the Palestinian population are subjected to Israeli military law, Israeli Military Order 1651 permits administrative detention orders for up to six months. These orders can be renewed repeatedly. One June 30th, Jerusalem District Court renewed Hamouri's administrative detention order for an additional four months.
"It was exasperating for us to hear this news," recounts Lefort. "We're used to this sort of behavior on the part of the Israeli authorities but the French diplomatic corps, without giving us any explicit signs, did not seem at all alarmed."
The Israeli military detention system is notorious for the systematic torture and ill-treatment of Palestinian prisoners, including children, of which 500-700 are detained and prosecuted in Israeli military courts each year. The prison in which Hamouri is incarcerated, for example, treats all viruses with paracetamol.
In light of this, it seems extraordinary that Lefort is so resolutely hopeful. It is, in part, a hope borne of a sense of obligation to Palestinian political prisoners. "Those of us who are free owe it to them," she tells me.
Israel has a long history of detaining Palestinian legislators, civil society organisations, lawyers, journalists, artists and activists. Addameer reports that Israel is holding 5,820 Palestinian political prisoners. Feminist legislator and former Director of Addameer Khalida Jarrar is among them. Like Hamouri, Jarrar has been held for a year without charge or trial. Her administrative detention order was extended by an Israeli military court for four months on June 16.
"Salah, and all Palestinians with prior sentences in the occupier's prisons, live with the sword of Damocles hanging over their heads every day. They know that arbitrariness can knock on their door at any time, landing them in jail yet again, and this will continue until Israel is sanctioned."
The French government has been characteristically toothless. Lobbying efforts by Lefort and French campaigners reached French President Emmanuel Macron, who has twice called on the Israeli Prime Minister, Benjamin Netanyahu, to release Hamouri. In response, Israel punitively transferred Hamouri on December 31 to Megiddo Prison, where a detainee was tortured to death in 2013, and extended his administrative detention order twice.
"In other words," explains Lefort, "the Israeli authorities' only response to French diplomacy has been 'we continue our mistreatment of your citizen.'"
This is not the first time Hamouri has been at the mercy of the French government's indolence. As a student, Hamouri was wrongly convicted by an Israeli military court of attempting to assassinate a Rabbi, and of membership in the Popular Front for the Liberation of Palestine (PFLP.) The first time a French minister spoke in Hamouri's defence was five and a half years into his sentence, just six months before he was released.
"I am angry that the French diplomatic corps has suffered the humiliation of a French citizen for ten months and somehow remains unconcerned," says Lefort. "Given that they claim publicly not to know why Salah is incarcerated, and furthermore, that they denounce the arbitrary nature of his detention, it is inconceivable, ten months later, that they have made no progress."
While Hamouri awaits his freedom, "Saison France-Israel", a six-month cultural exchange programme inaugurated on June 5th by Macron (with Netanyahu in attendance), is in full swing.
"These events are truly problematic as they ignore the suffering of the Palestinian people and Israeli colonial policy," says Lefort. "France is behaving extremely generously toward Israel, especially with six months of whitewashing Israel's image, yet regarding its request for the release of its citizen it receives nothing in return."
2018 marks 70 years since the creation of Israel. Between 1947 and 1949, Zionist paramilitary forces ethnically cleansed and destroyed over 500 Palestinian villages, towns and cities, displacing 750,000 Palestinians. Today, these refugees number around 7 million people, all of whom are denied their right to return by the Israeli government. Palestinians call this process the Nakba, or catastrophe.
Israel continues to use lethal violence against Palestinian civilians, including children, medics, and journalists; routinely demolishes Palestinian homes and villages; colonises Palestinian land through unlawful settlement building; and imposes racist apartheid policies and practices upon Palestinians.
"When does the President really intend to bang his fists on the table? As far as I'm concerned, Salah is being treated as a second-class citizen, and his fate does not matter to our leaders."
Another considerable obstacle to freeing Hamouri, according to Lefort, is the lack of fair coverage by the French media. While Hamouri's case has received coverage "from day one" in the left-wing media, mainstream media outlets have been conspicuously quiet.
"The general public has absolutely no idea that a French-Palestinian has been imprisoned by Israel without cause for the past ten months. Many journalists have expressed that they would like to talk about Salah or what is happening in Palestine, but they self-censor for fear of reprisals or their editors veto any coverage."
And what of the media coverage of Israel's detention of French citizen Romain Franck? Franck, a French citizen and chauffeur at the Consulate General of France in Jerusalem is accused of using the Consulate car to smuggle arms between Gaza and the West Bank. His arrest was covered widely by the French mainstream media, and he received consular visits from French diplomats as well as the French Ambassador.
"I do not question the treatment he received. What I do question is the difference in treatment between a French citizen accused of a serious act (aggravated by the use of his diplomatic position) and a French-Palestinian citizen in administrative detention and thus accused of nothing."
Hamouri's access to media and diplomats, on the other hand, has been significantly more restricted.
"This difference in treatment is felt keenly by Salah and his family, but it is also a clear message to the Israeli authorities," Elsa tells me. "The very nature of administrative detention prevents us from knowing when this ordeal will end. The road is long and winding, but I remain optimistic and convinced that all peoples under occupation will, sooner or later, achieve the respect of their fundamental rights."
For more info about the campaign to free Salah Hamouri, visit the Libérez Salah Hamouri page.
Leave a Reply