Ceasefire Magazine
About Ceasefire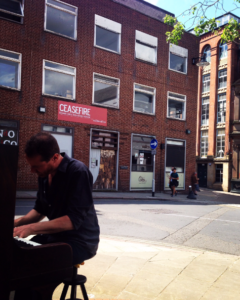 Ceasefire is an independent political and cultural publication founded in 2002, concerned with producing high-quality journalism, reviews and analysis.
We cover a wide range of topics – from Arthouse to Žižek.
We aim to provide intelligent and thought-provoking discussion and analysis on politics, art and activism.
We are motivated by a belief in the free exchange of radical and ground-breaking ideas.
We are entirely reader-sustained and accept no advertising or corporate/government funding of any kind.
Help us keep Ceasefire independent. Please make a contribution today:
Editor-in-Chief
Hicham Yezza

Digital Editor
Usayd Younis
Associate Editors
Aimee Allam
Musab Younis
Adam Elliott-Cooper
Omayr Ghani
Editorial Board
Sara Motta
Jonathan Jacobs
Andy McLaverty-Robinson
Corin Faife
Milan Rai
Dan Robertson
Ben White
Lisa Walsh
Lamma Zghoul

Columnists
Talha Ahsan
Omer Ali
Michael Barker
Daniel Barnes
David Bell
JJ Bola
Roger Bromley
Matt Carr
Georgie Carr
Corin Faife
Andrew Fleming
Dominic Fox
Jane Gatensby
Mikhail Goldman
Paul Guest
Ruqaya Izzidien
Tom Kavanagh
Paul Lam
Heiba Lamara
Emily Macintosh
Jody Mcintyre
Sebastien Meznaric
Nafeez Mosaddeq Ahmed
Alan More
Sara Motta
Dave Prescott
Hana Riaz
Andy McLaverty-Robinson
Rizwaan Sabir
Sara Salem
Kateb Salim
Melanie Scagliarini
Paul Schloss
Asa Winstanley

Contributors
A
Dyab Abou Jahjah
Dana Aboul-Jabine
Fatema Abuidrees
Samayya Afzal
Chetan Ahimsa
Muhammad Idrees Ahmad
Naila Ahmed
Riz Ahmed
Hamja Ahsan
Meriem Ais
Layla Aitlhadj
Latifa Akay
Hilary Aked
Sophia Akram
Wassim Al-Adel
Akkas Al-Ali
Anaheed Al-Hardan
Yousef Al-Helou
Imran Ali
Taj Ali
Souraya Qabbani
Anna Alomes
Linah Alsaafin
Safa Al-Shamy
Glaad Amadi
Elizabeth Anadaebi
Dom Anderson
Tom Anderson
Alex Andrews
Lawrence Archer
Khalil Asmar
Samantha Asumadu
Hind Awwad
B
Alessandra Bajec
Alex Baker
Eva Baker
Naji Bakhti
Sita Balani
Hrannar Baldvinsson
Frank Barat
Tom Barns
Ramzy Baroud
Sawsan Bastawy
Moazzam Begg
Behindthemask
Jonathan Bennett
Tom Bennett
Mark Bergfeld
Livia Bergmeijer
Paul Bernal
Aveek Bhattacharya
Andreas Bieler
Pham Binh
John Bird
Matthew Birkinshaw
Nichole Black
Christa Blackmon
JJ Bola
Steven Borowiec
Chris Bowles
Douglas Brennan
Matthew Brett
Symeon Brown
Sheyma Buali
Robin Bunce
Matthew Butcher
Alice Butler
Milena Buyum
C
Horace Campbell
Shami Chakrabati
Ian Chamberlain
Noam Chomsky
Tanzil Chowdhury
Tom Clements
Luke Cooper
Isaac Cotterell
Laurence Cox
David Cronin
Samuel A. Crown
Paul Cudenec
Neal Curtis
D
Wasi Daniju
Zainab Daniju
Josh Davies
Janine Defeo
Donnacha DeLong
Luke de Noronha
Puneet Dhaliwal
Corine Dhondee
Roland Digieni
Ali Hocine Dimerdji
Yusuf Dirie
Toufik Douib
Ross Domoney
Shiraz Dossa
Chris Doyle
Lucy Du
John Dugard
E
James Early
Nathan Edward
Eugene Egan
Terence Elliott-Cooper
Hannah Elsisi
Okonta Emeka
Phil England
F
Richard Falk
Harry Fear
Shereen Fernandez
Paul Field
Eric Finch
Andrew Fleming
Ben Fogel
James Foley
David J. Franco
Myriam Francois
Mike Friedberg
G
Franco Galdini
Jasmine K. Gani
Awotongha Gbaligha
Mez Ghide
Nicholas Gilby
Dan Glazebrook
Joe Glenton
Tom Goodyer
Priyamvada Gopal
Murray Goulden
Millie Graham Wood
Samuel Grove
Taherali Gulamhussein
Vyara Gylsen
H
Nidal Hajaj
Harry Halpin
Simon Hannah
Asim Haneef
Simon Hardy
Eman Hashim
Leila Hassan
Owen Hatherley
David Hayes
Chris Hesketh
Matthew Hoey
D. Hunter
Dilly Hussain
I
Na'eem Ibn Farooq
Alim Islam
Laurence Ivil
Jennifer Izaakson
J
Ben Jamal
Samir Jeraj
Azeezat Johnson
Katja Jonsas
Remi Joseph-Salisbury
K
Zaynab Kahina
Rasha Kaloti
Nnamdi Kalu
Yassir Karooka
Robert Kazandjian
Amna Khan
Oualid Khelifi
Tabby Kinder
Ashok Kumar
Taesun Kwon
L
Yahia Lababidi
Rachida M Lamri
Ali M Latifi
Roxy Legane
David Leon
Julia Ley
Leoni Linek
Joe Lloyd
Joe Lo
Lowkey
John Lubbock
M
Nick MacWilliam
Steven Mahatma
Zwan Mahmod
Sabiha Mahmoud
Adam Majeed
Markus Malarkey
Tom Malleson
Aisha Maniar
Lev Marder
Adriano Marotta
Angel L. Martinez
Sebastião Martins
Sofia Mason
Ahmed Masoud
Jack McGinn
Tony McKenna
Heather McRobie
Vijay Mehta
Azru Merali
Ali Meziane
David Miller
Philip Miller
Tom Mills
Sanam Monteiro
Anna Morris
Amine Mouffok
Elliot Murphy
Lily Murphy
Rob Murray
Amber Murrey
Ali Mushaima
N
Shaida Nabi
Ilyas Nagdee
Sam Nallen Copley
Pablo Navarrete
Sofia Niazi
Alf Gunvald Nilsen
Bokolo Nimiteinbofa
Robert D. Nitabai
Alex Nunns
Clive James Nwonka
Deyika Nzeribe
Georges Nzongola-Ntalaja
O
Derek Oakley
Andrea Oates
Mark Olden
JP O'Malley
Luqman Onikosi
Anne-Marie O'Reilly
Margaret Owen
P
Nacim Pak-Shiraz
Pierre Papet
Ilan Pappe
Benjamin Parisi
Lani Parker
Bel Parnell-Berry
Graham Peebles
Mareile Pfannebecker
Mike Phipps
David Pike
Richard Pilgrim
Michael Pooler
Nakama Popoh
Libby Powell
Dean Puckett
Vanessa Pupavac
Q
Greg Queyranne
Pennie Quinton
Samira Quraishy
Fahid Qurashi
Asim Qureshi
R
Renugaa R
Nihal Rabbani
Milan Rai
Neelam Rai
Sajad Raja
Pete Ramand
Mattieu Dominic Ramsawak
Jamie Ranger
Paul Ray
Shozab Raza
Christina Rebel
Micah Roshan Reddy
Asad Rehman
Hana Riazuddin
Yvonne Ridley
Andrew Robertson
Imani Robinson
S
Mark Sabine
Roshan Muhammed Salih
Janet Salmon
Lee Salter
Clare Sambrook
Ali Sargent
Rukayah Sarumi
Justin Schlosberg
Galatea Scotti
Michael Segalov
Casey Selwyn
Rachel Seoighe
Eda Seyhan
Richard Seymour
Azfar Shafi
Hesham Shafick
Hamza Ali Shah
Sara Shah
Turab Shah
Azfar Shafi
Saeeq Shajjan
Ashish Sharma
Steve Shaw
Peter Shenai
Phil Shiner
Malaka Shwaikh
Ayesha Manazir Siddiqi
Laura Siegler
Stefan Simanowitz
Can Simit
Jon Simons
Ian Sinclair
Andrew Smith
James A. Smith
Jason Smith
Lily Sparks
Paul Stocker
Jake Stanning
Josh Strauss
Patrick O. Strickland
Mohammed Sulaiman
Bran Symondson
T
Peter Tatchell
Catherine Taylor
Faith Taylor
Paul Taylor
Ghazal Tipu
Teodora Todorova
Catriona Towriss
Sabrina Tucci
Pilgrim Tucker
Joe Turnbull
James Turner
U
Layli Uddin
Areeb Ullah
V
Harry Verhoeven
Kaya Volke
W
Paul Walsh
Sam Walton
Peter Ward
Hama Waqum
George Waterhouse
Ben White
Sarah Whitehead
Robin Whitlock
Amrit Wilson
Ananya Wilson-Bhattacharya
Y
Yuan Yang
Robin Yassin-Kassab
Lucy Yelland
Jumanah Younis
Nussaibah Younis
Z
Santiago Zabala
Syed Ali Abbas Zaidi
Hesham Zakai
Shaymaa Ziara
Nora Ziegler
Rena Zuabi