Arts & Culture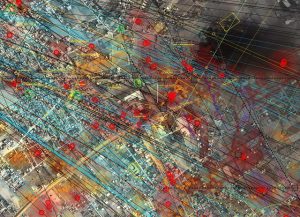 From Gaza to Grenfell, Forensic Architecture's latest exhibition, Cloud Studies, documents the perpetration of, and resistance to, slow violence as it is enacted by states and corporations, writes Esther Kaner in her review.
"A guide and a balm, a meditation on the politics of survival and an appeal to extend our arms towards each other". Chav Solidarity, by D. Hunter, is a book that must be read, writes Ayesha Manazir Siddiqi.

If the global War on Terror has taught us anything, it is that it is very easy to write badly about Muslims, particularly in the context of conflict. Darryl Li's 'The Universal Enemy' stands as a salutary antidote to so much that passes for scholarship on the subject, writes Asim Qureshi in his review.

In its lurid depictions of strange kinds of jobs – idealised and precarious and dangerous – Tiger King perfectly echoes our Lockdown anxieties about the nature and politics of work, write Mareile Pfannebecker and James A. Smith.

The poems in 'Galaxy Walk', Shareefa Energy's debut collection, come together to form a picture of a woman whose writing has offered her a way to live in a traumatic and complicated world, writes Rachel Seoighe in her review.

By focusing on personalities at the cost of structural issues, 'Official Secrets' ignores too much of the ideological and structural paradigms behind the Iraq War, writes Georgie Carr.

'Palestine +100', a landmark collection of science fiction short stories, offers a fresh and compelling portraits of the Palestinian experience, writes Asim Qureshi.

Since its release last month Todd Phillips's 'Joker' has garnered both commercial and critical success as a study in alienation and mental illness. Beneath the artfulness, however, is something really horrible, writes Neal Curtis.

From 1974 to 1988, Race Today, the journal of the Race Today Collective, was at the epicentre of the struggle for racial justice in Britain. Leila Hassan, Robin Bunce and Paul Field, co-editors of a new anthology bringing together some of the Collective's key texts and contributors, offer an overview of Race Today's 15-year history.

Stefan Simanowitz visits the Coldharbour exhibition — featuring photography, oral history recordings, music and poetry — which launched in Brixton this week as part of Black History Month.