Profiles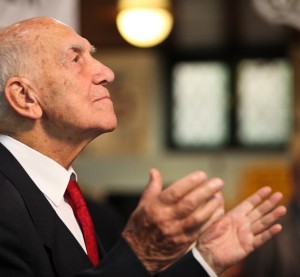 Stephane Hessel, legendary French Resistance fighter and author of the 2010 manifesto 'Time for Outrage', passed away on Tuesday at the age of 95. In a highly personal tribute, Frank Barat, coordinator of the Russell Tribunal on Palestine, pays homage to an inspiring and principled figure.
Fred Haliday, who passed away last year, was one of the world's foremost political analysts and scholars. As a collection of his essays is published, its editor David Hayes, pays tribute to Halliday's remarkable political journeys and his intellectual legacy.

In April 2003, Tom Hurndall, a young British photojournalist and peace worker, was shot in the head in the Gaza Strip as he carried two young Palestinian children out of the line of sniper fire. As a public appeal continues to get his journals published, writer and activist Libby Powell, a personal friend, pays tribute to his legacy.

In this week's Modern Times column, Corin Faife recounts his eye-opening meeting with Michael Albert, one of the world's greatest thinkers and activists, and how it got him wondering about the future, and our need to win the battle to shape it.

In an exclusive essay, Paul Taylor explains why Slavoj Žižek stands out so forcefully from the conventional commentariat and debunks two frequently voiced objections to his work – the obscene humour and his refusal to provide ready-made solutions for the problems he so readily identifies.

After more than 40 years at the top of the music journalism game, Robert Christgau, formerly of the Village Voice and legendary author of the 'Consumer guide' series has this month announced his retirement from writing his weekly column. To mark this end of an era, academic and writer Donal Mac an Eala writes a moving tribute to a unique, encylopedically rich voice in music and cultural criticism.

Two years ago today Palestine's National Poet, Mahmoud Darwish passed away after a 6-month battle with cancer. He was 67. The ensuing reverberations, of loss and mourning and a sense of things left unsaid continue to resonate to this day. On this second anniversary, Ahmed Masoud, Palestinian academic, writer and theatre director, revisits the astonishing achievements of a literary giant. In particular, he guides us through a crucial period in Darwish's intellectual journey, namely the years 1950-1971 when he was still living in Israel. It's a fitting homage, celebrating the life of a true humanist and the fighting conscience of a nation.

On Sunday, Osman Rasul, a 27-year old Iraqi Kurd who had spent nine years in the inhumane limbo of the asylum bureaucracy leaped to his death from the seventh floor of a Nottingham tower block. Ceasefire Columnist Corin Faife, a friend of Osman's, pays tribute to a "warm, kind, respectful man", crushed by the injustice and cruelty of the Home Office's asylum policy.

Today, Noam Chomsky is 81. A few weeks ago, at his London lecture series - widely anticipated to be his last in the UK - he addressed crowds numbering in their thousands. Musab Younis covered his talks for Ceasefire.

Noam Chomsky discusses Israel and Palestine, anarcho-syndicalism, China and India, the anti-war movement, and public intellectuals with Ceasefire editor Hicham Yezza. Chomsky, notes Yezza, has the unique "ability to bring out the mind of his listener out of its atrophied comfort."