Sabir on Security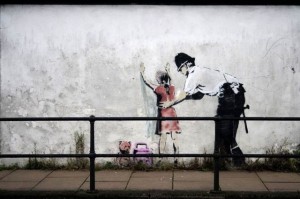 UK media today reported how police officers fabricated evidence in order to bolster their case against Rizwaan Sabir. In his latest Ceasefire column, he argues the fight to protect civil liberties concerns us all, and suggests a few avenues for action in the fight against the state's attack on our freedoms.
Rizwaan Sabir's investigation of City of London police has unveiled how OccupyLSX protesters routinely featured in its updates on terrorism and extremism. In his latest column, he explains the background and repercussions of the revelations.

When Rizwaan Sabir went on the 10 O'clock Live show to debate control orders with Anthony Glees, he was surprised by the Professor's misconceptions. In this week's Sabir on Security column, he sets the record straight.

When video footage showing Sergeant Mark Andrews dragging a 57-year-old woman and hurling her into a cell was aired by the media, there was much needed condemnation. However, the euphoric feeling of justice served wasn't to last. In this week's column, Rizwaan Sabir takes a look at yet another case of Police unaccountability.

Ten months ago, Paul Chambers wrote a joke tweet mockingly threatening to blow up his local airport. He has since been arrested, charged and convicted. His appeal against his conviction was turned down yesterday. In this week's column, Rizwaan Sabir discusses the ramifications of an absurd case

A few days ago, the coalition announced its plans to track every text, email and phone call we make. This is not only a spectacular U-turn, argues Rizwaan Sabir, but is a threat to our liberties, will reduce our safety and comes with a bill we can ill afford.

This week, more than five years after the events, an official inquest has been launched into the London bombings of 7/7. As Rizwaan Sabir shows in his latest column, an inquest might answer some of the questions, but only a public inquiry can ensure the right lessons are learnt

In 2007, the police installed a network of cameras around specific Birmingham areas. This was, they claimed, in order to fight against crimes such as drug-dealing. As the publication of a governmental report confirmed yesterday, they lied. The cameras were used to spy on an entire community. In this week's On Security column, Rizwaan Sabir examines an extraordinary story of cynicism and incompetence.

Since the introduction of the Terrorism Act in 2000, hundreds of new offences have been introduced and yet, this has hardly made us safer. Now that the legislation is up for review, Rizwaan Sabir argues, in his new column, that this is our chance to make sure we get rid of these redundant, harmful and unworkable assaults on our freedoms.

Of all the ill-fated initiatives and programmes introduced by the previous government in its attempt to "fight terrorism", nothing has been as disastrously counter-productive as the 'Prevent' strategy. As Rizwaan Sabir argues, this is a programme that was designed, and implemented, as a direct attack on the Muslim community as a whole. Its demise cannot come too soon.