Ideas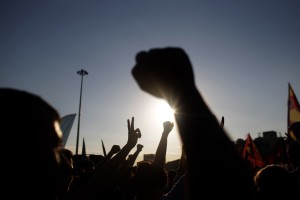 In the final installment of their three-part examination of revolutionary waves, Laurence Cox and Alf Gunvald Nilsen consider their practical implications for activists and social movements.
Robert Kazandjian traces the sources of the hostile treatment of Armenians in the Israeli press, placing it within the wider historical and political context of the region.

Sita Balani examines Operation Skybreaker, a pilot scheme launched by the Home Office in July 2014 across five of London's most racially diverse boroughs. She argues the scheme is a worrying harbinger of future government policies and epitomises the Home Office's growing tendency to deploy notions of community, charity and consent in their attacks on undocumented migrants.

In the second essay of their three-part series on revolutionary waves, Laurence Cox and Alf Gunvald Nilsen explore how such waves can be explained from a Marxist perspective.

When the Barbican cancelled its 'Exhibit B' show two weeks ago, after a campaign by anti-racism campaigners, many within the liberal media cried censorship. Yet there was virtual silence when a Grime showcase event was cancelled at the same venue earlier this year. Such markedly different reactions highlight the power relations underpinning our cultural institutions, argues joel sharples.

Current debates over whether the world is experiencing a revolutionary wave assume a past history of such waves yet rarely examine in any depth the historical record. In their first essay of a three-part series on the subject, Laurence Cox and Alf Gunvald Nilsen look at revolutionary waves in history.

When Akkas Al-Ali's Israeli friend accused him of "siding with terrorists" in Gaza, he decided to write the following letter in response.

Israel claims its latest onslaught against the population of Gaza is a response to Hamas rocket-fire, targeted at "terrorists" and motivated to "restore quiet." However, an analysis of the IDF's public relations points and war doctrines as well as the historical context of the events, shows the root cause of the crisis to be Israel's decades-long programme of violent settler colonialism.

Amrit Wilson reports on the extraordinary case of Sanaz Raji, a tale of persecution and injustice that has highlighted the deep-set and dark prejudices at the heart of British higher education.

More than a decade on since the February 15 2003 protests, it is time to acknowledge that the UK government's refusal to heed the calls of the anti-war movement might have been directly responsible for fuelling violent extremism in the UK, Ian Sinclair argues.