Editor's Desk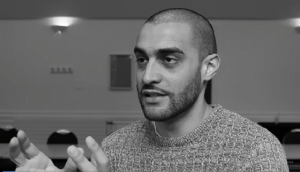 After a long hiatus, one of the UK's most celebrated political artists, Lowkey, has returned with new music and a UK tour. His forthcoming video, "Lords of War", deals with the issue of drone warfare and the arms trade. He talks to Tom Barns about foreign policy, austerity and militarism.
Owen Hatherley remembers Mark Fisher, the radical writer, and friend, who has recently passed away.

Over the past 18 months, the Saudi-led military campaign in Yemen has led to over 10,000 deaths and the destruction of billions of pounds' worth of vital infrastructure, including schools, hospitals and homes. How can the UK government claim it cares about the suffering of Yemenis when it continues to supply the weapons inflicting the damage? Asks Andrew Smith.

Whether it's DiCaprio being cast to play your cultural icon, or an American mass shooter being foisted upon you, it's not easy being an Afghan; especially when others define your Afghan identity for you, writes Ali Latifi.

Yesterday, the London premiere of the film 'Sufragette' was disrupted by a red carpet direct action led by protesters from activist collective Sisters Uncut. They explain why their action was both appropriate and necessary.

The apparent unmasking of 'Jihadi John' has dominated international headlines of the past 48 hours. Far less coverage, however, has been given to troubling revelations that Mohammed Emwazi and others had been subjected to sustained harassment by UK security services for years. This raises important and urgent questions about current anti-terror policies.

The marked contrast between the BBC's reporting of the deaths of Palestinian and Israeli children this past month has been an eloquent symbol of its wider failings.

In part two of our exclusive interview, Hip-Hop artist Akala talks to Ceasefire's Adam Cooper about Lily Allen, Mark Duggan, police impunity, slavery reparations, the banning of slang in schools and much more.

In an exclusive interview for Ceasefire, renowned scholar Noam Chomsky talks to Frank Barat about the current situation in the Middle East, notably the crisis in Syria, the peace negotiations between Israel and the Palestinians, and the role of US power in the region.

In light of newspaper layoffs and in the interests of continued professional education, we at Ceasefire are proud to continue our free online advisory course for journalists. This week's topic: how do you report violent death?