New in Ceasefire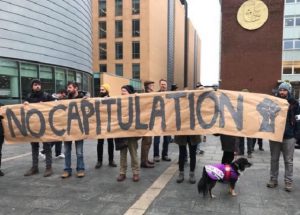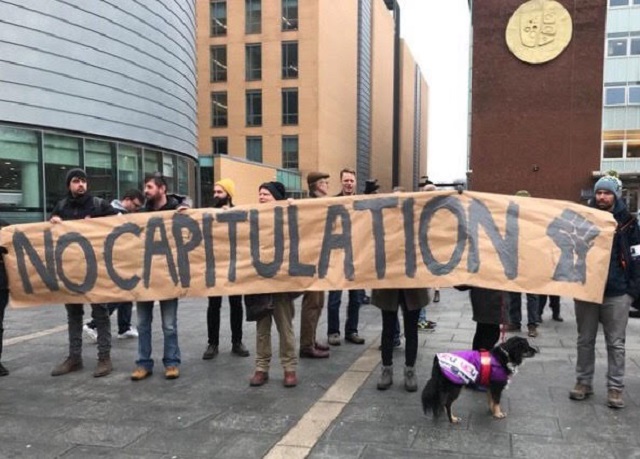 The ongoing dispute over university pensions has seen a remarkable show of defiance and solidarity across the sector, but this is about far more than pensions.The pace at which UK universities have succumbed to brutal neo-liberal practices has been startling, and many of us are simply fed up, writes Katy Sian.
The outpouring of support and solidarity greeting the current wave of UCU USS strikes has taken University managers across the UK by surprise. Times are changing — a lesson they are learning the hard way, writes Andreas Bieler.

Earlier this week, a talk by alt-right figurehead Carl Benjamin was shut down at King's College London by anti-racist campaigners. As the University prepares to host the leader of Hungary's far-right Jobbik party later this month, the Anti-Racism Network (KCL) collective insist there can be no place for fascists on their campus.

This week, the architect of the ongoing humanitarian disaster in Yemen, Saudi Crown Prince Mohammad Bin Salman, visits the UK, as Theresa May seeks to secure more lucrative deals for the UK arms industry. We can't let this shameful visit pass in silence, writes Andrew Smith of the Campaign Against Arms Trade.

Justin Timberlake's Super Bowl performance last night was a bitter reminder of the American cultural establishment's shameful mistreatment of an iconic black female artist, and his complicity in it, writes Ali M. Latifi.

A. Sivanandan, who passed away last month, was one of Britain's foremost and most influential thinkers on race, class and power. Virou Srilangarajah pays tribute to a remarkable life, and a towering intellectual and political legacy.

In the fourth essay of his series on Hakim Bey, Andrew Robinson explores Bey's view of the dominant system as a 'Spectacle', the theory of alienation, and the history and contemporary forms of the state.

Late on Wednesday evening, a charter flight took off, under cover of darkness, from an unknown location in the south of England, heading for Nigeria and Ghana. This did not make the news, but it transformed the lives of hundreds of people forever. Luke De Noronha — whose friend was on the plane — shares his personal reflections.

It's important to Stop Trump, but we must also stand with and for migrants here in the UK, writes Matt Carr.

Donald Trump's decision to move the US embassy to Jerusalem signals a key shift in US Mid-East policy — from decades of rhetorical pretense to full and explicit alignment with the Netanyahu agenda.
More Ideas
More In Politics
More In Features
More In Profiles
More In Arts & Culture