Comment | Dear Sadiq Khan, the last thing British schools need is more police
This week, London mayor Sadiq Khan became the latest politician to endorse greater police presence in British schools. This is a deeply misguided position, writes Roxy Legane.
By Roxy Legane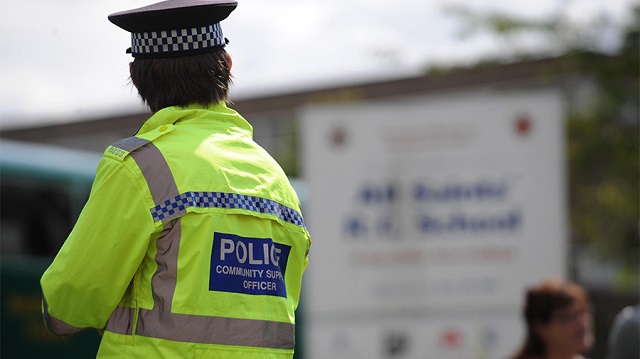 Many supporting the fight for police-free schools across the globe would have found themselves filled with hope this week at the extraordinary win secured by student-led organising in Los Angeles, with news that $25 million would be divested from the LA school police department and spent on the futures of black students. This is an achievement in the campaigning for police-free schools that will go down in history, and one that lifts spirits here in the UK as we, despairingly, continue to be forced in the opposite direction.
This week, London Mayor Sadiq Khan declared his support for more school-based police officers (SBPOs) in the capital to tackle a highly speculative potential 'surge' in violent crime upon school re-openings. Khan is one of several politicians who have vocalised their support for the further implementation of SBPOs over the last few years despite mounting evidence of the harms caused by their presence in the UK and internationally, and the ineffectiveness of policing both in schools or in the community.
The call for more police in schools is echoed in Greater Manchester, where Mayor Andy Burnham once again reaffirmed his support for an increase of SBPOs, as more funding for violence reduction units comes into accounts, including those – such as Greater Manchester Police — which is currently in special measures.
As is often the case, these calls are knee-jerk reactions to crises that require solutions beyond policing. The deployment of SBPOs remains a key tactic in the ongoing war on racialised communities, and a major frontline in our resistance to harm. Evidence published by the Northern Police Monitoring Project and Kids of Colour detailing the harms and concerns raised by over 500 community members in Greater Manchester has been ignored by the city region's leadership. This is despite said evidence bringing to light the relationship between criminal justice and education leading to the criminalisation of young people, overreaches with regard to the remit of SBPOs, and an intensification of racist policing.
Teachers continue to be used as a scapegoats for the introduction of SBPOs, despite the fact that National Education Union (NEU) organisers have spoken out against the plans. Indeed, three of the ten NEU Greater Manchester districts have already successfully passed motions that affirm police have no place in schools. How long will the authorities ignore evidence in their aimless dedication to problematic 'law and order' narratives?
On an individual level, there was some success this week, after a London-based parent, fighting alongside the incredible Just For Kids Law, ensured their daughter was found not guilty of carrying a 'bladed item' to school — the item in question being a small pair of hair-cutting scissors. The girl had been heavily encouraged by the SBPO at her school to accept a caution, despite scissors not being on the school's list of 'prohibited items'. The family refused, believing the ensuing legal process, however exhausting, was necessary. The girl had been interviewed at school alone, where she was told of the consequences of knife carrying. The 'evidence' presented against her was based entirely on hearsay about her supposed intentions. Yet it took two years to reach the liberation that came with a not guilty verdict.
The young woman, now 17, can at last feel like she can have new hopes for her future. Maybe she can travel: a joy she had to put on hold whilst awaiting her court date. Maybe she can work with children: an option she feared she may lose forever. The young woman's experience highlights something many reach community organisations working to challenge police in schools have seen all too often: The stripping of futures, as the non-criminal becomes criminalised, particularly when the young person is black.
But we cannot feign surprise at all this. The expansion of policing, in whatever context, always seems to produce the same result: the further encroachment of institutional racism and oppression into people's everyday lives. Collectively, we must work to ensure police do not make their bed in our schools. We must call for the alternatives we know will set the foundations for positive childhoods and futures. More funding for schools themselves and for the youth workers, counsellors, sex educators, behavioural experts and so forth that should sit within them. Rather than more police, we need more funding for our communities, particularly those that have been systematically underfunded for decades.
To suggest schools should be sites of policing, and to fail to address the deeply embedded injustices produced by historic racism and classism, is simply to confirm a political desire to uphold such inequalities. As we celebrate the successes achieved by communities in the US, our 'No Police in Schools' campaign will continue to pursue our ambitions for better education in UK schools.
This week there has been another devastating death following police contact in Wales, following a welfare check. Solidarity to the friends and family of Moyied Bashir. No justice, no peace.
Leave a Reply