New in Ceasefire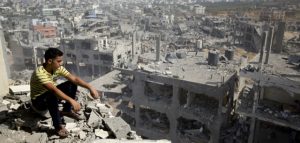 Israel routinely claims it 'humanely' warns Palestinians before it bombs their homes. For us Palestinians from Gaza, the PR spin around this 'roof knocking' hides a much uglier reality, write Malaka Shwaikh and Shaymaa Ziara.
As Jews, we need to be the loudest voices leading the call for Palestinian liberation, I know my Holocaust refugee grandmother would have demanded nothing less, writes Mike Friedberg.

As Palestinian civilians continue to resist Israel's ongoing military occupation, world governments and media must confront their own complicity in Israel's persistent violations of international law, writes Jasmine K. Gani.

Time and again, successive UK governments have put arms sales ahead of the rights and lives of Palestinians. That long and shameful policy must stop, writes Dana Aboul-Jabine.

Today marks the 40th anniversary of the death of Bobby Sands after 66 days on hunger strike in a British prison. Roger Bromley explores the ways in which Sands's writings, and those of his fellow prisoners, became a principal resource for the building of Irish identity and solidarity.

Jamel had lived in the UK for half his life when he unexpectedly found himself on a plane to Ghana. His story, Galatea Scotti writes, shows how the emotional and material repercussions of involuntary returns can be deep and traumatic, not only for individuals but entire communities.

This week Boris Johnson declared his opposition to an International Criminal Court investigation of Israeli actions in the occupied Palestinian territories. By standing in the way of justice and allowing Israel to act with impunity, Johnson is complicit in the suffering of the Palestinian people, writes Taj Ali.

This week, London mayor Sadiq Khan became the latest politician to endorse greater police presence in British schools. This is a deeply misguided position, writes Roxy Legane.

The Government's latest effort to regulate free speech in UK universities is a threat not just to academic freedom but to political organising and dissent on campus, and must be challenged on those terms, writes Azfar Shafi.

The UK government's latest review of its Prevent strategy is not only a political facade but a trojan horse to expand the programme. We must be united in our call for disengagement from it, and to demand nothing less than Prevent's abolishment, argues Na'eem Ibn Farooq.