New in Ceasefire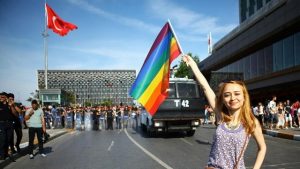 Extraordinary measures are becoming increasingly normalized in Turkey – with human rights activists often the target, writes Milena Buyum ahead of tomorrow's banned Pride march.
Tom Mills, lecturer in Sociology and Policy at Aston University and author of 'The BBC: Myth of a Public Service', on the BBC's impartiality in its coverage of Jeremy Corbyn.

Visiting the city of Tindouf and nearby refugee camps in south-west Algeria, Saharawi writer Agaila Abba reflects on the remarkable social and economic transformation of the city.

To mark World Press Freedom Day, Amnesty International's Stefan Simanowitz spoke to Peter Greste and Mohamed Fahmy, detained for 400 days in Egypt for their journalism, and Sue Turton who led the #FreeAJStaff campaign for their release.

Although Labour did not win the June 2017 general election, its result was astonishing. How and why did this happen? Alex Nunns, author of "The Candidate: Jeremy Corbyn's Improbable Path to Power," reflects on one of the most remarkable moments in UK political history.

Today marks the third-week anniversary of the Great Return March in Gaza. Yousef Alhelou reports on the developments so far.

Despite Israel's systemic, brutal attempts to repress it, the Great March of Return in Gaza, entering its fourth week today, marks a significant moment in the history of Palestinian resistance, and has re-centered the Right of Return at the heart of the Palestinian struggle for freedom and justice, writes Mohammed Sulaiman.

As someone who has spent his working life fighting for Palestinian rights, the current crisis over antisemitism fills me with both anger and sadness, writes Chris Doyle.

In the latest essay of his series on Hakim Bey, Andrew Robinson examines Bey's theory of capitalism, his critique of 'cop culture' and his comments on American global hegemony; and provides an analysis of Bey's view of the dominant system.

The only thing that might prevent more Palestinians being gunned down in the coming weeks is the force of international public opinion, argues PSC's Ben Jamal ahead of a national solidarity demonstration in London tomorrow.
More Ideas
More In Politics
More In Features
More In Profiles
More In Arts & Culture