New in Ceasefire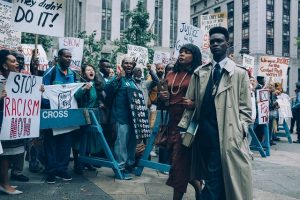 'When They See Us', Ava DuVernay's four-part dramatised chronicling of the story of the Exonerated Five, is gut-wrenching but compelling viewing, writes Asim Qureshi.
In the latest essay in his series on Hakim Bey's work, Andrew Robinson examines the ideas in Bey's 1996 book Millennium and other writings since, and shows that, while Bey's work has become more pessimistic, it has retained its focus on autonomy.

Amnesty International's Milena Buyum reports from the surreal trial of sixteen civil society figures in Turkey, including Osman Kavala.

Interrupting dominant forms of knowledge in British universities requires a deep sense of structural transformation, writes Katy Sian, author of 'Navigating Institutional Racism in British Universities'.

Hamja Ahsan talks to artist Navine G. Khan-Dossos, whose latest exhibition, 'There Is No Alternative', examines the UK government's controversial pre-crime and surveillance policies, notably the Prevent programme.

"His death is a massive loss, not only to his family, his friends and comrades, but to all those fighting for a fairer society, not just in Britain but beyond". Pablo Navarrete pays tribute to fellow film-maker Simon Baker who passed away earlier this week.

As the Tory leadership race enters its final phase, one word unlikely to be invoked by either Boris Johnson or Jeremy Hunt is Yemen. This comes in spite — or rather because — of the disastrous role both men have played in exacerbating the worst humanitarian crisis in the world.

It now seems almost certain that the Tory Party will make Boris Johnson the next UK Prime Minister. Narcissistic, opportunistic, incompetent, shallow, devoid of loyalty or decency, he has wanted the Big Job for a long time, and has said and done everything to get it.

This year's second anniversary of the Grenfell Tower fire comes on the heels of another poignant milestone, the 60th anniversary of Kelso Cochrane's murder, on May 17, 1959 in the same area. Mark Olden reflects on the lasting legacies of both events, and the histories of resistance they reveal.

"Fanon: Hier, Aujourd'hui," a landmark documentary film by Hassane Mezine is a worthy homage and testament to Fanon's life and legacy, writes Rachida Lamri.
More Ideas
More In Politics
More In Features
More In Profiles
More In Arts & Culture