Arts & Culture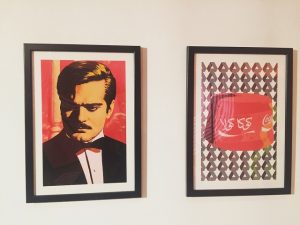 Rachida Lamri reviews the 'Pop Art From North Africa' exhibition, currently running at the P21 gallery in London. Walking among the engagingly parodic displays feels like a stroll into the psyches not of individual artists but of collective identities and narratives, she writes.
Sophia Akram reviews Paul Sng's new documentary, 'Dispossession: The Great Social Housing Swindle', which examines the creeping drive for gentrification in the UK under the guise of regeneration.

Asim Qureshi reviews Samantha Silva's new novel, 'Mr Dickens and his Carol', and wonders how Dickens would have felt were he to see Grenfell's mass grave of the impoverished and downtrodden, standing as an edifice to our indifference.

If the left is to have the same degree of success in translating online cultures into political movements, then it needs to understand both the online world and its own history. Kill All Normies helps with neither of those things, and is unlikely to win support beyond those already convinced of its central, conservative, thesis, writes Josh Davies.

"It falls to the epigram to remind us of our higher selves and larger allegiances to one another". American-Egyptian poet and author Yahia Lababidi introduces an exclusive selection from 'Where Epics Fail', his forthcoming collection of aphorisms.

For many of us, the progressive pretensions of the new Wonder Woman, starring Gal Gadot, will strike a bitterly dissonant note in light of Gadot's own problematic positions on Palestine, writes Ali M Latifi.

The surprise box office hit of the year, 'Get Out' is as an artistic and political tour-de-force that is as much informed by the Rachel Dolezal saga as it is by Black Lives Matter. Jennifer Izaakson reviews.

How was a committed socialist on the fringes of Westminster politics able to win one of the strongest leadership mandates in British political history? Tom Mills reviews Richard Seymour's new book, 'Corbyn: the strange rebirth of radical politics' and finds an astute analysis of the socio-political conditions which have given rise to Corbynism, its future prospects and the substantial obstacles it will inevitably face.

Muhammad Idrees Ahmad reviews The Journey from Syria, Matthew Cassel's new documentary tracing the remarkable journey of a Syrian refugee from his home in Damascus across half of Europe, and finds "a human story about ordinary lives disrupted by extraordinary circumstances."

'Batman v Superman: Dawn of Justice', the hotly-anticipated on-screen reunion of DC's 'Big Three', is a dark vision of nihilism, hopelessness and mansplaining, argues Neal Curtis in his review.