Arts & Culture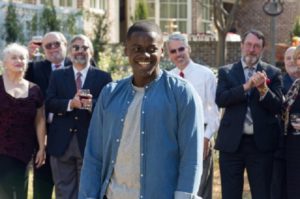 The surprise box office hit of the year, 'Get Out' is as an artistic and political tour-de-force that is as much informed by the Rachel Dolezal saga as it is by Black Lives Matter. Jennifer Izaakson reviews.
How was a committed socialist on the fringes of Westminster politics able to win one of the strongest leadership mandates in British political history? Tom Mills reviews Richard Seymour's new book, 'Corbyn: the strange rebirth of radical politics' and finds an astute analysis of the socio-political conditions which have given rise to Corbynism, its future prospects and the substantial obstacles it will inevitably face.

Muhammad Idrees Ahmad reviews The Journey from Syria, Matthew Cassel's new documentary tracing the remarkable journey of a Syrian refugee from his home in Damascus across half of Europe, and finds "a human story about ordinary lives disrupted by extraordinary circumstances."

'Batman v Superman: Dawn of Justice', the hotly-anticipated on-screen reunion of DC's 'Big Three', is a dark vision of nihilism, hopelessness and mansplaining, argues Neal Curtis in his review.

Robin Yassin-Kassab and Leila Al-Shami's new book is a timely and searing account of Syria's recent history and the people who shaped it, argues Wassim Al-Adel.

In his review of "The Big Short", Adam McKay's big-screen adaptation of Michael Lewis's best-selling account of the 2007/2008 subprime collapse, Matt Carr finds a dark comedy of errors, stupidity and greed that should be "essential viewing for anyone who wants to get an idea of the mess we're in".

Social Anthropologist Dr Alice Wilson reviews Settled Wanderers: the poetry of Western Sahara, by Sam Berkson and Mohamed Sulaiman, a recent volume of poems written from within or about the liberation movement from Western Sahara.

Rachel Seoighe reviews this year's DIY Cultures festival, held at the Rich Mix centre in London, and its accompanying exhibition, titled 'DIY Justice', which closes on Friday.

While recent years have seen a renewed interest in anarchistic thought and theory, it is refreshing and exciting to see a new volume bringing an explicitly anarchist lens to bear on English literature, argues Tom Malleson in his review of 'Unmaking Merlin: Anarchist Tendencies in English Literature' by Elliot Murphy.

Heralded as a critical and popular success, the BBC TV series 'The Honourable Woman' has been particularly praised for its authentic and sensitive portrayal of the moral complexities of life in the occupied Palestinian territories. However, such recognition is largely misplaced, warns Tony McKenna.
More Ideas
More In Politics
More In Features
More In Profiles
More In Arts & Culture