Books | 'Mr Dickens and his Carol': The Ghosts of Dickens, and Grenfell
Asim Qureshi reviews Samantha Silva's new novel, 'Mr Dickens and his Carol', and wonders how Dickens would have felt were he to see Grenfell's mass grave of the impoverished and downtrodden, standing as an edifice to our indifference.
By Asim Qureshi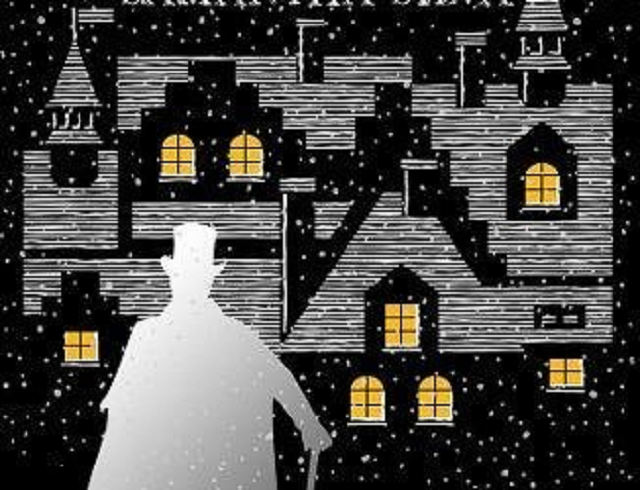 Ghosts feature heavily in Samantha Silva's debut novel, 'Mr Dickens and his Carol', and appropriately so, as the subject matter is a fictional telling of the creation of 'A Christmas Carol'. There are layers of ghosts that permeate the pages, as the spectres of family, friends, industry, poverty and debt haunt Dickens on the streets of London.
The story itself is great fun; there are many moments throughout the book that will make the reader smile or laugh out loud. In many ways, Silva has done for 'A Christmas Carol' what 'Shakespeare in Love' did for Romeo and Juliet. Unlike the Shakespearean adaptation, however, there are serious themes that Silva is trying to tackle, attempting to take the reader through Dickens's difficulties and, ultimately, triumph.
Silva's Dickens is human. This is perhaps her most important contribution in the telling of this story, as she offers us someone whose immediate anxieties and relationships are utterly relatable. The closeness and distance he feels to his family, the all-consuming debt problems he encounters, and the fear of losing his status as a legend, remind us that at the centre of greatness lies the mundanity of the normal. For breadwinners, going through a lean period (Dickens's central anxiety in the book), the notion of the 'cutting back' conversation, is timeless, as is exhorting one's own children to "think of the starving children of India". As the moment of separation from his wife Catherine looms, her response regarding his monetary concerns encapsulates so much of what this book is about:
Perhaps I do derive joy from things you regard as frivolous, Charles. But beneath it all, I have not forgotten what matters. And until you remember, I think it is best we part.
What follows after his family's departure from his life is presented by Silva as a period of madness-cum-self-reflection-cum-infatuation, particularly when his 'muse', Eleanor, enters his life. In their first meeting, she presciently says to him, "Flee all you like…your past is quicker than you are and will catch you soon enough". Eleanor's wisdom is beyond metaphor, it reminds Dickens, and us, that we cannot expect to live in a world without consequence; and that is the reason why I agree with Anthony Doerr's assessment of the novel as 'poignant' because, as he writes, "this was the sort of London where rich and poor might mingle in near proximity, if worlds apart."
Samantha Silva describes in perfect detail, for this Londoner at least, mid-19th century London as Dickens would have walked it. I often wonder myself about his meanderings, which he regularly undertook to better understand his city. I wonder whether Dickens, who was always completely comfortable in all environments, would today have done his shopping at Westfield in Shepherd's Bush; perhaps he would cross the A3220 over to Hunt Close; he would continue towards Sirdar road, which would eventually meander towards Grenfell road before finally arriving at the carcass of Grenfell Tower. How would he feel, seeing this mass grave of the impoverished and downtrodden, standing as an edifice to our indifference? Today, if there were a London that was worlds apart for Dickens, it would be symbolised by that one walk.
On 14 June 2017, during the Muslim month of Ramadan, the Grenfell Tower block caught fire with estimates running from a few dozens to many hundreds, having perished within its flames. As details emerged of the fire, it seemed that budgetary cuts were made to the cladding that had recently been applied to the exterior of the building, with some suggesting this cosmetic change was to improve the view of the tower for wealthier residents of the area. The British police are now formally investigating the possibility of corporate manslaughter, focusing on the role of restrictions on safety that were introduced by successive governments.
Silva hints to this form of gross capitalism, suggesting to us through the voice of Dickens, that there is something such as decency. ("Have we not all capitalised on Christmas quite enough?" one of her characters exclaims). What, then, of human life, and the capitalism that accompanies the negligence of those we should be protecting? At various junctures throughout the book — a collection for an orphanage, financial assistance for Dickens's father — Silva's layers keep revisiting the notion that, at all levels, there are human lives whose value should transcend our inner Ebenezer Scrooge, who is reminded by the ghost of Jacob Marley:
"'Business!' cried the Ghost, wringing its hands again. 'Mankind was my business. The common welfare was my business; charity, mercy, forbearance, benevolence, were all my business. The dealings of my trade were but a drop of water in the comprehensive ocean of my business!…"
In the words of Charles Dickens himself, 'A Christmas Carol' was written to, "raise the Ghost of an Idea", and yet our ghosts are real. The UK-based rapper Lowkey released the song 'Ghosts of Grenfell' last week in order to remind us of how ghosts exist, in order to remind us of who we are: the very ghosts that haunted but helped Scrooge. Featuring Mia Khalil, the song's chorus echoes the voices of these ghosts:
Did they die, or us?
Did they die, for us?
Ghosts of Grenfell still calling for justice
Now hear 'em, now hear 'em scream
Did they die, or us?
Did they die, or us?
Did they die, for us?
This corporate manslaughter will haunt you
Now hear 'em scream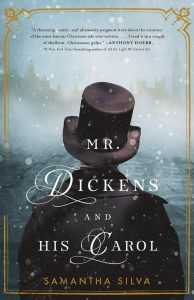 There is joy at the end of the book, as there was at the end of 'A Christmas Carol' — a joy rooted in the realisation that festive seasons are not simply about us, that they are about so much more than our own immediacy. I particularly think of how the Grenfell Tower fire took place during Ramadan, a time when the reflections of Muslims are turned towards those who have less, who suffer on a daily basis. Through acts of giving and sacrifice, thus, one can achieve righteousness. Similarly, through her Charles Dickens, Samantha Silva reminds us all that the festive period of Christmas — that the great author described so iconically — was never supposed to be reduced to the capitalist concerns of today's. It was about so much more.
MR. DICKENS AND HIS CAROL: A Novel of Christmas PastSamantha Silva
Flatiron Books
Publication: Nov 2017
Format: Hardcover, 288 Pages
ISBN: 9781250154040
Leave a Reply