Comment | On the Nationality and Borders Bill and the UK Left
The Nationality and Borders Bill, which goes to the House of Lords next week, presents a grave danger to Britain's ethnic minorities. So why has there been so little opposition to it from the UK left? Asks Sam Asumadu.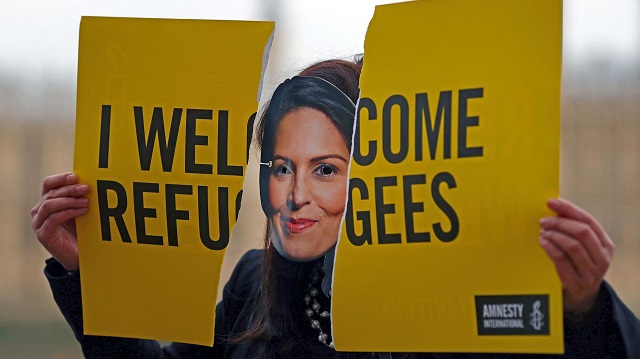 "When I die, I want the white left to lower me into my grave, so they can let me down one last time." This construction, popular on Reddit, is simple but effective when used against the right targets.
Next week, on 5th January, the Nationality and Borders Bill goes to the House of Lords, having passed in the House of Commons.
In an interview last week, Patricia Williams called the Nationality and Borders Bill "The most racist piece of legislation I have seen in my lifetime." I couldn't agree more.
I believe the bill is an existential threat to Britain's ethnic minority communities.
Jonathan Tranter, a Software developer and member of South Staffordshire Labour Party, put things in focus for me when he tweeted "People say census results next March will show both Britain's biggest region London, and biggest city that's not also a region, Birmingham, will both be Black and brown majority. Fingers crossed!"
"That's when we will really be in danger" I replied.
Earlier this week I came across a surprisingly revealing exchange about the two poles of our media eco system between Aaron Bastani, the co-founder of the much maligned left wing platform Novara Media and Guido Fawkes who runs Order Order, a right wing cesspit of trolling comments.
The subject of their conversation was the 'culture wars' — such as the Rhodes Must Fall campaign, and footballers kneeling in solidarity with oppressed people. This 'culture war' was happily stoked and inflamed by Tory politicians over months to encourage the white majority to ignore the plight of black and brown people as we are criminalised, stripped of citizenship and made stateless at the whim of the Home Office.
The exchange, in my view, shows that there is a direct link to how we got to the Nationality and Borders Bill, and why it has had little meaningful opposition from the so-called (white) left.
A telling example is Paul Embery, a luminary of the UK left (followed on twitter by a host of Leftist politicians and journalists, as well as the editor of the Spectator).
Embery calls himself a trade unionist — though in all my years on this planet I have yet to come across a trade unionist who writes for UnHerd, whose contributors currently include Douglas Murray and Julie Bindel — and caught my attention when he tweeted:
"A study two years ago by YouGov showed that 37% of TV adverts featured black people (who make up 3% of the UK population). Yet ethnic South Asians (who make up around 5% of the population) barely feature. This seems like a major discrepancy. What are the reasons for it?"
A quick look under the tweet finds a cacophony of white people complaining about the lack of representation of South Asians in TV adverts. Pitting people of different ethnicities against one another in the wild? Surely not?
I wondered what Embery's real agenda could be? Because it certainly wasn't building bridges or solidarity with the oppressed.
"I'd happily take the Tories to task on many things, but this is weapons-grade claptrap," Embery tweeted the editor of the Byline Times,, Hardeep Matharu, after the latter co-wrote a piece in which she said 'Whether Boris Johnson stays or goes, the Conservatives are now embarked on an ethno-nationalist project, with major institutional reforms aimed at changing the face of Britain. Enoch Powell is back.'
I believe Embery epitomises the inelegant end of the spectrum to Owen Jones and others who have failed to oppose the #NationalityandBordersBill in any meaningful way.
So, yes, I actually do mostly agree with what Guido Fawkes said to the Novara co-founder: I don't think the media writ large are responsible for the neverending culture wars. They are a mechanism: useful idiots for useful tools of the Tory state.
Priti Patel is just the latest incarnation of an ideological, rotten witches' coven of men and women lacking any moral compass. The press needs to sell their product. Noxious or helpful, the product will be sold.
Speaking to Tranter, and to journalist Ben van der Merwe who broke the Nationality and Borders Scandal three week ago, made it all coalesce for me: Politics, media and activism are the aborted baby of a nine headed hydra.
And so, when it comes to opposing this bill, the 'left' media won't help, the white left are covering their own bottoms and even brown and black celebrity activists and writers won't save us.
Afraid of being called 'woke' and determined to keep their 'vanguard of the proletariat' status, I believe they have abdicated their duties as activists and journalists.
And I believe this is why all of us — black, brown, different faith, and white allies — must join forces to oppose the Nationality and Borders Bill.
There's no time to lose. We are a 40% ethnic 'minority' in London. We're due to become the 'majority' soon. The Tories will not let that happen. We are in peril.
Apartheid is an appropriate word to describe what we are facing. And I won't shut up about it: If you support the Nationality and Borders Bill you are a white supremacist. If you purport to be an activist and don't actively oppose the Nationality and Borders Bill, you are a white supremacy enabler.
So, I ask anyone I have bothered in the past, and with whom I have had differences, let's join together against this bill because Priti Patel and her enablers won't stop until we stop them.
Yesterday I initiated Step 4 of my guide to offline and online campaigning. It was an urgent call for everyone who signed the petition to write to their MP. Please join us.
4 Comments
Leave a Reply