Film | Dispossession: The Great Social Housing Swindle
Sophia Akram reviews Paul Sng's new documentary, 'Dispossession: The Great Social Housing Swindle', which examines the creeping drive for gentrification in the UK under the guise of regeneration.
By Sophia Akram
In the east London suburb of Poplar looms Balfron Tower. A daunting high-rise created by Hungarian architect Ernö Goldfinger. Oxymoronic really, as it stands surrounded by capitalist processes amidst the city's financial district; trying to resist the violent dispossession of social housing stock that's been silently occurring across the country since the 1980s.
That's what Paul Sng's new documentary film, 'Dispossession: The Great Social Housing Swindle', is about. Creeping gentrification that's been happening under the guise of regeneration. Instead of rejuvenating and developing areas to benefit resident communities, local councils are reducing their social housing stock in high market value areas. They do this by evicting social housing tenants before demolishing the estates they live on, and moving them to far-flung areas of the country, away from their networks and support lines. The film – which walks through numerous stories of where this has occurred – was released barely a week prior to the Grenfell Tower fire, tragically giving it even more relevance.
Talking to Sng about why he embarked on the project, he explains that there was a personal motivation partly at work. As a child he would visit his aunt on the Ayelsbury Estate, which gave him a different view to that presented in mainstream narratives around social housing. As so often, housing estate tenants are denigrated in the media, particularly through what's labelled as 'poverty porn'.
In making the film, Sng says he also wants to give a voice to those affected by this issue, he tells me he intends to follow-up the project with several others, including a film on the Fox Hill estate in Bath, which is also featured in his current film. "Much of the time they're not given a voice and it's left to the intelligentsia to comment on aspects like this. This is just another way for them to tell their story," he explains.
The film succinctly explores different phases of government policy that saw former British PM Clement Atlee's social housing legacy – one where 42% of Britain lived in social housing – slowly unravel; from the 'right to buy' policy of the 1980s Thatcher era, right through to present-day policies like the 'bedroom tax' and legislation such as the Housing and Planning Act. The cumulative effect of all these policies has led to a position where social housing accounts for only 8% of housing stock, with 1.4 million people on the waiting list to be housed.
Grassroots resistance has been growing against such policies for some time but it seems as though the fire at Grenfell Tower has forced a pivotal turn in the conversation. At the crux of the tragedy were the revelations that the building's management company ignored tenants' fire safety warnings and, ultimately, so did the local councillors. This has angered many of those who believe councils are allowing buildings to go into disrepair so they can eventually be demolished. People are now urging that such policies be re-considered as part of the public inquiry into the fire.
But while Grenfell's borough, Kensington & Chelsea, was a Conservative-run council until the June 2017 UK general election, many of the areas where the problem is especially acute are Labour councils.
While the documentary touches upon the fact Conservative government cuts have disproportionately hit Labour-run councils, Sng says that's not the whole story. When Labour were in government, the social housing stock had already dramatically decreased. Thatcher had given social tenants the opportunity to buy council-owned properties, but none of these were replaced. Furthermore, although Labour did introduce a social housing programme when in government, between 1997 and 2010, they didn't build enough or build them fast enough.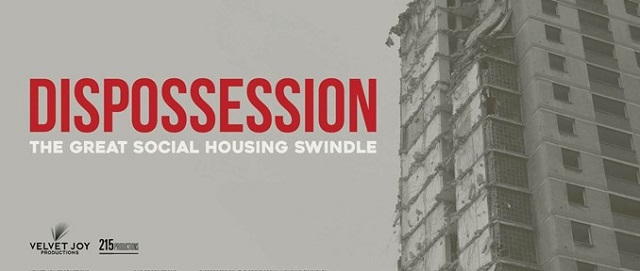 For Sng, "the biggest swindle of them all" is that most buildings offer a mixed tenure of social and private tenancy, whereby private tenants pay service charges. These charges are meant to be used to refurbish the buildings; but instead they are left to ruin. This deliberate mismanagement leads to new housing being commissioned — luxury apartments in the private sector — that serves no social housing purposes.
Tellingly, some of these decisions are being taken without residents being consulted or even informed. As the film highlights, residents of south London's Cressingham Gardens estate only found out that their own estate was being demolished when Lambeth Labour councillor Matthew Bennet announced it on Twitter.
An abundance of poignant symbolism permeates the film. One such example shows the contempt in which some in Britain hold social tenants. When three somewhat notorious tower blocks on Red Road, in Glasgow, were planned for demolition, there was a suggestion of carrying the demolition out as part of the opening ceremony of the Glasgow 2014 Commonwealth Games. As if the destruction of peoples' homes at the lower end of the socio-economic scale was something to celebrate.
For Sng himself, some particularly poignant moments include an early scene involving an older couple, Eileen and Michael. "Hearing them speak, they could have been my Grandparents. They spoke so eloquently and empathically. But also, you could hear the anger in Eileen's voice… to think they could be anyone". Then there was Gavin, whose first home after a period of homelessness was in Balfron Towers, the former social housing block that Poplar HARCA (the housing association that owns Balfron Towers) wants to sell as luxury flats. "Talking about him losing his home was heart breaking", says Sng.
"He loved that flat, and you heard him talk about it and his view so fondly. Stories in Glasgow were important as well . . . but different…It's facing people whose lives have been devastated and the uncertainty they're facing… Gavin wasn't happy. Those are poignant moments for me. But as a filmmaker it can be easy to fall into sentimentality. Ultimately my responsibility is to tell their stories."
Sng tells me many of those represented in the film came up to him after watching it to express their thanks. He adds that it is regretful that some of those he had invited, particularly Poplar HARCA, declined to attend or respond to the film, but simply sent a statement, which Sng says is not sufficient. He had also invited many MPs, including Jeremy Corbyn, to attend a screening. Only a handful did.
The film received broad coverage in a number of mainstream publications, as well as in independent media outlets. This is hopefully a sign of things to come – of much needed exposure of a desperately important issue of the time.
Leave a Reply