Features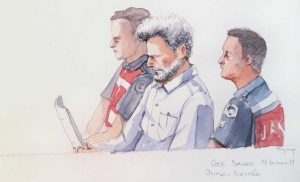 Amnesty International's Milena Buyum reports from the surreal trial of sixteen civil society figures in Turkey, including Osman Kavala.
Hamja Ahsan talks to artist Navine G. Khan-Dossos, whose latest exhibition, 'There Is No Alternative', examines the UK government's controversial pre-crime and surveillance policies, notably the Prevent programme.

While European politicians demonise and scapegoat refugees, many ordinary citizens are extending support and solidarity. Lily Sparks reports on the work of La Plateforme in Brussels.

In the past few weeks, away from international headlines, the Democratic Republic of Congo has seen a stolen election and a horrific massacre in a remote region. Steve Shaw reports.

Burma's military have systematically targeted civilians, murdered women and children, and committed sexual violence on a shocking scale. Despite worldwide outrage, the international community is still failing to act. Steve Shaw reports for Ceasefire.

A year ago this week, Salah Hamouri, a well-known French-Palestinian human rights activist was arrested in a pre-dawn raid by Israeli soldiers at his home in occupied East Jerusalem. He has been in indefinite detention ever since. Sawsan Bastawy speaks to his wife, Elsa Lefort, about her anger at the French government's indifference and her steadfast optimism for the future.

Visiting the city of Tindouf and nearby refugee camps in south-west Algeria, Saharawi writer Agaila Abba reflects on the remarkable social and economic transformation of the city.

To mark World Press Freedom Day, Amnesty International's Stefan Simanowitz spoke to Peter Greste and Mohamed Fahmy, detained for 400 days in Egypt for their journalism, and Sue Turton who led the #FreeAJStaff campaign for their release.

Today marks the third-week anniversary of the Great Return March in Gaza. Yousef Alhelou reports on the developments so far.

The ongoing Facebook and Cambridge Analytica scandal is a wake-up call for the UK public and policy-makers. Privacy International offer seven simple actions UK politicians can, and must, take now to turn things around.