Features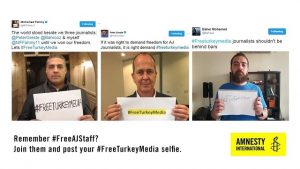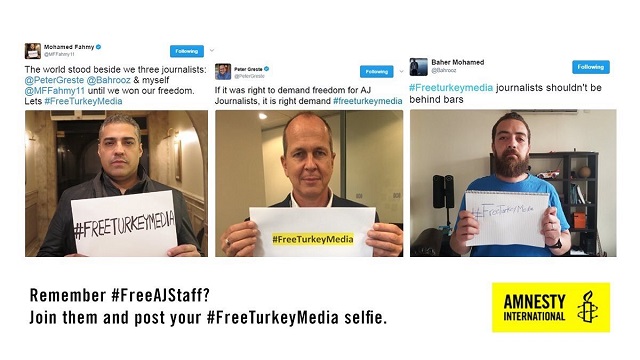 To mark World Press Freedom Day, Amnesty International's Stefan Simanowitz spoke to Peter Greste and Mohamed Fahmy, detained for 400 days in Egypt for their journalism, and Sue Turton who led the #FreeAJStaff campaign for their release.
Today marks the third-week anniversary of the Great Return March in Gaza. Yousef Alhelou reports on the developments so far.

The ongoing Facebook and Cambridge Analytica scandal is a wake-up call for the UK public and policy-makers. Privacy International offer seven simple actions UK politicians can, and must, take now to turn things around. 

The outpouring of support and solidarity greeting the current wave of UCU USS strikes has taken University managers across the UK by surprise. Times are changing — a lesson they are learning the hard way, writes Andreas Bieler.

A protest held yesterday at the University of Nottingham, demanding it pays all its staff the Living Wage, is another positive step in a growing UK-wide movement for fairer working conditions. Andrea Oates reports.

After a long hiatus, one of the UK's most celebrated political artists, Lowkey, has returned with new music and a UK tour. His forthcoming video, "Lords of War", deals with the issue of drone warfare and the arms trade. He talks to Tom Barns about foreign policy, austerity and militarism.

New measures introduced by EU states, notably Italy, are focusing on reducing the numbers of people crossing the Mediterranean rather than on saving lives. Sabrina Tucci reports.

This week, activists from all over the UK have come to London to stop military equipment from getting into the setup of DSEI, one of the world's biggest arms fairs. We will unite and mobilise as many people as possible against DSEI's message of perpetual-war and military escalation, writes Andrew Smith of Campaign Against Arms Trade.

In the final essay in our three-part #StopDSEI series, Paul Cudenec reports on the toxic politics at the heart of DSEI, the world's largest arms fair, and the protest action set to greet it in London's Docklands next week, with opponents aiming to physically to stop it being set up.

Following the tragic events at Grenfell Tower, photographer Pierre Papet visited the area to examine the risks affecting similar buildings in the borough. In this photo essay, he argues the tragedy must be viewed within the larger context of a decades-long assault on social housing in the capital.