Analysis | How the Western media is getting (almost) everything wrong about Venezuela
Lee Salter argues our understanding of the recent upheavals in Venezuela must be placed in its proper, larger context. It's not about economics, corruption or crime, he insists, but about the ultra-rich and their supporters trying to overthrow the will of the people.
By Lee Salter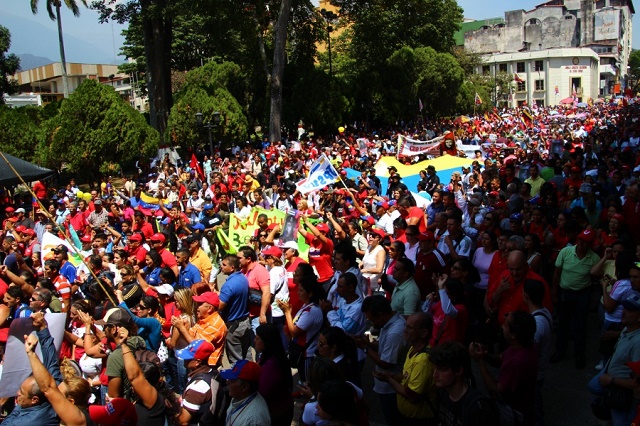 Thousands of Chavistas marched through central Merida, ending at Plaza Bolivar. Chants condemned the recent spate of violence and called for support for Nicolas Maduro. (Ryan Mallett-Outtrim/Venezuelanalysis)
To explain events and developments in Venezuela at the moment is no mean task. Like most things, this is a complicated, vast subject, and regardless of the attempts by myriad political protagonists, human rights groups and news media outlets to paint things in simple, starkly black and white terms, they are not. In order to fully understand what is happening in the country, one must delve deep.
Take, for instance, a recent, particularly galling video on YouTube which explains that millions of students took to the streets to protest against the crime and security situation. The online comments left by a number of Venezuelans on the video are themselves quite telling, specifically in that they are mostly made in English and, bar the usual exceptions, English-speaking Venezuelans tend to generally be from the rich minority that has been fighting to overthrow democracy since 1998. Another curious thing about such comments is that they know what terminologies to deploy, as well as where and when to use them. They know, for instance, to mention "communism", "Cuba", "democracy" and "human rights".
Naturally, the Venezuelan elite's cultural networks of communicative power give them an enormous ability to set the news agenda (the Venezuelan news media has traditionally been controlled by the ultra-rich minority, of around 5-10% of the population), especially as there has been no real alternative to this media dominance beside the odd under-funded community radio station. Needless to say, in order to become a journalist in the first place, one needs the sort of training and contacts afforded only to the rich, alongside the cultural associations and linguistic ability that accompany such privileged backgrounds. As the U.S. political scientists Ronald Sylvia and Constantine Danopoulos explain, the availability of such cultural capital is restricted: 'Weekend shopping trips to Miami were the order of the day for the bourgeois classes. The oil riches, however, did not trickle down to the bottom of Venezuelan society. A sizeable portion of Venezuela's population remained desperately poor'.
Moreover, Venezuela's ultra-rich have historically been well connected to Miami – and the US more generally – as well as to the international jet-set world. They have media interests and media contacts and they dominate international communications about Venezuela. So when a story needs to get out about, for instance, alleged abuses of journalists, the lines of communication are open, and a primed international media is ready to accept anything that conforms to expectations. (On one occasion, I noted a human rights group's release about such an abuse. Upon investigation, I found that the original footage of the incident was of a camera operator being jostled on a picket line.)
In this context, the views and opinions of the vast majority of Venezuelans continue to go largely unreported, as coverage focuses on those of the – generally well-off and 'on message' – international diaspora. A few weeks ago, I read comments by such an 'exile' to the effect that "Chavez hates the people, he hates anyone with money. He is trying to stop the dams from producing electricity so that rich people can't have televisions and things. In Caracas they only have 4 hours of electricity per day". To which I pointed out that I had just come back from ten days in Venezuela, and experienced a single power cut of about 20 minutes. Another time, I found myself sharing a Caracas cable car with an English-speaking Venezuelan. She and her partner began talking to me and to my Irish friend about lightbulbs: "you know anything about Venezuela, about Chavez? He's a communist, you know? He's trying to destroy the country. He's trying to force everybody to have energy-saving lightbulbs…but this isn't Cuba". After five minutes, my friend felt compelled to point out they used energy-saving lightbulbs in Ireland, too, and that he didn't feel particularly oppressed by them.
I found the fury about electricity and lightbulbs rather baffling. After all, the situation is rather reasonably easy to explain: Venezuela was experiencing a long, extended drought and water levels in the hydro-electric dams were therefore low, impacting upon the country's power generation figures. To compound matters, there were not enough engineers with the right expertise working on the dams and rivers to ensure proper maintenance. The key factor, however, was the jump in sales of consumer electrical items, such as refrigerators, encouraged by the government to improve the quality of life among the population. As such, adopting energy-saving policies as a short-term solution seems quite straightforward.
When quizzing Thomas Muhr, a researcher on Venezuela at the University of Bristol, about the lightbulb stories, he told me that it was all led by a rumour that Chavez was placing video cameras in them to spy on people at home. Quite.
Such stories go on and on and on. One of the most striking things, however, is that when one gets to the subject of corruption and crime, there is general consensus among most Venezuelans. Almost everyone I've ever spoken to, including in and around the Venezuelan government, says the same things: there's too much corruption, we don't seem to be able to do anything about crime, the revolution isn't fast enough, the people don't seem to realise what they can do, and so on. Clearly, neither the government, nor the Bolivarian movement at large, is blind to these (or other) shortcomings and issues.
The other big problem facing the country is one over which the ultra-rich probably don't lose much sleep: How to stop the CIA, and reactionary forces inside Venezuela, from overthrowing the democratically-elected government. This is the lens through which the situation in Venezuela must be understood. Most of the coverage of the country in the Western corporate media plays on what is called the "exceptionalism thesis": the idea that Venezuela is historically different to the rest of Latin America insofar as it was stable and democratic. This thesis has been challenged by Steve Eller and Miguel Salas, alongside an array of other Latin American scholars such as Princeton's Kelly Hoffman and Miguel Centeno who pointed out that before Chavez 'Venezuela was marked by extreme poverty set against a narrowly constituted elite of 5-10% of the population'.
Indeed, there's very little in the data that distinguishes Venezuela from the rest of the continent in this regard: According to Julia Buxton, of Bradford University, between 1975 and 1995 poverty increased dramatically in Venezuela, with the percentage of persons living in poverty rising from 33% to 70% of the population during that period, (the number of households in poverty increased from 15% to 45%). By 2000, wages had dropped by 40% from their 1980 levels. By 1997, 67% of Venezuelans earned less than $2 a day. Add to that the historically airbrushed atrocity of the Caracazo Massacre, where thousands of poor people were slaughtered – in the same year as Tiananmen Square – for protesting IMF dictats. In short, for most Venezuelans, contrary to the exceptionalism myth, there is very little if anything in the country's pre-Chavez past to hark back to.
And yet, such an understanding is virtually lost in  international media coverage, which instead continues to reflect back on an imagined era, prior to Chavez, when the country was "unified" (presumably happy in poverty and oppression) and "stable". Indeed, my own research has outlined the narrative that the BBC inadvertently plays on, which masks the history as experienced by the majority of Venezuelans. (I say "inadvertently" partly because one of the correspondents whose work makes up the bulk of the sample we analysed is a committed Chavista)
This narrative begins way back in December 1998 – before Chavez had a chance to do anything – when the BBC told us that "Venezuela is proud of its democratic record"; that "many" see Chavez as a kind of autocratic military leader (remember that he had hardly done anything by then); and that in the good old days a high proportion of government spending went on social programmes. (Amazing, really, that so many were still in poverty or voted for this demon from hell). It took less than a year for the Beeb to remind us that "There is a dictatorship" in Venezuela. For those idiots who thought Chavez's elected-status gave him legitimacy, the BBC was quick to remind them that "Adolph Hitler was elected too". This framing of Chavez, and the Bolivarian Revolution, went on unchallenged for the ensuing ten years: Chavez came from nowhere, he's a grave danger for Venezuela and the world, and … oh wow, how did he get elected again?!
By 2002, the emboldened "opposition" – a term inherently understood by Western outlets as conferring legitimacy – had deployed its vast private media access to launch a bloody coup. That they did so with their allies in the private media is incontestable: with characteristic arrogance, right-wing reactionaries in Venezuela explicitly told us so on air. And yet, for the BBC, Chavez had "quit" due to his "mishandling" of "strikes" (in actual fact, a management lockout) and a demonstration in which Chavez had apparently decided to murder his own supporters. Fortunately, the BBC explained, "Venezuela … looked not to an existing politician but to the head of the business leaders' association", Pedro Carmona.
In the world of the BBC, the coup was actually "Venezuela" forming a transitional government and "restoring democracy". On this account, democracy appears to be something that involves the ultra-rich shooting people and seizing power. (To be fair to the BBC, its coverage was substantially dependent on international news agencies, which in turn depended on local journalists, who in the main work for the private media that helped launch the coup… and so on)
The situation never changed. No matter how many democratic elections Chavez, the movement he led or the party he helped form won, no matter what level of electoral legitimacy Venezuelans (rather than the BBC's "Venezuela") bestowed on Chavez, the government could not stand, and the implacable reactionaries would not cease until the Old Order was restored (unless, of course, they are talking to the rest of the world, in which case the line tended to be, "oh, I'm sure they're well-meaning and the social programmes are good, but there are too many bad people around and too much mismanagement").
In this context, the most recent protests are indeed about a lot of things, and no doubt reflect a plethora of voices, just as there's a variety of voices within the movement itself. Indeed, Venezuela still has problems, a lot of problems. Yet the "opposition" is as concerned with poverty today as its leaders were when they presided over massive levels of it. They are as concerned with human rights today as they were during the Caracazo Massacre. They are as concerned with democracy today as they were when there was a de facto exclusion of most of the population from political life. It is this fear of the "plebs" that drives the "opposition" today.
There's a familiar story about states that sit outside the sphere of US hegemony – they tend to face campaigns of destabilisation, coups and invasions where necessary. The invariable response to such threats is to "clamp down" on previously enjoyed freedoms. The notion of a "strategy of tension" demands that a government is put in a defensive position – a "state of emergency" as it's called in a friendly state. It is also this reaction, the context of which is rarely mediated, that motivates a number of the protesters.
It is worth reflecting how other states of emergency are mediated. After the 2011 riots in the UK, 3000 young people were swept up in a dragnet and sent to kangaroo courts for what would no doubt be called in Venezuela, a protest against an out of touch and corrupt government. The repressive clampdown was cheered on by the British media. Yet if the current President Maduro, or Chavez before him, had received as small a proportion of the vote as Cameron, Venezuela would probably have been invaded by now.
Contrast the conduct of broadcast media in the UK with that in Venezuela. It's not simply that the private media in Venezuela have been "biased" in their coverage of national politics, which British broadcasters are forbidden by law to engage in, it is that they actively initiated a coup against democracy in 2002 that led to the deaths of hundreds. Were a TV anchor to appear on ITV News and counsel the army and navy to rise up against the government, he'd be gone in the blink of an eye. Were his bosses to support his position and continue to encourage such action on a daily basis for years, (as happened in Venezuela,) it would be hardly outlandish to suggest that the ITV licence would not be renewed.
In a sense, the Venezuelan government is playing into the hands of the reactionaries and their supporters in the US. Some of the measures taken to ward off coup threats and enable a government – that has never garnered less than 50% of the vote – to carry out its mandate have been clunky to put it mildly. Yet at the same time, it is difficult to see how else, other than through such emergency measures, the will of the people could be fulfilled in these circumstances.
Indeed, this is the crux of the situation in Venezuela: It is not about a sudden emergence of economic problems, corruption or crime. It is about the ultra-rich and their supporters, especially among the middle class, who for 15 years have spent their time, energy and resources trying every possible measure to overthrow the will of the people. Again, there are problems aplenty in Venezuela, but the trick is to understand these in the context of the bigger picture.
A version of this essay first appeared on the author's personal blog.
23 Comments
Leave a Reply