Books | 'The Intellectual Life of the British Working Classes' by Jonathan Rose
As the marketisation of universities accelerates, maintaining forms of education which value the pursuit of knowledge as an end in itself has become a crucial and necessary challenge. Elliot Murphy revisits a classic study by Jonathan Rose that explores the pre-war culture of self-education amongst the British working classes.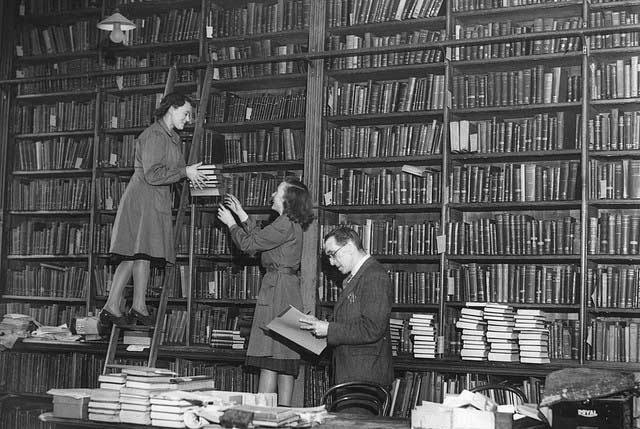 Temporary Lending Library Central Library New Bridge Street Newcastle upon Tyne 1949 (Source: flickr)
Jonathan Rose's inquiry covers a remarkable range of demanding and urgent questions with concern and insight. The Intellectual Life of the British Working Classes, now in its second edition*, is notable for its discussion of how writers and academics seek to elevate themselves above the public with unnecessary and exclusionist 'Marxist jargon, modernist obscurantism, or postmodern opacity' – in other words: if you haven't got anything interesting or original to say, you'd better start flicking through the thesaurus (395). What follows are some quotations and comments, inevitably doing little justice to the intricacy of the book itself.
Echoing many points from John Carey's The Intellectuals and the Masses, Rose makes it clear he is not impressed by most of the literary residues of academic careerism. Modernism comes in for particularly heavy scorn. Indeed, Rose believes 'the fundamental motive behind the modernist movement was a corrosive hostility toward the common reader. Nietzsche, Ortega y Gasset, George Gissing, H. G. Wells, Bernard Shaw, T. S. Eliot, Virginia Woolf, Sigmund Freud, Aldous Huxley, Wyndham Lewis, D. H. Lawrence, Ezra Pound, and Graham Greene all strove to preserve a sense of class superiority by reviling the mean suburban man' (393).
Modernism, for Rose, was 'a body of literature and art deliberately made too difficult for a general audience,' with prominent intellectuals 'convincing themselves that the typical clerk was subhuman, machinelike, dead inside, a consumer of rubbishy newspapers and canned food' (393). The result is poems like 'The Waste Land' which, while stylistically bold and elegiac in its nods to past cultures, is unmatched in its patronising faux sympathy for the workers of the 'Unreal City,' where 'Under the brown fog of a winter dawn, / A crowd flowed over London Bridge, so many, / I had not thought death had undone so many.'
As Rose notes, throughout history 'the literate classes have attempted to preserve a closed shop through exclusionary languages. In ancient Mesopotamia scribes were a privileged and exclusive caste, and they commonly concluded cuneiform tablets with the epigram "Let the wise instruct the wise, for the ignorant may not see"' (223). When modernism eventually became mass culture, 'the avant-garde had to move on to something more modern still – postmodernism' (438). Like Alan Sokal (he of the eponymous 'affair') and Jean Bricmont's superb exposé Intellectual Impostures, Rose explores how 'Latin tags, professional vocabularies, and postmodernist jargon have all been used in turn as forms of encryptions, permitting communication among elites while shutting out everyone else' (223).
Seeing past the similar oratory of scholars and theologians, Rose examines the waterman-poet John Taylor, who satirised how academic rhetoric could increase the prestige of literature by excluding those not privy to the workings of the Ivory Tower:
Yet I with Non-sense could contingerate,
And catophiscoes terragrophiocate,
And make myself admired immediately,
Of such as understand no more than I. (224)
Seventeenth-century radicals like Taylor and Gerrard Winstanley 'could beat academics at their own game,' the historian Christopher Hill noted, something which has always frightened intellectuals (15).
Leaving few decades untouched, The Intellectual Life discusses in some detail Thomas Thompson's memoire Lancashire for Me: 'It was pathetic to see the faith in education as a cure for all ills,' argued Thompson, a member of a workingman's naturalist society who emerged out of the Lancashire mills through co-operative society classes. The workings of other grassroots and awareness-raising groups in hundreds of chapels and thousands of kitchens became known as 'mutual improvement' (a term used as far back as 1731). Although 'these institutions are scarcely mentioned in studies of labour history,' Rose comments, a Coventry millworker once claimed that 'The Labour movement grew out of Mutual Improvement Societies' (58).
This suspicion towards the wonders of 'education' survived through to the workers of later centuries, with the schools of the early 1900s imposing a 'desiccated diet of irrelevant facts' according to the educational historian H. C. Dent, where students were tasked with regurgitating conventional pieties and memorising equations (149). The disciplines of today largely stay true to this conception of Knowledge, with AQA's recent history textbook on The Making of Modern Britain – full of exciting exercises to test your source-reading skills! – carefully side-stepping the more embarrassing aspects of the nation's foreign exploits.
Defending a less mechanical and tedious lifestyle, Rose points to a biology tutor from Leeds at the Workers' Educational Association, who condemned the 'stamp collecting' method of science education: 'To merely lecture the students that offer themselves, or to get them to read books is to produce nothing but inflation and arrogance' (294). Sharing similar libertarian roots, the students of the WEA cited intellectual independence as a prime goal of education, as the 1936 Williams-Heath survey discovered. One student believed education exists 'To enable a man to stand on his own feet. To equip him to be able to endure his own company on occasions, communing with the inner world of his thoughts, instead of rushing out to mix with the crowd' (283).
Though it's no doubt less oppressive than in Victorian times, the education system in contemporary Britain still selects for obedience and conformity, with the students who are willing to do every pointless homework assignment being handed certificates on prize giving day before moving onto university, where the same values of deference are encouraged (hence the almost religious focus of many students on next week's reading list in order to outperform the competition, and their surreal discussions of who their 'favourite lecturer' is. And though it'd be remiss to claim that there's something wrong with having a favourite lecturer or working hard, the sheer prominence of such talk and to-do lists reflects and encourages a deferential mindset while discouraging independence).
The American pioneer of homeschooling, John Holt, also spent a great deal of effort trying to liberate education from its role as a state apparatus (we're wandering into Althusser's terminology here –  careful!) whose primary use is coaching obedience and subordination. Like John Dewey, he saw formal education as 'the deepest foundation of the modern slave state, in which most people feel themselves to be nothing but producers, consumers, spectator, and "fans," driven more and, in all parts of their lives, by greed, envy, and fear.'
Raised in a Catholic crafting family in the Grampians, Anne Kynoch also resented her time at Catholic School and the very existence of the syllabus: 'Despite being reverent and submissive there was still an intense longing to select my own reading, a longing that could not be quenched or denied' (185). Putting our bureaucratised and hierarchical educational world to shame, 'The Sheffield People's College, founded in 1842, was governed democratically by its students: in 1849 the president was a shoemaker. The College taught geography, history, modern languages, Latin, Greek, science, and philosophy, and students were encouraged to discuss politics.' (190)
The breakdown of social barriers through the arts was also supported by a variety of progressive corporations (decades before the financialisation of the British economy), with Lyons Teashops, Rowntree's and Cadbury sponsoring a number of drama societies across England. His works not being confined to the theatre, Shakespeare also 'provided a language of radical political mobilization' for many workers, with caravans of barnstorming actors bringing the bard's plays to mining villages across England (123). In drama classes, 'We were encouraged to think for ourselves,' wrote the cotton mill worker and factory clerk J. R. Gregson, since knowledge is only of value when 'acquired as a by-product of one's own originality and special turn of mind.'
Industrial drudgery, on the other hand, engendered 'mental apathy' and a 'crippled spirit': 'I have spent my life fighting against this state of mind and temper,' added Gregson, 'both in myself and in my fellows. The working-man's first instinct is to distrust beauty when he is made to see it. Talk to him of what life means to you, and he will confide to his neighbour – behind your back – that you are a bit funny sometimes!' (82) 
With similar beliefs outlined and further memoires cited, Rose explores what he sees as a centuries-old conflict between the educated and self-educated classes: 'From the beginnings of industrialization, the British working class have enjoyed a reputation for self-education' (187). The conflict between the educated and self-educated is similar to the tension between state and public intellectuals, with the debates between Christopher Hitchens and Noam Chomsky being a notable example.
With these distinctions in mind, Rose recounts 'a broad transformation of the left' beginning with the expanding influence of the Labour Party in the early twentieth century. The gradual shift in the party 'from a working-class self-educated leadership to a middle-class university-educated leadership brought with it a shift from economic protest to cultural protest' (145). A similar stress is found in the book's unsettling final paragraph, with Rose raising the vital matter that, 'However often today's literary scholars repeat the mantra of race, class, and gender, they clearly have a problem with class.'
Academic journals rightly dedicate reams of pages to gender and race issues, but as Rose points out, the MLA International Bibliography produces over a hundred times as many results for 'women' than for 'working class' ('race' produces just over ten times as many), with 'no academic or critical journals anywhere in the world [being] devoted to proletarian literature.' Indeed, the radical (and quite often anarchist) views of Britain's Victorian workers have been neglected by many historians who focus instead on crime, family structure, and diet.
Rose concludes: 'Affluent and ambitious, profit-motivated and style-conscious, [professionals in the creative industries] are sincerely committed to women's equality and genuinely interested in the literature, music, art, and cuisines of non-Western peoples. But the boutique economy they have constructed involves a process of class formation, where the accoutrements of the avant-garde are used to distance and distinguish cultural workers from more traditional manual workers' (464).
The lives and writings of pre-war manual workers ('who, it turns out, had a great deal to say') should also give us pause, especially when contrasted with the dazzling bestsellers and 'auto'biographies of countless celebrities which flood the beaches of summer holiday destinations, their vibrant front covers richly decorated with generous Observer reviews. With no episodes of The X Factor to debate, no music videos to drool over, and no lines from 'satirical' panel shows to quote (what Justin Bieber, busy partying 'like its 3012 tonight,' recently called 'the finer things in life'), many workers spent their time establishing 'mutual improvement' societies, joining libraries and reading what are now called the classics – with the reading list of a typical Glaswegian 'factory girl' in the early 1800s putting most undergraduates to shame. Rather than simply being a source of entertainment and pleasure, novels symbolised radicalism and revolution to Victorian factory workers, 'not just because they preached the right kind of left politics, but because they allowed working people to control their own minds' (51).
In the Jewish East End of London, 'the liberating power of literature was most effectively mobilized by the anarchists and their intellectual leader, Rudolf Rocker' (55). All ideologies, wrote Rocker, 'were subordinate to the great idea of educating people to be free and to think and work freely' (55). Rose makes these concerns especially vivid, arguing that many intellectuals feel 'threatened by the prospect of a more equal distribution of culture,' since 'in a society where every man supplies his own philosophy, the philosopher becomes redundant' (393).
Reversing the Marxist claim that culture is economically determined, and instead arguing that economic systems are culturally determined, Rocker believed, as Rose puts it, that 'the injustices of capitalism would be abolished not by scrapping the Western cultural heritage, but by redistributing it to the workers' (55-6). The anarchist claimed with his usual lucidity that 'What the human spirit has created in science, art and literature, in every branch of philosophic thought and aesthetic feeling is and must remain the common cultural possession of our own and of all the coming generations. This is the starting-point, this is the bridge to all further social development' (56).
More ominously, 'Disraeli's Tancred and George Eliot's Daniel Deronda, which both envisioned a Jewish return to Palestine, prepared elite opinion for the Balfour Declaration. Among the masses, the same role was performed by the Sunday schools and church-related day schools, which, while they neglected modern geography, meticulously taught the landscape of the Holy Land' (350). At the same time, late Victorian farm labourers also found a radicalism in the Bible, as Mabel Ashby explained in her book on her father, Joseph Ashby of Tysoe: 'They were on the side of the Prophets, rather than of the Kings, the institutions. The grounds of self-respect their fathers had lost in England they found afresh in Palestine' (352).
Paul Rayment, the morose protagonist of J.M. Coetzee's novel Slow Man, 'tends to trust pictures more than he trusts words,' with the 'immutable' aspects of photography being more than a swift departure from the nature of stories, 'which seem to change shape all the time' (Vintage, 2006: 64). Narratives such as the Genesis myth or Samson Agonistes have found themselves in similar positions, their ambiguity resulting in wonderfully broad debates and fresh interpretations, usually socialist or anarchist in character, amongst some of the most impoverished districts in Britain (Rose even names a sub-chapter 'Conservative Authors and Radical Readers').
Covering a vast range of authors with considerable care, Rose observes, for instance, that 'Though it is usually read as a critique of the class system, Howards End is fragrant with nostalgia for a rigid social hierarchy' (402). And while many radical papers often instinctively denounced Walter Scott's traditionalism, in 1832 'a writer in the Edinburgh Schoolmaster ventured that Scott could be read as an anti-Tory, whose lower-class characters were more attractive than his aristocrats' (40). So too for Defoe, who collapsed 'all social distinctions into one person': 'In a hierarchical and conformist society that offered little freedom for the laboring classes, Crusoe was read as a fable of individualism. It showed what one workingman could do without landlords, clergymen, or capitalists' (111).
With scrupulous and extensive scholarship, Rose fervently investigates the pre-war culture of self-education and advocates its rejuvenation. Although the struggle to place Britain's schools and universities under democratic control will be a difficult one, reminding ourselves of the central issue of education is easy enough, and was perhaps articulated best by Picasso: 'Every child is an artist. The problem is how to remain an artist once we grow up.'
[* from which all quoted passages are taken]
2 Comments
Leave a Reply