Special Report | France: divisions deepen over same-sex marriage proposals
Sarah Whitehead reports from Paris, where successive street demonstrations have highlighted the huge gulf of opinion currently dividing France over François Hollande's proposals to legalise gay marriage.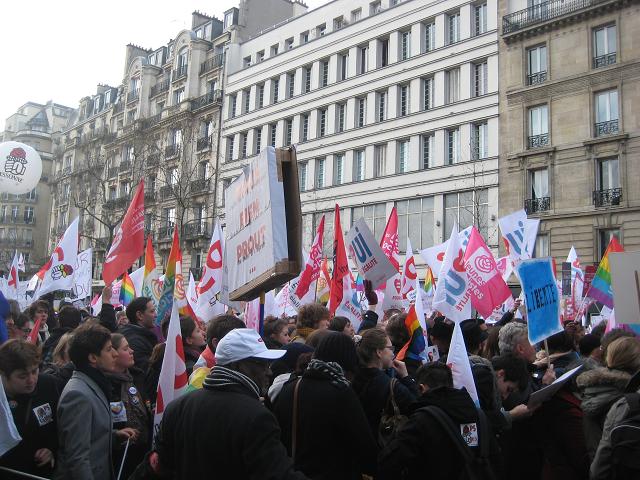 Protesters at a rally held in Paris in support of same-sex marriage rights (Photo: Sarah Whitehead)
On my way to Denfert-Rochereau, the gathering point for last Sunday's gay rights demonstration in Paris, a hoard of people clutching pink signs clambered into the already crammed metro. A mere two weeks before, the pink banners of hundreds of thousands rallying to protest against gay rights read 'marriage means one man and one woman' and 'homos cannot raise our children.' It was good to see this afternoon the slogans replaced with 'Equality means same rights for all' and 'you need love to raise a child.'
In the past few weeks the streets of Paris have highlighted the huge gulf of opinion currently dividing France over François Hollande's proposals to legalise gay marriage. The bill also proposes to legalise the more controversial issue of adoption for same-sex couples, which unlike the UK is still illegal in France. Discussions are being held this weekend at French parliament and so far the bill has crossed the first rung after lawmakers voted in favour of the article that redefines marriage as 'an agreement between two people' as opposed to only a man and a woman.
Last week's march began along Boulevard Arago, where students, political parties, families and friends from Paris and other parts of France gathered. A lively atmosphere had filled the cold air with music, chants and even a brass brand in one segment of the street. But beneath the skin of many of the marchers ran responses to the deeply degrading arguments made against gay people in the run up to the bill.
"We are almost certain the bill will be passed but this is not just a question of law," said 24-year-old Alison, a member of France's young socialist party. "I am here for personal reasons as much as political ones and we want to change attitudes in addition to legal rights."
Last October, the mayor of Paris's 8th borough arrondissement, François Lebel, stated in his official municipal publication that legalising same-sex marriage would be akin to opening Pandora's Box and cause a world of corrupt activity to be unleashed. The member of France's right wing opposition, The Union for a Popular Movement, asked his readers that if France legalises gay marriage "Why continue to prohibit consanguineous marriage, paedophilia and incest that are practices still commonplace worldwide?" He continued: "The door is now open to a lethal spectacle of the age of legal marriage with everyone doing anything with anyone and anything!"
A month later Serge Dassault, an influential senator from the same party, replied to Hollande's proposal with the statement: "We'll have a land of homos. And then in 10 years there will be no-one left. It's stupid." The 87-year-old told France Culture radio "It's the end of the family, it's the end of the children's development, it's the end of education. It's a danger for the entire nation." He added his belief that homosexuality was one of the causes of decadence in ancient Greece.
Echoes of these opinions seeped through the demonstration opposing gay marriage held outside the Eiffel tower two weeks ago, where an estimated 340,000 to 800,000 demonstrators flooded the city.
But the force of such views has not gone unfelt. SOS Homophobia has reported it had received three times more calls in December 2012 than the previous year due to a rise in anti-gay sentiments. In his letter last month regarding the debates held in Catholic schools on the gay marriage bill, the Minister for Education Vincent Peillon reminded school administrators: "Let us never forget that we are dealing with adolescents and that suicide attempts are five times more frequent among young people who discover they are homosexual than among others." A disarming fact against arguments claiming same-sex marriage could be damaging to children.
The pro-gay rally attracted half the number who attended the counter demo, with an estimated 125,000 to 400,000 people. As we crossed le pont d'Austerlitz, Edwige, 52 from Paris' suburb Saint-denis, said: "I have a husband but I am marching for my 15 year old son who I think is struggling with his sexuality at present. I want him to grow up in a world where he is judged on who he is not on who he wants to marry."
The right-wing Catholic group Civitas, who have openly voiced their opposition to gay rights, organised an earlier counter march in November last year where violent opinions were physically demonstrated when marchers kicked, hit and pepper sprayed the Ukrainian feminist group Femen.
The recently passed article to remove gender specific terms from the civil code was met with overwhelming support from the Socialist party members while all but one member of the UMP voted against the change. The two far-right National Front deputies also opposed the bill and according to French broadcasting site France 24 the party 'called on its supporters to join Catholic-driven protests against it.'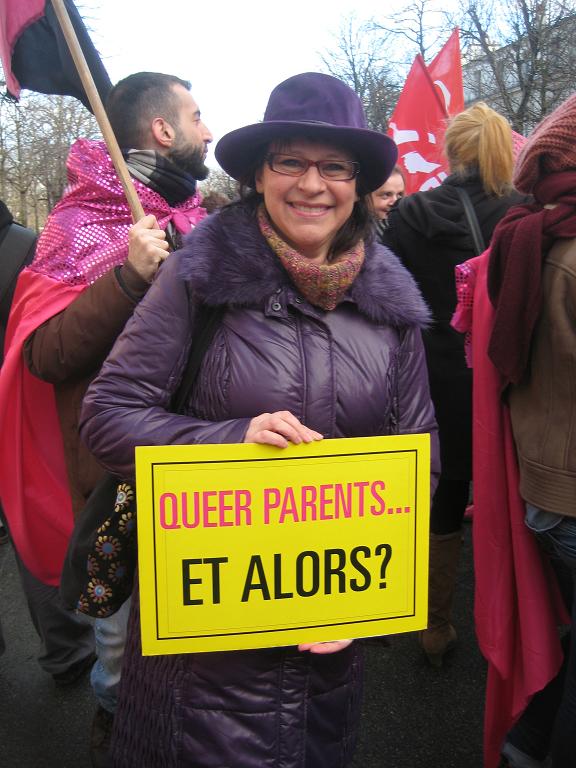 On a recent blog posted on the France Jeunesse Civitas Website, Daniel Godard, a classics professor who has spoken openly about his opposition to gay marriage argues that recognizing a same sex couple is a breach of language. Goddard claims that the disappearance of the words father and mother in the Civil Code is a 'hoax' and a 'lie' as in Latin the word 'parere' means 'cause' for the father and 'give birth' for the mother. "How can one explain to a child that the word 'parent' applies to a person who is totally foreign to his birth? Should the law allow that person to lie?" he asks.
Godard's archaic argument, propped up by the technicalities of a language that hasn't been spoken for centuries, fails to take into account the fact that the model family has long been blurred into the many shades of single parents, separated, step and adoptive families that children now grow up in.
And as Caroline Mecary, a lawyer in Paris known for advancing the rights of homosexuals by judicial decisions, pointed out in her article 'Les 14 commandements du mariage civil', replacing the terms 'father' and 'mother' with the term 'parent' has already been done in many texts of the Civil Code, "Just read articles 372-2 and following of the Civil Code," she tells us.
Amid current discussions, the government has said they hope the final bill will give gay couples the right to adopt children under the same rules as heterosexual couples. This follows criticism from campaigners that same-sex families require mounting paperwork to prove legal parentage for medical care, school enrolment and travelling abroad which prompts scrutiny causing children to feel confused or upset. At present there are officially an estimated 20-30,000 children living in mono-parental families in France that are today not recognised in the eyes of the law.
Reports have also said that debates are underway to draw up an article in response to the demand to give same-sex couples the right to have medically assisted procreation, which is being met with strong opposition from conservative and catholic parties.
With talks still under way, it is hoped that a rewriting of the civil code will lead to gradual changes in the society itself. Speaking on behalf of Inter-LGBT, Paul Quintana said: "Unfortunately, there is still a lot of antagonism vis-à-vis homosexuals. I believe this is because many of us prefer to reject things that make us uncomfortable. France is still a conservative country, stemming from a catholic tradition that once governed everything and condemned homosexuals. It's also a problem fuelled by the divide in political parties.  But I am convinced that, when the bill is passed, far fewer people will show their anger."
Olivier, 36, had come from Rennes in Brittany on a bus with 300 people from his region to join the march. He told me: "At present I feel like a second-class citizen. I would love to marry my boyfriend and have a family, like anyone else, but I am paranoid about how I will be treated by society."
The roots of a language spoken during Roman times may not have acknowledged the significant shifts society has taken. Perhaps 2000 years later ours should.
1 Comment
Leave a Reply