UN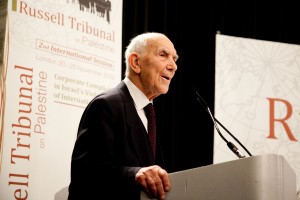 The Russell Tribunal on Palestine sat its second international session on 20-22nd November 2010 in London. With a jury comprising QCs, Nobel Peace Laureates and former UN officials, it examined evidence of international corporate complicity in Israel's violations of International Law. Ceasefire correspondent Teodora Todorova reports.
A few weeks ago, hundreds of men, women and children, all inhabitants of the Western Saharan capital, Layoune, walked out of the city and established a camp in the desert. Their act of defiance against Moroccan occupation culminated, a few days ago, in savage repression and violence. Kateb Salim reports.

In the news this week in Latin America: anti-GM activists under threat in Argentina, bomb explosion in El Salvador, UK backing for a security council seat for Brazil and a museum expedition that could turn into genocidal threat in Paraguay. Ceasefire correspondent Tom Kavanagh delivers his weekly round up of what's been going on south of the border.

In a new column, 'North African Dispatches', Kateb Salim casts a light on the case of Western Sahara, Africa's last, forgotten colony. He traces the history of the region from Spanish colonialism to Moroccan occupation, and charts the tremendous obstacles in the path to freedom that the Saharawi people have faced over the past decades. Unless a just peace is found soon, Salim argues, the repercussions are bound to be disastrous for the region.

When searching for items on Kashmir in her local library, Zainab Daniju got more results for a song by Led Zeppellin than for the region itself. Yet this country, under continuous brutal oppression since 1989, is virtually absent from mainstream media coverage. In her piece, Daniju explores the roots of the conflict, as well as the reasons why the world should start caring.

The past few years have been interesting times in Latin America, and this week was no exception: from protests in Bolivia, to a Brazilian possible u-turn on the Iran question to the remarkable warming of relations between Chavez and his Colmbian neighbours. In this week's dispatch, our correspondent Tom Kavanagh reports on what's been going on south of the border...

The creation of the UN, sixty years ago, has introduced the concept of "international peacekeeping" into the public lexicon. The UN peacekeeping missions are now regular features of news bulletins from conflict zones. And yet, both in its theoretical underpinnings and its practical manifestations, peacekeeping remains a highly problematic idea. Political theorist Andrew Robinson presents the many issues surrounding the idea of peacekeeping, and conducts an impassioned and lucid analysis of how peacekeeping efforts often get things wrong, and what needs to be done to set them right.