South of The Border: The view from Latin America
In the news this week in Latin America: Correa fights back in Ecuador, Presidential elections in Brazil, Chavez retains a majority, and US crimes in Guatemala exposed. Ceasefire correspondent Tom Kavanagh delivers his weekly round up of what's been going on south of the border.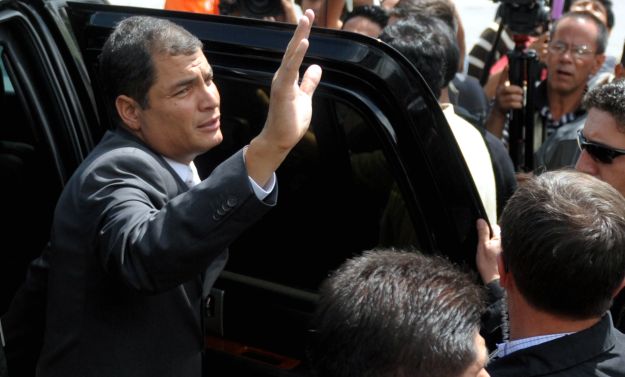 By Tom Kavanagh
Ecuador paralysed and President Correa kidnapped after public sector workers protest benefit cuts
A state of emergency was declared in Ecuador and President Rafael Correa was kidnapped and held hostage by rogue members of the country's police force as protests against the government spilled into an attempt by rebelling officers to launch a coup d'état, leaving at least four dead. Protests followed the enactment of a new law which some public service workers fear will cut their benefits as part of a wider package of austerity measures.
Correa affirmed that there had been an attempted coup d'état against his government on the part of the opposition and breakaway elements of the Ecuadorian police force and army. The president, who was first elected in 2007 and re-elected two years later, was treated at the Police Hospital in the capital Quito having been hit by a tear gas canister at a demonstration. Rogue officers surrounded the hospital and attempted to force their way to the president, who earlier in the day had been held hostage for 35 minutes by members of the police force and army officers.
At least one person was killed and several more injured when the crowd of hundreds of protesting officers tried to reach Correa in an attempt to accost him as he was inside the hospital according to Security Minister Miguel Carvajal. Correspondant Christian Salas of Venezuelan state-funded news network teleSUR reported from Quito that "Police are firing directly at the population… They are shooting straight at the people… direct aggression against the Ecuadorian people for trying to excercise their right to democracy".
Public service workers were protesting a resolution of the Law of Public Services, which reduces benefits in line with austerity measures recently announced by the government. Salas reported that "tear gas and physical violence" have been deployed by state security forces against civilians in various cities across the country, including in the second city Guayaquil and Cuenca, Ecuador's third largest city. State sources informed that in total, four people had been killed and at least 88 injured over three days of unrest.
One demonstrator told teleSUR that "we are defending democracy and we ask of the police that they leave us alone and that this country stays democratic". Demonstrators reported severe repression from officers, and national television broadcast images of groups of police blocking roads and burning tires in streets in Quito. Correa promised to deal with "rogue elements" within the force, challenging police from the inside of an army barracks: "If you want to kill the president, here he is, kill him if you can". Correa called the confrontations an "uprising" on the part of the Patriotic Society Party led by former president Lucio Gutierrez.
Around 300 rogue members of the army and air force closed the runway at Quito's international airport and the president of Ecuador's central bank Diego Borja told citizens not to withdraw money, amid widespread reports of looting and bank robbery, with civil disturbances in much of the country. The governments of Colombia and Peru sealed their borders with Ecuador in solidarity with Correa's government. Ecuador has been forced to reduce its budget in the wake of the president's decision to default on bonds of US$3.2 billion owed to foreign creditors, with Correa describing the debt as "illegitimate". The president has since increased state spending on education and health, having been elected promising to redistribute Ecuador's oil and natural gas wealth, but has been accused by some indigenous groups and public workers of breaking promises in recent months.
Correa's government received numerous messages of support from other regional president's, with Bolivian leader Evo Morales attributing blame for the uprising to "a capitalist conspiracy that was seeking to destabilize ALBA (The Bolivarian Alliance for the People's of Our America group)." Morales underlined the seriousness of the events, expressing his shock that "the president of the state was attacked and kidnapped, that's no small thing." The Bolivian president said he had spoken with his Ecuadorian counterpart during the attempted coup and on the following day, and that Correa "didn't know what was going to happen to his life."
In relation to his comments regarding the motivation behind the uprising, Morales said "in 2002 it was Venezuela, in 2008 it was Bolivia, in 2009 it was Honduras, and now Ecuador… all ALBA members, it would be naïve to think it was a coincidence." He said he had heard from confidential sources that "they already had information regarding suspicious movements in Ecuador… they were collecting signatures to recall Correa, now it's confirmed that rightwing groups were waiting for the result from [Venezuelan parliamentary elections] in order to act".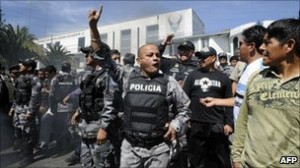 The Bolivian president said that the problem of regional security in much of Latin America was attributable in part to training and funding from "imperialist armies" which some countries have received in the past. "That's why you'll never see a coup in Peru or Colombia, because the security forces are working to block revolutionary and progressive movements. For example, they will never forgive me and Correa for closing the military bases that the United States had in our territory."
Venezuelan president Hugo Chávez congratulated Ecuador's people for having "courageously resisted" the attempted coup and "written one of the most beautiful pages of our contemporary history", and charged that the rebellion "should be looked at as a failed coup, manufactured in Washington." Chávez praised Latin America's leaders for showing unity in support of the Ecuadorian government, saying it proved "UNASUR wasn't created just for show." The Venezuelan president said it was a defeat for rightwing "fascist coups, which have no life left in South America."
Correa has sworn that those responsible for the uprising will be punished. Interior Minister Gustavo Jalkh said those involved were being investigated and would be rooted out. The president has sworn to punish all involved in the incident in which uniformed police surrounded the Police Hospital where he was being treated for 12 hours on Thursday, as well as troops involved in shutting down Quito's international airport and looting and property damage in cities.
The head of Ecuador's national police, Freddy Martínez has resigned in the wake of the disturbances. Despite not being involved in the rebellion, Martínez said he acknowledged he had failed to respond quickly enough as events unfolded. Three colonels arrested following an alleged assassination attempt against President Correa as he was being treated at the hospital were temporarily released on Saturday. "It can be said that Thursday's events were a great political victory for the government because the destabilising plans failed. The people came out into the streets. It was an immense display of popular support but we lost several lives", lamented Correa in reflection.
First round of Brazilian elections under way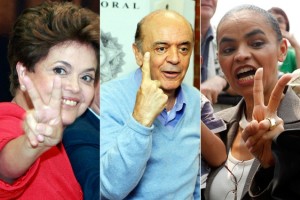 The first round of elections began in Brazil on Sunday, with ruling Workers' Party (PT) candidate Dilma Rousseff expected to take a comfortable victory as the country's 135 million-strong electorate goes to the polls. The former cabinet minister would become Brazil's first ever female president, and lodged her vote in the southern city of Porto Alegre alongside her party's gubernatorial candidate Tarso Genro. She said she expected to win "whether it's in the first round or the second"
Outgoing President Luiz Inácio Lula da Silva cast his vote in Sao Paulo, saying he believes Dilma can take a first round victory, avoiding the need for a run-off which would most likely pit her against Brazilian Social Democrat (PSDB) candidate and former Sao Paulo governor José Serra. Exit polls show Rousseff is projected to win 50 to 51% of the votes, which would force a second round of voting. Serra is projected to take 30 to 31%, with Green Party (PV) candidate Marina Silva sitting on around 17& having advanced significantly in recent months.
Venezuelan President Hugo Chávez thanked Lula for the legacy he has left Brazil, sending a message of support to Dilma in Portuguese saying "the popular victory Brazil will write today is a victory for South American union".
U.S. apologises to Guatemala over 1940s syphilis experiments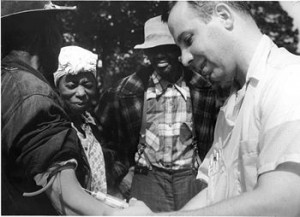 U.S. Secretary of State Hilary Clinton this week issued a communiqué to the Guatemalan government in which she apologised for her country's deliberate infection of at least 1,500 Guatemalans with venereal diseases for experimentation purposes during the 1940's. The tests, in which hundreds of people were deliberately infected with gruesome diseases in order to observe the results of penicillin as a treatment were undertaken by scientists from the United States around sixty years ago, with Guatemalan President Álvaro Colom announcing this week that President Obama had asked for forgiveness during a telephone conversation between the two on Friday.
None of the 696 Guatemalans who were intentionally infected with a variety of diseases which included syphilis between 1946 and 1948 were told they were being used as part of an experiment, which was coordinated under the direction of the official doctor of the U.S. Public Health Services, John Cutler. It is an apparent parallel to the infamous Tuskegee experiments which took place at the facility of the same name in Alabama until the 1970's. At Tuskegee, around 400 poor black men from rural parts of Alabama were deliberately infected with syphilis, again without being told what had happened, as health authorities monitoring the effects of the disease over the course of the next forty years.
President Colom called the Guatemalan experiments, which were authorised by the U.S.-friendly Guatemalan government of the era, as "serious crimes against humanity". Guatemalan authorities said there was no way of knowing how many people had subsequently been infected as a result of the experiments.
Chávez retains hold on Venezuelan congress as both sides claim results are "positive"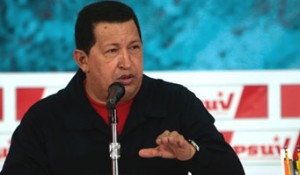 Hugo Chávez maintained a large majority in Venezuela's congress despite losing his party's two-thirds majority in last Sunday's parliamentary elections, with a high voter turnout of around 65%. The elections are a precursor to 2012's presidential campaign, with Chávez's opponents exalting strong gains in this round of voting despite the president's clear overall majority.
Chávez's popularity ratings have fallen somewhat in recent years, particularly as falling oil prices have hit revenue earned from oil exports hard, but his party maintains a position that looks to be unassailable within the next two years.
By breaking the government's two-thirds majority in congress the opposition will have more of a say in appointing figures such as judges and members of the country's electoral council. Opposition newspapers said the results showed a turning tide against the president, and opposition politicians spoke of their confidence ahead of 2012's elections. The government also claimed victory, with PSUV member Aristobulo Isturiz saying his party had been confirmed as Venezuela's "primary political force".
Tom Kavanagh, a writer and activist based in Argentina, is Latin America correspondent for Ceasefire. His column on Latin American affairs appears every Monday.
1 Comment
Leave a Reply