An A to Z of Theory | Neoliberalism, Higher Education and Sanaz Raji's Struggle for Justice
Amrit Wilson reports on the extraordinary case of Sanaz Raji, a tale of persecution and injustice that has highlighted the deep-set and dark prejudices at the heart of British higher education.
By Amrit Wilson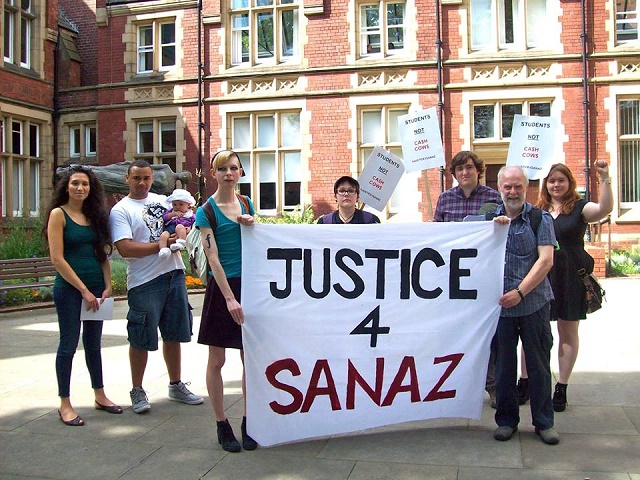 Last month, on learning that  more than 20,000 students had taken grievances against their universities in one year, then-Universities minister David Willetts (who's since been demoted in last week's reshuffle) said that this was a welcome sign that students were being more "demanding" after the Government allowed course fees to rise!
Whether this is hypocrisy or just plain idiocy it provides a facade for the Alice in Wonderland scenario of higher education. This is a landscape where lecturers are valued only for the money they bring in and can be sacked regardless of their skills and expertise in their field; where junior staff work for years on low-paid contracts and are expected to be grateful because 'the work develops their skills'; where management tells even senior lecturers to give their students good grades as they are fee-paying customers buying a product (i.e. their degrees) but where students who complain about the quality of education they receive are likely to face dire consequences because  neoliberalism rules that the customer  is only right when it suits the seller.
International students are the cash cows of this system, paying fees far higher than those faced by home students – some as high as £20,000. However, if they are people of colour they may well end up being treated as burdens. Far from being welcomed to Britain, as the university marketing ads in their own countries have led them to believe, they often face racism – sometimes violent, even lethal as in the case of Nahid Almanea from Essex University or Anuj Bidwe from Lancaster University or, more frequently, it could be the subtle but pernicious day-to-day racism which is the prerogative of the English middle classes. If an international student feels unfairly treated and think they can challenge the university authorities for breaking its own rules, they may find themselves  facing  the prospect of a deportation they are unable to fight, since legal aid in Britain is no longer provided for immigration cases.
The experience of Sanaz Raji, a reputable scholar and a published author who specialises in work on the Iranian diaspora and came to the UK from the US with a scholarship from the University of Leeds, illustrates many of these paradoxes. Her case is also remarkable because of the consistent and intense struggle for justice she has waged in the face of extremely harsh circumstances. In the course of this she has obtained through the Freedom of Information Data Subject Access Request a number of emails exchanged by Leeds University staff about her. These emails offer a rare exposé of prevalent attitudes, revealing the snide remarks, casual stereotyping and utter lack of sympathy on the part of academic, pastoral and administrative and managerial staff, as well as their collusion in passing judgement about the background and personality of someone they hardly know as they built a case for taking away her scholarship and excluding her from the university – indeed, even congratulating themselves over the possibility that the UK Border Agency will do the job of getting rid of her so they can keep their hands clean in this respect.
Sanaz's struggle has now reached a turning point. On Wednesday, 23 July, she will appear before an immigration tribunal to ask to be granted what is termed, in immigration jargon, a 'leave outside the rules' to remain in this country. If her appeal is unsuccessful, she will be deported to the US (where she has no sources of financial or family support) and will no longer be able to pursue her case against the University of Leeds. Her promising career as an academic will be all but destroyed. If she is allowed to stay on the other hand, she will able to clear her name and take the university of Leeds to court – a fight which, by all accounts, she is likely to win.
This all began in September 2009, when Sanaz arrived at the University of Leeds on a scholarship to find that her intended supervisor had taken a job elsewhere. The University then allocated her a supervisor who was not an expert in her field of research. Four months into her PhD, at a meeting with Dr Stephen Lax, the Postgraduate Research Tutor at the Institute of Communication Studies (ICS), a pastoral and administrative post, Sanaz requested to be given a new supervisor. 'I didn't complain', she explains, 'but I said I needed to find someone who could carry out the role.  Instead I was told that I should be grateful for having the scholarship'. She was eventually allocated two co-supervisors but, she says, she began to feel that the attitude towards her had changed and become palpably cold and intimidating.
Despite the inauspicious beginnings, she passed her viva in September 2010 and successfully progressed to the PhD. A couple of months later, however, she suffered a serious accident and broke her ankle. Instead of the pastoral care and support one might have expected she would be offered under such circumstances, she was told in December 2010 that her health issues did not warrant an extension. Instead, she was called to a meeting in January 2011 to review her progress.
"I found this very odd", she says, "given that I had only just passed my transfer upgrade viva in September 2010 and I was still recuperating from having broken my right ankle and suffering, also, from  a very bad throat infection. I had made very little progress on my PhD not because of laziness, but rather because of health-related matters. I attended this meeting on crutches, having very limited mobility (my GP had noted in a letter to the ICS that my health may have affected my ability to study) but I was told that I "seemed fine" and that if I didn't get the work done, I was in jeopardy of losing my scholarship."
According to documents released under the Freedom of Information Act, departmental staff had seemingly already classified her as a problem, with David Hesmondhalgh, the head of the ICS, emailing her co-supervisor, Stephen Coleman, that evening to say "I don't think Sanaz is typical. She seems to be exceptionally problematic […. REDACTED…..]".
A few months later, on 22nd July 2011, on returning from a conference in Istanbul – her attendance at which was funded and encouraged by the ICS, and where she had presented an extremely well received paper – she was called to a second 6-month progress review meeting. She was told that she was not making sufficient progress with her PhD studies. The fact that none of the written minutes of her supervisory meetings indicated any problems with her progress since January 2011 was deemed irrelevant.
Soon after, on 15th August 2011, two weeks before the start of the 2011-2012 academic year, Sanaz's scholarship was revoked, in breach of the University's own rules. According to the ICS Research Scholarship General Conditions (2009-2010), if a scholarship is revoked a four-week notice should be given to enable the student to make alternative arrangements.
The reason given for the revocation of Sanaz's scholarship was the lack of progress in her academic work. In April 2013, the Vice Chancellor's representative was to give a different reason: Sanaz's scholarship had been withdrawn because she had taken a job at the LSE and, because of the number of hours this involved, her new employment was in violation of her scholarship contract with the university.
In fact, as Richard Seymour pointed out in his piece on the case a few months ago, "the job with the LSE was originally based at Leeds, and was tied to her original intended supervisor. She was interviewed for the position at Leeds, and worked on it there for a period of time. However, the same institution that recruited her for the job would later go on to claim that they had no knowledge of her having taken the position".
Since her scholarship was revoked, Sanaz has been fighting a battle on two fronts: to survive in this country, and to get her scholarship reinstated. She has no sources of income and the acute stress levels she had been subjected to have led her to become so ill with functional limb weakness that she had to be hospitalised for a while. Adding insult to injury, the university evicted her from her accommodation and she is now wholly dependent on the kindness of her friends.
The handling of her appeal against the University's decision to revoke her scholarship was a charade, with the University Appeals Group (UAG) concluding that it did not matter that she had not received the 10 supervisory sessions (which were her right under university rules) since it 'did not follow from this that supervision had necessarily been deficient'. Even more surprisingly, the UAG did not deem it necessary for Sanaz's doctoral supervisors to be experts in the field of research in which they were to offer her supervision.
As to the university appeals system's impartiality, emails show that although it was Sanaz who was the appellant  against ICS decisions, it was David Hesmondhalgh, then head of ICS, who was kept informed by the secretariat about the progress of the appeal, including being informed of their decision before Sanaz herself had received it.
No student can take a University to Court before going through the OIA (Office of the Independent Adjudicator). This organisation, set up by the Labour government in 2004 however, is essentially a buffer, the intended function of which becomes rather clear when one discovers, for instance, that 96% of cases submitted to it last year were rejected. And indeed, Sanaz's case, too, was found by the OIA to be 'not justified'.
Throughout 2011, 2012, and 2013, while Sanaz battled health problems and financial hardship in her fight to save her academic career, various staff members were exchanging numerous emails showing an astonishing degree of personal hostility toward her. For example, on 2 May 2013, David Hesmondhaigh, then Head of ICS, had this to say to David Wardle, Deputy Secretary of Corporate affairs at the University of Leeds Secretariat and Helen Kennedy, Sanaz's former supervisor:
"I have to warn you all though that Sanaz is an angry person who seems to have a great deal of time on her hands (I believe she has lived for free in University accommodation over the last 20 months or so, and she appears to be supported by a wealthy family) and I fear she will pursue her vendetta for many weeks if not months'.
What reason was there for Hesmondhalgh to conclude that Sanaz was 'supported by a wealthy family'? If she had been rich would the university have given her a scholarship? Was it because of the stereotype of people of Middle Eastern origin being flush with petrodollars?
'It has been my friends and Justice 4 Sanaz supporters', says Sanaz, 'who have helped me to eat and  have a roof over my head'. And yes, she is indeed angry about the way she has been treated but she is not an 'angry person' – with all the term carries in derogatory connotations. She is merely fighting for justice and, as she says, 'I do not have a "vendetta" against the ICS– I want to clear my name and do what I love to do- teach and inspire other students'.
Talking of 'anger problems', one witness has reported seeing Stephen Coleman swearing at Sanaz on 29th November, shouting 'Fuck You' upon seeing her coming out of  a coffee shop opposite Blenheim Terrace in Leeds. For her part, at least one of Helen Kennedy's emails is worth quoting in full. It was written on 2 December 2013 to Stephen Coleman and Stephen Lax, and stated:
"Hi Stephen [Coleman]:
…The good news is that her was required to leave the country (not by the university, but by border control) by the end of end of last month, November, so maybe this was her last hurrah. I hear she was going to try to go to Amsterdam then come back in on a tourist visa-if that's the case, I hope she fails.
Helen"
Is this really acceptable behaviour in the British education system? We will know the answer only if Sanaz is allowed to take the University to court and for that she will have win her immigration case this Wednesday, 23 July.
Clearly, Sanaz's battle with the ICS has required enormous courage and determination. Reflecting on what she has learnt over two years of campaigning, Sanaz says 'If you are a non-EU international student and you want to take out a grievance against your university, for whatever reason, there are no services you can turn to. You are not aware of how the system works and you don't have resources. It can be very daunting'.
In line with neoliberalism, she says  many student unions are now more interested in shops and restaurants on campus than changing the system, and many activists in student organisations, whether in the NUS or the National Council Against Fees and Cuts, are unaware that international students pay substantially higher fees, or that students from a number of countries are required to register with the police as a visa requirement. "There is a real disconnect", she says, "which is why perhaps there is hardly any discussion of UKBA surveillance on students…. and very little solidarity for me for me as a woman of colour."
Sanaz recounts her experience at the NUS Women's Conference, where she was prevented from speaking and locked out of the meeting. 'When I sat down outside they called the police. Cops off campus does not apply if you are a non-EU international student'.
As Sanaz  says, people must  realise that they need to support individual campaigns, "if they do not  further down the line, it will be impossible to take on  institutions at all'.
To help Sanaz in her fight for justice, you can sign this petition in her support and/or donate to help her cover her legal and living costs. 
12 Comments
Leave a Reply