Special Report | Hunger strike at Guantánamo enters critical stage
Aisha Maniar reports for Ceasefire on the ongoing hunger strike by Guantánamo Bay detainees, most of whom have been cleared of any charges, with lawyers warning of tragic consequences.
By Aisha Maniar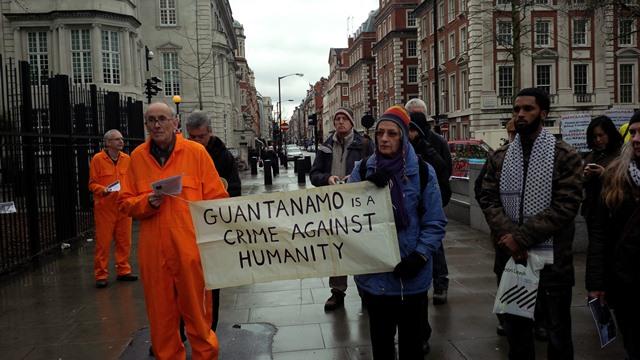 The London Guantánamo Campaign held a demonstration in solidarity with the Guantánamo hunger strikers on Sunday 17 March (Source: Aisha Maniar)
The vast majority of prisoners at the US-run Guantánamo Bay prison camp have been on hunger strike since 6 February. This prisoner protest comes in response to the confiscation of personal items from prisoners' cells and searches of copies of the Quran, which the men believe constitutes desecration.
According to the prisoners and their lawyers, rules and treatment over the past few months have worsened considerably. Consequently, almost all the prisoners have been on hunger strike for over 6 weeks, a point at which any such action becomes critical.
Reports about the hunger strike first emerged at the end of February. On 4 March, as the action entered its third week, over a dozen lawyers representing prisoners formally addressed a letter to Rear Admiral John W. Smith, the commander in charge at Guantánamo, in which they stated that they had "received reports of men coughing up blood, being hospitalized, losing consciousness, becoming weak and fatigued, and being moved to Camp V for observation. Detainees have also expressed feeling increased stress, fear, and despair." The lawyers described the situation as being "potentially critical" and the reported causes of the hunger strike as threatening "to turn back the clock to the worst moments of Guantánamo's history."
The hunger strike could have been ended at any time over the past six weeks. The lawyers wrote to "request that you take immediate measures to bring an end to this potentially life-threatening situation in the camps by addressing the reasons that give rise to it. Camp authorities must cease the arbitrary and regressive practices being reported by our clients, including all intrusive searches of the Qur'an." By the time this letter was written, some of the lawyers reported that their clients had lost up to 10 kg in weight, and could not concentrate during meetings.
The lawyers sought a response by 6 March. The reply was an official denial that any such actions had taken place, either by the prison guards or prisoners: the prisoners were apparently not skipping enough meals for their action to constitute an official hunger strike.
However, the US military did admit that it had fired plastic bullets, which hit one prisoner on 2 January. In a letter received by one of the lawyers on 22 February from hunger striker Bashir Al-Marwala, he reported "We are in danger. One of the soldiers fired on one of the brothers a month ago." He also stated "now they want to return us to the darkest days under Bush." A potentially lethal riot control method often used in Northern Ireland, this use of force has provoked as much criticism worldwide as the hunger strike, or lack thereof.
Nonetheless, the number of prisoners officially on hunger strike has continued to rise: in addition to the 6 prisoners who the authorities have admitted have been on hunger strike for the past year – and who are subject to force feeding, a painful process that constitutes a further violation of their human rights – this number has risen steadily to 25 hunger striker as of 20 March.
Lawyers put the number at closer to 130, with only the elderly and weak not taking part. Eight prisoners are said to be force-fed and two have collapsed out of exhaustion. And yet, the extent of the protest and the allegations of mistreatment continue to be denied: speaking to journalists, a senior US military commander stated that Qurans had not been mishandled. At a hearing of the Inter-American Commission on Human Rights (IACHR) on 12 March, where the hunger strike was mentioned among other issues about Guantánamo Bay, a senior lawyer for the US government went as far as denying that any "indefinite detention" of prisoners is taking place.
Lawyers from the Center for Constitutional Rights have told Truth Out that this is not about "the severity or extent of the hunger-strike, the administration should end the practices that gave rise to the current protest." In addition to the prisoners' immediate demands, "It must also take a hard look at the root cause of our clients' desperation: 11 years of indefinite detention, years of abuse and mistreatment, and broken promise after broken promise by the Obama administration to put an end to this failed experiment."
Out of the 166 remaining prisoners at Guantánamo, more than half had been cleared for release several years ago, and less than a handful face charges. The largest group of prisoners, including those cleared for release, come from Yemen and remain at Guantánamo following a 2010 moratorium on returns to their home country.
In his second term, President Obama has already closed further doors on the repatriation of prisoners. As such, having spent eleven years of detention without charge or trial, with no end in sight, there is, for many prisoners – particularly following the death of Yemeni prisoner Adnan Latif last year in suspicious circumstances – a "growing feeling here that death is the road out of Guantanamo."
Hunger strikes are an ultimate act of despair and desperation; Frances Webber calls it "the weapon for those who had nothing but their bodies with which to protest,"[1] in reference to UK immigration detainees. Speaking at the IACHR session, Kristine Huskey, from Physicians for Human Rights, stated: "A person held in indefinite detention is a person deprived of information about their own fate. They are in custody without knowing when, if ever, they will be released. Additionally, they do not know if they will be charged with crimes, receive a trial, or ever see their families again. If they have been abused or mistreated, they also do not know if this will happen again."
Adnan Latif's sentiments were expressed in the following 2007 poem: "They are artists of torture/ They are artists of pain and fatigue/ They are artists of insults and humiliation./ Where is the world to save us from torture?/ Where is the world to save us from the fire and sadness?/ Where is the world to save the hunger strikers?"
Having received no response from the command at Guantánamo, on 14 March, over 50 lawyers for the prisoners wrote to US Defence Secretary, Chuck Hagel. In their letter, they expressed "urgent and grave concern about a mass hunger strike taking place at the prison" and stated they have "received alarming reports of detainees' deteriorating health, including that men have lost over 20 and 30 pounds, and that at least two dozen men have lost consciousness due to low blood glucose levels, which have dropped to life-threatening levels among some. […] According to medical experts, irreversible cognitive impairment and physiological damage such as loss of hearing, blindness, and haemorrhage may begin to occur by the 40th day of a hunger strike, and death follows thereafter."
While prisoner abuse and arbitrary detention at Guantánamo Bay have never been mainstream concerns, it is only now, at this crucial stage, that the mainstream media is starting to pay attention, including pieces in the New York Times and the BBC, with the latter only doing so to parrot the official US military line and contradicting itself in the final paragraph of the article by stating "Hunger strikes have happened frequently in the Guantanamo Bay detention centre, but this is reportedly one of the longest and more widespread protests" as if this was not a real hunger strike. Indeed, the earlier hunger strikes led to an improvement in conditions.
One of the men on hunger strike is British resident Shaker Aamer, a Saudi national with a British family in south London. Cleared for release in 2007, it is unclear why he remains there with both the British and American governments blaming the other side for his continued imprisonment. He has never been charged or tried. With the situation at Guantánamo Bay worsening daily, now would be an ideal time for the British government to prove its stated desire to see Shaker Aamer reunited with his British family by stepping up its demands for his return.
While the US authorities debate the definition of a hunger strike, a more relevant question may be how urgent, after eleven years, must an emergency be before it is recognised as such?
[1] Borderline Justice: The Fight for Refugee and Migrant Rights, Frances Webber, Pluto: London, 2012, p 134
Signatures are currently being collected on an e-petition to Prime Minister David Cameron concerning the return to the UK Shaker Aamer: http://epetitions.direct.gov.uk/petitions/33133 100,000 signatures are needed by 20 April
4 Comments
Leave a Reply