Comment | The government's 'Health Tourism' myths are destroying real lives
As the media-political campaign against so-called 'health tourism' intensifies, government policies continue to plight countless migrant lives. Luqman Onikosi writes of his own personal battle to receive medical treatment for his serious chronic illness against the bureaucratic cruelties of the UK immigration system.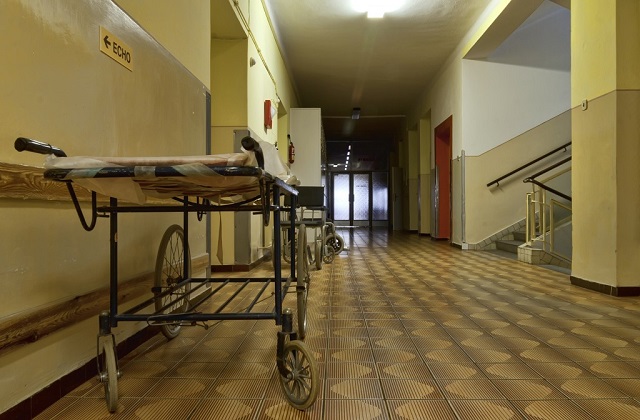 Back home, in Nigeria, I would get slapped on the cheek if I was found laying sick in the bed by my Dad, waiting to be discovered ill. 'Do not wait for me! Get yourself to the hospital," he would say. Don't get me wrong – it wasn't like the hospital was round the corner. Feeling sick to the stomach, often suffering from type 4 malaria, and with unendurable high body temperature, I'd walk a mile under the sun.
Six years on, in the UK, I am still reeling from a level of culture shock which has slowly slid into confusion. Many migrants, like myself, who came to the Britain making social and economic contributions through education or employment, came without giving a moment's thought to a 'handout' from the government, contrary to what many of the newspapers purport. But when an unpredictable turn of events afflicts you with a chronic illness, and you turn to social services for a safety net by applying for a visa extension on medical grounds, sadly the government – misleadingly – defines this as 'health tourism.'
Health 'tourism' it is not. We migrants are already in the country, having overcome numerous financial, social and bureaucratic hurdles, and have been making a vibrant economic contribution to the governmental purse. Furthermore, the UK Border Agency (UKBA) does in fact make real provisions in its immigration policy for health tourism, covering those who intend to come to the UK and seek medical treatment privately.
The annual report of the Director of Public Health for Brighton and Hove 2012/13, indicates that migrants who are unable to work due to disability or ill health are 85% more likely to be at risk of depression – 18% higher than the unemployed or jobseekers. For a migrant like myself, now suffering from chronic liver condition Hepatitis B, extreme fatigue and anxiety, the complicated appeal process for my FLRO visa application on medical grounds has left me unable to work, with a lack of accommodation, no source of income and the certain prospect of destitution.
Struggling with protracted fatigue, and feeling anxious and socially withdrawn having lost two siblings to the same virus, bereft with bereavement of siblings and close friends, I despair at how the external socio-economic deprivation I am faced with has contributed to my internal depression, thoughts of self harm and hopelessness.
Section 21 of the National Assistance Act of 1948, compels the state to intervene in the life of a migrant if it deems that the human rights needs of that migrant are in jeopardy, and obliges them to protect the dignity of the migrant, especially if a 'no recourse to public funds' clause is present on his or her visa, or if the person is at high risk of suffering from mental illness. However, it assumes a rather mono-dimensional cause of poor mental health, implying it is instigated by internal factors, such as a chemical imbalance in the brain.
Section 21 (1a) also makes the ludicrous assumption that destitution does not affect mental well being. Perhaps it is on that basis that to Brighton and Hove City, continued bereavements has had no impact on this migrant's mental health. Meanwhile, research underscores that people suffering from chronic illnesses are faced with a higher risk of depression – estimated at between 25-33%, greater than average.
Basic support is needed to protect the decency and dignity of those same people who have contributed socially and economically to their local communities. This is particularly true for many of us who, like me, have invested much more than economic value but also emotional and social roots into where we live, and whose strength to survive rests in the emotional support that comes from the community where we reside.
On top of the authorities' morally-bankrupt attitude towards those who happened to have been born abroad, this practice is a violation of the European Convention on Human Rights (ECHR). In my view, all things being equal, behind every financial obligation bestowed upon political subjects in a given geographical location to pay taxes and follow laws, there most be a corresponding human rights responsibility, fulfilled by statutory government action towards those political subjects.
Where once I would fight to take myself to the hospital, here it seems that trying to defy your chronic illness is tantamount to insubordination. I've learned the hard way that you must not be seen to be trying "too hard" to overpower your illness. Attempts to empower yourself, drag yourself out of bed and contribute to your community or invigorate your sense of purpose or self esteem are met with accusations that you are not 'sick enough' to deserve help.
It seems that, as migrants, we must continue to justify our very existence, and to prove that our life is worth saving – not necessarily because our lives are equal to the lives of others, but by the economic value of our subsistence to a system utterly indifferent to our right to life.
The Hepitatas B Foundation will be hosting an event on this issue in Brighton. More info here
2 Comments
Leave a Reply