Notes from the Margins | Let the Games begin: London's Dystopian Olympics
The official slogan of the London Olympics is to 'inspire a generation'. But it is difficult to imagine who can be inspired by this dystopian marriage of corporate profiteering and a paranoid and overwheening national-security complex, argues Matt Carr in his latest column.
By Matt Carr

London 2012: an overlap between homeland security and corporate profiteering
More than any other sporting spectacle, the Olympic Games have a recurring tendency to mirror the political dramas and expectations of the societies in which they take place and of the wider world.
Hitler's attempts to racialise the 1936 Olympics and their subsequent incorporation into Leni Reifenstahl's combination of fascist aesthetics and propaganda; the massacre of students that preceded the Mexico City Olympics in 1968; the kidnapping and killing of the Israeli athletics team at Munich in 1972 – in all these episodes the Games were transformed into political arenas in ways that were drastically at odds with the celebration of sporting innocence and fraternal competition that the Olympic ideal supposedly embodies.
The 2012 London Olympiad is no exception.  But perhaps no other Games have so completely mirrored the  most morbid political tendencies of their era, before they have even begun.
Police and military have just begun joint exercises involving Lynx helicopters, HMS Ocean, RAF fighter jets, Navy air assault troops, and Territorial Army units, in preparation for the Games.
In total 13,500 soldiers and army reservists will form part of a quasi-wartime security operation that will outstrip the numbers of British soldiers currently deployed in Afghanistan, in addition to 7,200 private security guards and 3,000 volunteers.
For first time since World War II, surface to air missile batteries will be deployed in various locations in the metropolitan area, including two missile launchers on blocks of flats in Tower Hamlets and Walthamstow.
RAF Typhoon fighters will provide additional protection against what Scotland Yard's assistant commissioner Chris Alison calls ' a large 9/11 type of threat', while snipers in helicopters will fly over London in the event of 'low and slow' threats.
The security arrangements are also international, with FBI and Israeli security experts also on board.   According to the website Israel Defense, several Israel security consultants have been providing advice on security at the Games, particularly at British airports.
The website also notes that the UK lacks its own missile defense system, and has 'shown considerable interest in the interception results of the Israeli-developed Iron Dome system' that was introduced in response to short-range rocket fire from Lebanon and Gaza.
All these efforts form part of what the Ministry of Defence calls a 'multi-layered defence plan for the Olympic Games' that is not based on any specific intelligence, but constitutes contingency planning for worst-case scenarios that includes not just suicide bombs or Mumbai-style commando attacks on Olympic installations,  but Occupy-style protests and attacks on the Olympic torch.
On 19 May, the Olympic torch will begin its journey, accompanied by 52 police officers, due to fears that the torch may  be 'targeted by radicalised protest groups' or dissident Irish republicans, since according to the Telegraph ' experts on the IRA are warning the torch relay is vulnerable to attack.'
Other threats include 'public disorder' – a possibility that was identified as a risk after last August's riots by assistant police commissioner, Chris Allison, the national Olympic security co-ordinator.
To eliminate these threats, the military/police 'ring of steel' around the Olympics will be buttressed by security infrastructure that includes  an £80 million, 11-mile, 5,000-volt electric fence around the Olympic Zone, and a range of new surveillance and monitoring technologies in London itself.
The largest peacetime security operation in British history cannot be simply attributed to paranoia and an overzealous desire to protect the public. On the one hand it reflects an overlap between homeland security and corporate profiteering that has become a feature of the post 9/11 world.
As the urban geographer Stephen Graham has observed, the Olympics are 'the ultimate global security shop window through which states and corporations can advertise their latest high-tech wares to burgeoning global markets while making massive profits'.
The Games also represent a more general marketing opportunity for their corporate sponsors. In 2006 Parliament passed the London Olympic Games and Paralympic Games Act, which upgraded the level of brand protection to Olympic sponsors and made any unauthorised marketing or commercialism connected to the Olympics a potentially criminal offence.
According to the Guardian
'Expressions likely to be considered a breach of the rules would include any two of the following list: "Games, Two Thousand and Twelve, 2012, Twenty-Twelve". Using one of those words with London, medals, sponsors, summer, gold, silver or bronze is another likely breach.'
Under the new legislation, Olympic spectators will not be allowed to post videos of Olympic events on social media, and a special 'brand police' has been empowered to scour bathrooms at Olympic facilities and remove logos of all non-sponsored brands from sinks, toilets and soap dispensers.
In addition pub owners face fines if they advertise the fact that they are showing the Olympics on television, and even Olympic athletes will be obliged to follow regulations that prohibit them from Tweeting about brands that are not corporate sponsors.
Last month Sally Gunnell was stopped by a member of the Locog (London Organising Committee of the Olympic Games) marketing team because she waved a Union Jack over her shoulders during a PR photoshoot for Easyjet in Southend.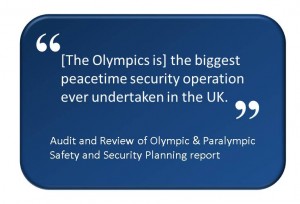 This image was deemed too similar to the iconic photo of Gunnell waving the flag after her 400 metres win at the 1992 Barcelona Olympics.  As a result she was ordered to swap her tracksuit for an orange t-shirt and pose without the flag.
Locog claims that such 'brand management' was necessary to gain the support of sponsors like Samsung,  Coca Cola, Adidas, BP, MacDonalds and Acer, and prevent the taxpayer from footing any more of an Olympic bill that has already reached £11 billion and may get higher still.
But these measures also reflect the pervasive corporatisation of the Olympic ideal – and of British society itself – that has reduced a popular spectacle to a global marketing opportunity.
The official slogan of the London Olympics is to 'inspire a generation'.   But it is difficult to imagine who can be inspired by this dystopian marriage of corporate profiteering and a paranoid and overwheening national-security complex.
The organizers have even established special 'Games lanes', on 30 miles of London roads, where athletes, official and corporate VIPs will have privileged fast-track access to Olympic facilities. All this takes place in a city with huge youth unemployment, whose stark social inequalities were revealed so brutally by last year's riots.
Last month council officers from the London borough of Newham approached Stoke-on-Trent council to sound out the possibility of transferring 500 families on benefits who it could not afford to accommodate in private housing.
This initiative was partly due to the government's cap on housing allowance, but the council also cited high private rents due to the 'onset of the Olympic Games and the buoyant young professionals market'.
In this sense then, the Games are once again the mirror of our times – and perhaps something else – an indicator of the panoptic metropolis of the not-too distant future, in which the lines between peace and war are blurred, and the continual anticipation of worst-case scenarios acts as a lubricant for ever-more intrusive forms of national security governance, surveillance and control.
So welcome to London 2012,  and may the odds always be in your favour.
See Also:
Special Report | Want to cleanse your city of its poor? Host the Olympics
Special Report | #London2012: an Olympian exercise in corporate greenwashing
4 Comments
Leave a Reply