Special Report | #London2012: an Olympian exercise in corporate greenwashing
Amidst its lofty rhetoric about excellence and sustainability the London Olympics have chosen some of the world's most unethical companies as corporate sponsors. Phil England presents powerful first-hand testimonies from victims and campaigners dismayed and angry at this betrayal.
By Phil England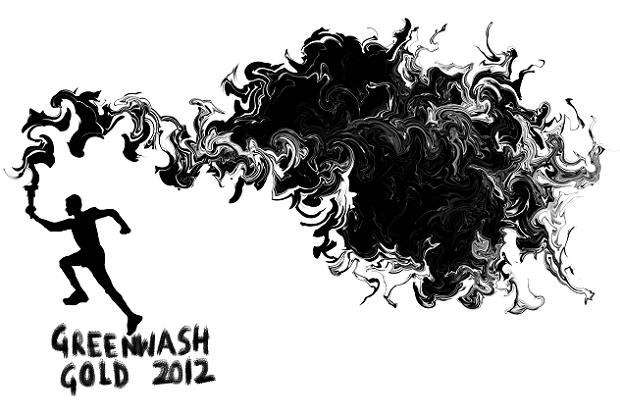 Why are McDonalds and Coca Cola the official food and drink partners of the London 2012 Olympic Games when these companies represent the antithesis of both healthy and sustainable food and drink? Why has BP been selected as one of six "sustainability partners" when its business assumptions imply a world of runaway climate change?
The apparent unwillingness to apply any of the Olympics' supposed ethical principles to the selection of corporate sponsors, brushing aside numerous civil society complaints and campaigns, is certainly one thing that the games can claim to be consistent about. Official sportswear partner Adidas produces its goods in sweatshops. Communications partner BT has links with Bezeq, which provides telecoms to illegal settlements on the West Bank. Coca Cola is accused of draining and contaminating groundwater in a drought-prone area of India. And so on.
Why is the London Olympic organising committee (LOCOG) breaching its own Sustainable Sourcing Code? and the International Olympic Committee (IOC) breaching its own Code of Ethics? The former promises to "place a high priority on environmental, social and ethical issues when procuring products and services for the games", while the latter states that the support of sponsors "must be in a form consistent with the rules of sport and the principles defined in the Olympic Charter" which defines Olympism as "seeking to create a way of life based on the joy of effort, the educational value of good example, social responsibility and respect for universal fundamental ethical principles".
These are serious questions for the respective committees as well as for the Commission for a Sustainable London 2012 (CSL) and its standards and ethics expert David Jackman. Because, as with other forms of cultural sponsorship, these company donations aren't magnanimous acts of philanthropy, but calculated acts of public relations. At their recent AGM, the BP board outlined how they had made a business case internally for their sponsorship of the Olympics, the costed returns for which included building and protecting their brand. Inside the industry this is understood as maintaining the "social license to operate".
In a very real sense then, the Olympics are colluding in the public relations campaigns of corporations who are engaged in large-scale environmental and human rights abuses, many of which are the subject of legal actions. The IOC and LOCOG are therefore complicit in normalising and cleansing the image of some of our most heinous corporate criminals and CSL is failing to properly address this.
To spotlight this in a playful way a number of campaign groups have joined together to launch an online vote for the worst Olympic sponsor. Should BP, Dow Chemical or Rio Tinto receive the Greenwash Gold medal? Here are some of the chilling testimonies from community representatives that I collected at last week's launch to help you decide.
Benny Wenda of the Free West Papua campaign
Indonesia has illegally occupied my country from 1963. Rio Tinto hired Indonesian military to guard their mines, then Indonesian police and military create the violence around the mine and then blame the local people. They destroyed our mountain, our forests, our rivers. You cannot go to the BP area because they say it is sensitive. Local people have been removed from their local areas.
BP and Rio Tinto, are amongst the biggest taxpayers in Indonesia. The Indonesian government is using that money to buy weapons, ammunitions, hot jets and tanks which are being used to intimidate especially my people in West Papua. No-one really knows what happened in my country because the media is not allowed. Amnesty International are banned. Red Cross are banned. International Peace Brigades are banned. That's why I say Indonesia has committed a secret genocide.
When I was a child, the Indonesian military bombed my village. Then I grew up in the jungle for five years and my leg didn't grow properly because of the bomb. Later I found out that my uncle was killed by the Indonesian military and my mum and auntie were raped. In 2000 I mobilised the biggest demonstration in memory, and every West Papuan came out to ask for independence. Indonesia didn't like me mobilising so they sentenced me to 25 years in prison. Three times they wanted to kill me. I escaped and came to the United Kingdom where I was given political asylum.
For me it's an insult, when you fear these companies considering what they are doing to my people, to then see them showing the world they are good companies. People should know the truth about what these companies are doing – not just in West Papua but around the world.
Cherise Udell, founder and president of Utah Moms for Clean Air
When most people think of Utah they think of mountains, blue skies, powdered sugar snow and clean living Mormons. Yet the American lung association regularly gives us an F grade for our air quality and Forbes magazine rated Salt Lake City the ninth most toxic city in America. On a really bad "red air" day it's virtually equivalent to being forced to smoke a half a packet of cigarettes and that applies even if you're a baby or someone with a heart condition. Rio Tinto are the number one point source emitter in our state. From their own numbers, they are responsible for 30% of the pollution in our air shed.  The consequences are premature heart attacks, sudden infant death syndrome, sudden asthma attacks that can lead to death or brain damage. We estimate that between 1000 and 2000 people die prematurely in Utah because of our air pollution.
I was surprised that the Olympic committee – which is touting itself as trying to achieve the most sustainable Olympics ever – is choosing to use newly mined metals for its medals rather than upcycling or recycling metal and that that metal is coming from Rio Tinto which is one of the least green mining companies. The Olympic committee clearly deserves no medals on this one.

Clayton Thomas-Muller of Canada's Indigenous Environmental Network, Zandaa Jurmed of Mongolia and Derrick Evans of the United States' Gulf Coast Fund in front of the 2012 London Olympic Stadium. (Photo: Liana Lopez)
Clayton Thomas-Muller, tar sands campaigner with the Indigenous Environment Network
BP has invested millions of dollars in building the infrastructure for a massive 250,000 barrel per day tar sands project called Sunrise. Tar sands projects have affected Canadian First Nation peoples through loss of clean water, food security and the fundamental violation of their constitutionally protected treaty rights to hunt and fish.
BP's tar sands investments are "in-situ" projects which use six barrels of water for every barrel of oil produced. Tar sands projects are poisoning everything from the groundwater all the way up the food chain. Moose have been found with arsenic up to 600 times the acceptable levels. They're filled with tumours and so entire kills are being left uneaten.
If any one of these amazing athletes was to violate the ethical code of being an athlete, they would be kicked out. So why doesn't the same thing apply to a company that is destroying ecosystems around the world? We need to snatch away BP's sustainability gold medal.
Derrick Evans, of the Gulf Coast Fund for Community Renewal and Ecological Health
Two years on from the Deepwater Horizon explosion, the oil still washes ashore daily. Dead dolphins, sea turtles and other marine life are washing ashore quite constantly. Very large numbers of people who live near the water, work on the water, even some of BP's own clean-up workers have reported symptoms that seem to indicate the effects of toxic exposure: shortness of breath, short-term memory loss, rashes, nose bleeds.
BP made the very horrible – and I believe illegal – decision to keep bombing the oil slicks with this product called Corexit which sinks the oil and breaks it into smaller particles that can be ingested by smaller plant and sea life. This basically guarantees that at the bottom of the ocean, there's this toxic contamination which will gradually work itself up the food chain.
When a fourth or fifth generation shrimper tells you that he wants to fish but he doesn't want to sell anything that might make anyone sick, the people who have the most to gain by lying are refusing to lie and to fish. The fish, the aquatic life, and the seafood have been decimated. Even the oysters that people eat on the Gulf Coast are all imported now.
Frankly most of the people on the Gulf Coast are not even aware that BP are an Olympic sponsor of any kind, never mind a sustainability sponsor. When I heard that, I didn't know whether to fall on the floor laughing, 'cos it must be a joke, right? BP has been – not only in the Gulf Coast, but also globally – one of the most adverse players in respect to sustainability.
Farah Edwards-Khan, from Bhopal

Victims of the Bhopal gas tragedy protest against Dow Chemicals' sponsorship of the London 2012 Olympics
I was ten years old when the accident at the Union Carbide factory happened in Bhopal in 1984. It was very late at night and we were all asleep. There was a great banging on the door and my cousin was outside wearing dark glasses. He took off his glasses and his eyes were really red and burning. He said, 'just go inside, shut the doors, because there's a terrible gas leak'. We went outside and felt this terrible burning of the eyes and smelt something really awful and my father immediately dragged me back. The next morning as my father drove me to school, we saw people lying all over the pavements and the road. We just looked at each other and realised, 'my god, these people are dead'.
I was lucky because I was three miles away from the factory. But I know people who were part of the exodus. I know women who aborted while they were running, people who died because they couldn't run any more, people who lost children who they later found in the morgue, people who woke up in the morgue because they were declared dead.
The ones who survived always say it would have been better if we were dead. The factory hasn't been cleaned up. The water is full of poison. People get skin problems, growth retardations, gynaecological problems and cancers. The £630 that people got from Union Carbide has all been spent on healthcare costs. I know that Dow Chemical has paid off Union Carbide liabilities in other countries so why the discrimination against the people of Bhopal?
How dare Dow put a wrap around the Olympic stadium which has the blood of Bhopal on it. The sponsorship should be dropped and there should be an apology.  If Dow really wants to clean its image it should give remediation to the people of Bhopal.
Zanaa Jurmed, director of the Centre for Citizens Alliance and chair of Oyu Tolgoi Watch
Rio Tinto announced that the Olympic medals would be made from Mongolian gold from their Oyu Tolgoi project in the Gobi desert. Many hundreds of families have been moved away from their livelihood areas for this project and sometimes they don't even give compensation. Dozens of families are protesting the contract. Many active people have been made silent because maybe they bribed or threatened them. Oyu Tolgoi has a lack of workplace security and safety, a lack of protection from sexual harassment and gender discrimination. Many people and livestock are being killed in the area.
The project is diverting the Huang He (Yellow) River – the sole surface water source in the region – without government authority and in the face of huge protest from local people. The area contains at least four rare plant species and is the main habitat for two threatened large mammal species. The natural ecosystems are highly susceptible to environmental degradation and are slow to recover from environmental shocks and pollution.
As a sportswoman I participated in the world archery championship twice in 1970s. So my message to London Olympic committee is: please honour the best sportsmen and women by awarding them medals made by honest businesses.
For more information and to vote in the Greenwash Gold award visit www.greenwashgold.org
See also: Special Report | Want to cleanse your city of its poor? Host the Olympics!
11 Comments
Leave a Reply