Politics | A Fine Bromance, the Corporates and The Hindu Right: On Narendra Modi's First Six Months in Power
Amrit Wilson examines Narendra Modi's record in power in the six months since the BJP's electoral victory in May.
By Amrit Wilson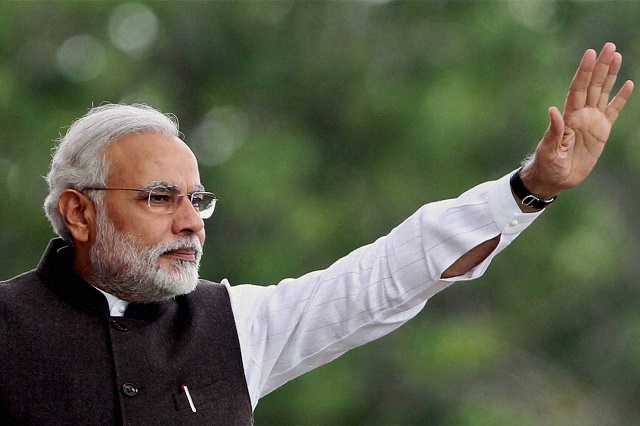 'The Mahabharata says that Karna was not born from his mother's womb. This means in the times in which the epic was written genetic science was very much present. We all worship Lord Ganesha, there must have been some plastic surgeon at that time, to fit an elephant's head on the body of a human being'
Narendra Modi is speaking to doctors and surgeons at a Mumbai hospital. Not one of them responds. They know that  this is not a display of the Prime Minister's charming eccentricity or his lack of basic scientific knowledge but an assertion of his identity as a member of India's Sangh Parivar – the family of right-wing organisations which include  the killer gangs of the Bajrang Dal, the khaki shorts-wearing storm troopers of the Rashtriya Swayamsevak Sangh (RSS), the plethora of Hindu vigilante groups and, of course, the ruling parliamentary BJP itself. These organisations, particularly the RSS, have shaped Modi's politics from his youth. Their primary aim, as is Modi's, is the creation of the Hindu Rashtra (State) for which the massacres of Gujarat 2002 were the so-called 'laboratory'.
On 16 May of this year, the day the election results were declared and the BJP won a sweeping majority, software professional Mohsin Sadique Shaikh was brutally murdered, and his death celebrated with the chilling text message – 'the first wicket has fallen'. It set the tone for the months which have followed. Dalit students have been beaten up in university campuses by the Sangh's student organisation while Dalit artists have been prevented from performing. Muslim communities have been viciously attacked and 'Love Jihad', the trope of Muslim men as seducers of Hindu women, which was used to instigate the murder and rape of Muslim women in the run-up to the election in UP, is being used again across the country to incite violence against consensual Muslim-Hindu relationships. These attacks are now justified with comments such as 'They should leave our cows and women alone' which, while it sounds ridiculous,  is also characteristic of the control and  policing of women's 'morality', in the name of protecting them, that is at the heart of the Hindu Right's patriarchy.
At the same time, patriarchal violence has been constantly stoked by glorifying the most reactionary aspects of Indian society. Khap Panchayats – the all-male village councils, not recognised under Indian law but well-known for their kangaroo courts, where transgressions of the patriarchal boundaries of  caste and religion are punished with honour killings and gang rapes – are being glorified. In a speech last week, for example, Manohar Lal Khattar, BJP Chief Minister of Haryana claimed that 'the existence of khap panchayats makes the court's work easy… [they are] like parents minding the children'.
If this suggests that the Sangh Parivar is a medieval force, a leftover from some earlier century, this is not the case. The Sangh and its Hindutva project are completely in keeping with contemporary neoliberal capitalism and, in many respects, are shaped by it. Sangh leaders know that to maintain their stranglehold over the country they will need to work closely with global capital. They fully support Modi as he ushers in the robber barons with an encouraging 'no red tape only red carpet' – meaning that they need no longer worry about environmental regulations, human rights concerns and labour laws. The Sanghis have no objection to India's being  handed over wholesale to Foreign Direct Investment (FDI) or that drug prices are being deregulated so that foreign pharmaceutical companies can make obscene profits from the Indian market.
And when, showing an awareness of the nation's bitter memories of colonial plunder, and the more recent experiences of devastation and looting by corporates such as Union Carbide and Enron, Modi brings on a fake nationalism and claims FDI to him means 'First Develop India', the  Sanghis are satisfied, because, after all, the Hindutva project they espouse has, despite all their proclamations, never been about anti-colonialism or nationalism. The corporates return the favour in a variety of ways – for example a three-day World Hindu Congress in November was sponsored by Jaguar, Dunlop, Jindal and many other multinational companies. A workshop on education at the Congress saw the distribution of a pamphlet listing the five enemies of Hindu society, five fingers in the claw of the demon Mahasur. Among them were Marxists,  'the thumb of the demon's claw,' which has given birth to 'multiple bastard offspring like Communists, Socialists, Liberals, Maoists, Anarchists and all other forms Leftists,' and Muslims who are the 'poisonous fruit of Islam'.
Modi's cabinet starkly reveals the nature of the Sangh Parivar. Nearly a third of its 66 members have charges against them  for fraud and for attempted murder, rape and criminal intimidation. Hate speech from ministers is commonplace: the Minister of State Sadhvi Niranjan Jyoti recently launched the Delhi by-election campaign by telling people that they had to decide between a government of 'Ramzade' (sons of Ram, i.e Hindus) and 'Haramzade' (bastards). She explained this further on camera – 'Muslims and Christians are also sons of Ram – and if they don't believe this, they can't believe in the nation either'. Modi's only response was that she should be forgiven because she was a 'woman from the village' – thus displaying, as many feminists noted, his contempt for rural women. In fact Jyoti's comments were completely in line with the Sangh Parivar's ideology as articulated by M.S.Golwalkar a key ideologue and early leader of the RSS: 'the foreign races in Hindusthan must either adopt  Hindu culture and language… lose their separate existence to merge in the Hindu race, or may stay in the country, wholly subordinated to the Hindu Nation, claiming nothing… not even citizen's rights'
These views have been repeated again and again by other cabinet ministers. Giriraj Singh, Minister for Micro, Small and Medium Industries, for example, has urged Modi's critics, especially Muslims, to 'go to Pakistan'. He  has also glorified the notorious Ranvir Sena, the landlord army in Bihar which is responsible for the murders of thousands of Dalits over the years. These stalwarts of the Sangh are working happily with men from the corporate world. Minister of State for finance, Jayant Sinha, son of BJP leader Yashwant Sinha, for example, was head of the Omidyar Network India (part of eBay billionaire Pierre Omidyar's global e-commerce empire) till he left to join Modi's election campaign. Soon after his appointment, India opened up its e-commerce market to FDI a move highly beneficial to Omidyar.
Another star of global finance is Modi's Chief Economic Advisor, Arvind Subramaniam, who till recently advised the US Congress on the challenges posed to US business interests by India's domestic 'protectionism'. In addition, Modi makes no bones about his relationship with India's corporate barons Mukesh Ambani, the second richest man in Asia, whose company controls petrochemicals, oil and gas and much of the Indian media, and Gautam Adani, a Gujarati businessman who has grown to become India's tenth biggest dollar billionaire in the last ten years under Modi's patronage.
The Delhi by-elections, to be held early next year, have provided an opportunity for the lower and middle echelons of the Sangh Parivar to work in the interests of the corporates while serving their own purposes. Over the last couple of months, they have been active in three areas: Bawana where a power plant is planned and land is required for industrial units and Trilokpuri and Rangpuri which are of interest to real estate sharks. While the corporates want to get rid of the poor in these areas, the Sangh's campaigning involves instigating violence against Muslims, which they hope will win Hindu votes, increase their membership and displace the Muslim community.
In Trilokpuri, in East Delhi, which 30 years ago was the scene of a pogrom against Sikhs, and now borders the more affluent locality of Mayur Vihar, the Sanghis magnified a drunken brawl between Hindu and Muslim youth. A mass meeting of Hindus and Hindu organisations was called by the local BJP Member of the Legislative Assembly during which a frenzy of hatred against Muslims was whipped up. This was followed by arson attacks on Muslim properties, Muslim youth were brutally beaten-up and women were targeted for sexual violence. As Tarana Khan, a student at Delhi University, recounted: 'Men carrying stones and swords surrounded our house chanting Har Har Mahadev. They climbed on terraces nearby and hurled stones. Wearing only helmets and vests, they took off their pants to threaten us with rape'.
In the next four days, the police arrested 48 people, of whom 37 were Muslims, and refused to register arson attacks on Muslim shops. Many Muslim families are leaving the area.
On the other side of town in Rangpuri, which neighbours the posh enclave of Vasantkunj, the RSS launched a sustained campaign through the summer but here the residents, mainly migrants from Bihar and UP – working in insecure jobs such as construction workers, street vendors, drivers of autos and taxis, and housemaids, refused to respond. As Usman, a cab driver, told journalist Neha Dixit, 'A public meeting took place in June objecting to the construction of a new room in the mosque, but we did not react,' …his neighbour Vishnu, [a Hindu] told her that  he had been called to meetings to object to the mosque just after the Trilokpuri communal tensions. 'We don't have enough time to earn money to make ends meet. Who cares about temple and mosque? In times of crisis, the poor helps the poor, not leaders.' But this resistance was not to be tolerated, on 25 November police and forest officials arrived with bulldozers. At ten minutes notice, 400 homes were razed to the ground. The 2,000 people left homeless were told a flyover was being constructed.
Under new laws, people such as the erstwhile residents of Rangpuri will become even more vulnerable and economically insecure. A 'job-oriented labour law reform' will make contract work and instant hiring and firing legal and the norm for a host of different occupations, while many basic labour rights will be erased. Back in the villages, from where migrant workers flock to Delhi and other towns, the already acute poverty is likely to get worse, with the meagre subsidies available to the rural poor being abolished; and in the mineral-rich central belt of India, where powerful indigenous people's movements are trying to stop the land-grab by mining corporates, Modi is legalising land acquisition without the farmers' consent.
The recent by-election results have brought bad news for the BJP who have lost seats in a number of states including even Gujarat, the Sangh's stronghold. In the southern state of Tamil Nadu, one of  the parties which had allied itself with the BJP has left the government for 'betraying the interests of Tamils'. While it might be too early to correctly assess the significance of such developments, the mass protests that have taken place across India suggest that people's anger is growing. December 6, the anniversary of the demolition of the 500-year-old Babri Mosque in 1992, saw a huge demonstration against the BJP's anti-Muslim, anti-Christian, anti-Dalit policies and called for those senior BJP  leaders who were implicated in the demolition to be brought to justice.
In Punjab, a massive peasants and workers rally, called by a united Left platform, demanded an end to the anti-poor neoliberal policies of the Modi regime and in cities across India, in vibrant 'kiss of love' protests, young people  have gathered to kiss each other in public in defiance of the Sangh Parivar's  moral policing. It's early days, of course, but it seems Modi's magic may already be wearing off outside the gated mansions of India's parasitic neoliberal ruling class.
2 Comments
Leave a Reply