Politics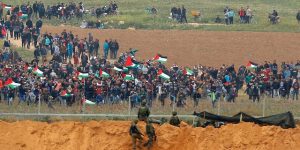 Not content with killing and maiming defenceless Palestinians in broad daylight, Israel is slandering us as barbarians and dupes. This won't stop our decades-long march for our rights and freedoms, writes Ahmed Masoud.
In January, Dr Sidgi Kaballo, an academic and opposition figure, was arrested in Khartoum ahead of a protest against the Sudanese Government's disastrous economic policies. He has been in detention without charge ever since. In a moving piece on his father's 70th birthday, Ahmed Kaballo writes to demand his release.

The ongoing dispute over university pensions has seen a remarkable show of defiance and solidarity across the sector, but this is about far more than pensions.The pace at which UK universities have succumbed to brutal neo-liberal practices has been startling, and many of us are simply fed up, writes Katy Sian.

The outpouring of support and solidarity greeting the current wave of UCU USS strikes has taken University managers across the UK by surprise. Times are changing — a lesson they are learning the hard way, writes Andreas Bieler.

Earlier this week, a talk by alt-right figurehead Carl Benjamin was shut down at King's College London by anti-racist campaigners. As the University prepares to host the leader of Hungary's far-right Jobbik party later this month, the Anti-Racism Network (KCL) collective insist there can be no place for fascists on their campus.

This week, the architect of the ongoing humanitarian disaster in Yemen, Saudi Crown Prince Mohammad Bin Salman, visits the UK, as Theresa May seeks to secure more lucrative deals for the UK arms industry. We can't let this shameful visit pass in silence, writes Andrew Smith of the Campaign Against Arms Trade.

It's important to Stop Trump, but we must also stand with and for migrants here in the UK, writes Matt Carr.

The essential message Trump wanted to deliver to the world was that it was time to accept reality. It is indeed, but not in the way he suggests, writes Ben Jamal.

Two weeks ago, Israel announced a plan to demolish 20 buildings in the West Bank village of Susiya, a fifth of the village. Today, the villagers were handed a document and map showing almost half their village is set to be demolished. If enacted, this demolition will constitute a violation of the most basic human rights of the people of Susiya as well as their most basic humanitarian needs for shelter.

Shocking new evidence has emerged of GCHQ's attempts to avoid independent scrutiny of its deeply intrusive surveillance activities. Once again, it has embarrassed itself publicly in trying to avoid public embarrassment, writes Privacy International's Millie Graham Wood.