Politics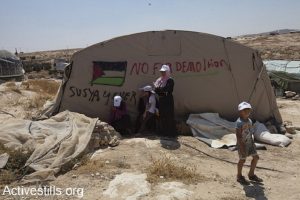 Two weeks ago, Israel announced a plan to demolish 20 buildings in the West Bank village of Susiya, a fifth of the village. Today, the villagers were handed a document and map showing almost half their village is set to be demolished. If enacted, this demolition will constitute a violation of the most basic human rights of the people of Susiya as well as their most basic humanitarian needs for shelter.
Shocking new evidence has emerged of GCHQ's attempts to avoid independent scrutiny of its deeply intrusive surveillance activities. Once again, it has embarrassed itself publicly in trying to avoid public embarrassment, writes Privacy International's Millie Graham Wood.

After a thousand days of air strikes, and with millions of Yemeni lives under threat, Theresa May's government still won't do the right thing and stop UK arms sales to Saudi Arabia.

Following legal action by HOPE not hate, right-wing politician Nigel Farage has withdrawn claims that Britain's largest anti-racism organisation pursued "violent and undemocratic means".

A month ago, human rights activist Muhammad Rabbani went on trial after refusing to give up his computer passwords to police officers. Rabbani's brave stance sets an admirable example, and raises important questions, for all those fighting discrimination, oppression and injustice, Naila Ahmed argues.

The Balfour Declaration was an act of imperialism that laid the foundation for a hundred years of dispossession, displacement, and colonisation. After a century of complicity, it's time for Britain to make it right, writes Ben Jamal.

Activist Sam Walton and Rev Daniel Woodhouse have been acquitted after breaking-in to BAE Systems factory to 'disarm' Typhoon fighter jets.

Katy Sian reflects on being the target of online abuse after calling out the Islamophobic and patriarchal tendencies within British Sikh activist circles.

Hugh Hefner made his millions through commodifying women's bodies, all the while pretending women he'd turned into commodities enjoyed their subjugation. We will never be able to fully gage the damage he did, writes Jen Izaakson.

As another round of Brexit negotiations disintegrates, we need to ask questions about the mental maps UK representatives bring to the negotiations and decide whether they are fit for purpose, writes Paul Walsh.
More Ideas
More In Politics
More In Features
More In Profiles
More In Arts & Culture