Politics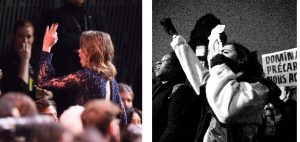 Last week, Harvey Weinstein and Roman Polanski faced different, though not totally dissimilar, public consequences for their long histories of sexual violence against women. These are significant victories for #MeToo, but the fightback must go on, Jennifer Izaakson writes.
Last week's shocking defeat is a national tragedy. We now need a Labour Party that is the sum of its parts, rather than a party in which one faction defeats the other, writes Matt Carr.

A year on from Khashoggi's gruesome murder, his friends and family still want answers, but the world powers have already moved on, writes Andrew Smith.

Next week, dozens of the planet's most repressive governments will arrive in London to receive the full red carpet treatment by UK arms companies and civil servants. If we are to stop the UK's role in fueling war and conflict around the world then it is time to end the arms sales and shut down events like DSEI for good, writes Andrew Smith.

To pursue No Deal without consensus is bad enough, but to undermine parliament in order to achieve it is a gross violation of executive power, and must be opposed by anyone who cares about the integrity of representative democracy in the UK, writes Matt Carr.

India's ongoing crackdown in Kashmir should alert the world to the fascistic, tyrannical impulses driving Narendra Modi and his BJP movement, writes Katy Sian.

This week's mass shootings in El Paso and Dayton, Ohio, have added another dismal chapter to America's seemingly unstoppable litany of mass gun homicides. For the first time in American history, a generation of white supremacists and white nationalists are taking active inspiration from the man who occupies the White House, writes Matt Carr.

On Saturday, Bahrain executed two political prisoners, Ali Al-Arab and Ahmed Al-Malali, amidst worldwide condemnation by politicians and human rights campaigners. The complicit silence of the UK government shows Britain has no respect for human rights, write Sam Walton and Eman Hashim.

As the Tory leadership race enters its final phase, one word unlikely to be invoked by either Boris Johnson or Jeremy Hunt is Yemen. This comes in spite — or rather because — of the disastrous role both men have played in exacerbating the worst humanitarian crisis in the world.

It now seems almost certain that the Tory Party will make Boris Johnson the next UK Prime Minister. Narcissistic, opportunistic, incompetent, shallow, devoid of loyalty or decency, he has wanted the Big Job for a long time, and has said and done everything to get it.