Politics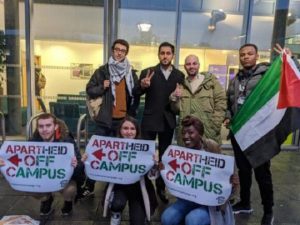 It is imperative that universities abide by their own ethical investment policies and remove all links with companies and institutions complicit in human rights abuses, argues Taj Ali.
Chronic underfunding of public services, and years of cuts have left working-class communities more vulnerable to the coronavirus pandemic. We cannot afford a repeat of austerity, we need an alternative, writes Taj Ali.

Revising the British school curriculum is an important way of disrupting the white eurocentric narratives of Empire that dominate our culture and politics; but any such decolonising efforts must centre 'race', writes Dr Shaida Nabi.

Two weeks ago British MPs passed the Criminal Conduct Bill, which allows UK public authorities to commit crimes while undercover. Agamben's theory of sovereignty can help us understand what the bill means for the expansion of state power and states of exception, argues Tom Goodyer.

This month Egypt holds its latest round of parliamentary elections. But what purposes do such elections serve in a military autocracy? Quite a few, actually, writes Hesham Shafick.

The absence of indictments for the killers of Breonna Taylor highlights the entrenchment of systemic state racism in the US, writes Mike Friedberg.

Recent revelations that controversial US tech firm Palantir had secured a major UK government contract should trouble us all, writes Andrew Smith.

As a teacher, I believe in education and positive discourse. But you can't engage with people who deny your humanity, and it is useless to take a ground of moral suasion with people who do not have morals, writes Mike Friedberg.

British workers should not have to gamble with their lives in order to save a sandwich chain. Instead, we should seize this moment to force changes to our office work culture, argues Paul Ray.

Without a national reckoning and the political will to face our colonial past and abandon the violent obligations of a junior partnership with the US, decolonising our military seems unlikely, writes Joe Glenton.