Theatre | Review: My Judy Garland Life (Nottingham Playhouse)
'My Judy Garland Life', the new play by acclaimed writer Amanda Whittington, brilliantly combines glitzy escapism with thought-provoking drama on the vagaries of ambition and fame, argues Richard Pilgrim.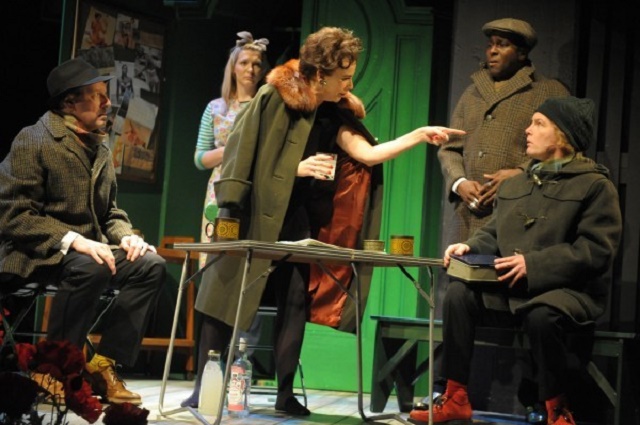 My Judy Garland Life – in production. (Photo: Robert Day)
My Judy Garland Life
Nottingham Playhouse – 31st January – 15th February 2014
From the book by Susie Boyt
Adapted for the stage by Amanda Whittington
One of the East Midands' best-known writers for theatre and radio, Nottingham's Amanda Whittington, has written a stunning piece about one of the twentieth century's best-loved performers of stage and screen. Adapted from Susie Boyt's book of the same title, 'My Judy Garland Life' is on one level a lavish fusion of nostalgia, musical extravagance and camp comedy. On another level it has a strangely surreal and complex narrative that sets it quite apart from the straightforward flattering biopic that, given the subject matter, we might have expected.
So there are two ways of enjoying this production. On the one hand, for the sentimental aficionados of Judy Garland, a star whom many of us will remember with affection, we can just sit back and appreciate the glamour and the music while we watch in awe as the diva is brought to life by the faultless Sally Ann Triplett in the title role. There's nothing wrong with that – if that's what suits you – but on the other hand, for those of us who like to work a bit harder as an audience, we can instead accept the challenge that the writers throw down, and with just a little more effort begin to unravel the multi-layered threads that make up this superbly constructed drama.
It isn't always easy – throughout the production there is a very clever (if sometimes confusing) juxtaposition between reality and fantasy. We never really know whether what we are witnessing is something that all takes place only in the head of Triplett's co-star, the enchanting Faye Elvin, playing the original writer's alter ego. Elvin plays Garland fan Susie, and we can never be sure where Susie is in the story. Is she some kind of mysterious time-traveller, encountering her heroine in scenes from her life, or are we instead watching a somewhat psychologically troubled Susie, infatuated with – and possibly blighted by – the spectre of her heroine's equally blighted life? Indeed, there are even times when it seems that Susie could be talking to Garland's ghost. However, none of this uncertainty really matters – this is the magic of theatre, and it is a magic that works on every level. Verisimilitude is never actually necessary in the theatre.
Sally Ann Triplett's delivery of Judy's charm, style, character and yes, her vulnerability, is immaculate. You could be forgiven for thinking, momentarily, that Triplett is miming to Judy's recorded voice – so pitch perfect is her rendition of that unique sound. But that is not so – all the musical numbers are performed live and Triplett, ably assisted by musicians Stefan Bednarczyk, Delroy Brown and William Oxborrow, steals the show as she belts out some much-loved numbers à la Judy. She is a remarkable mimic – when she suddenly switches from the character of Judy and transforms into the character of her daughter, Liza Minnelli, the transition is quite remarkable. Here, both the writer and the actor deal with the well-documented paradox of Minnelli's dichotomy of feelings for 'Mother' with real insight and compassion.
And talking about the musicians, it must be said that the individuals responsible for the casting of this play somehow managed to pull off a remarkable feat in finding competent players who are, at the same time, very good actors too. As well as playing Judy's backing band with great skill and sensitivity, they double up – at various points in the story – as several other characters. At one time they appear as Dorothy's intrepid three companions on the yellow brick road: Straw Man, Tin Man and The Lion. At another point in the story they appear as three of the Marx Brothers (although it was unclear why, and this was perhaps one of the weaker points in the play), and at yet another twist in the play they pop us as three London cabbies with whom Judy takes refuge from the dark horrors of her desperate night. In each scenario, the three guys discharge their duties chameleon-like, and with quiet assurance.
Of course, musical drama isn't for everyone, but the musical numbers in this show are – in my opinion – pitched at just the right level. There are not so many of them that they turn the show into a schmaltzy production of facile razzamatazz, but there are just enough to adequately satisfy Garland fans.
The set, designed by Tom Rogers, is dazzling – from the glittering 'ruby-encrusted' grand piano, to the iconic yellow-brick road, to the exuberant abundance of red roses that crowd the stage – all, quite frankly, as camp as any followers of our Judy could justifiably demand, but all very fitting and appropriate. Furthermore, clever use of digital images throughout the play only adds to the fantasy.
So: a brilliant if sometimes difficult script, an imaginative and eye-catching set, and truly remarkable acting fused with an inspired musical score, what could go wrong? Well, very little really – especially when you realise that it was all pulled together with such precise artistry by the obviously acute and solid direction of Kath Rogers. My goodness, this woman sure knows something about timing! As director, she clearly ran a tight ship during the whole production and, although she had some of the best tools available at her disposal, she nevertheless made what must have been a very hard job, look unusually easy.
Whether you are just looking for nothing more than a bit of glitzy, show-business escapism, or whether you want to see a more thought-provoking drama that makes you work hard and gets you reflecting on the vagaries of ambition and fame, either way you won't be disappointed by this show. And there is still time to catch it, if you're quick.
'My Judy Garland Life' runs at Nottingham Playhouse until February 15th. Performances begin at 7.45pm with a matinée on February 13th at 1.30pm. Tickets are available at the box office, or call 0115 941 9419, or go to the website at www.nottinghamplayhouse.co.uk
2 Comments
Leave a Reply