Special Report | 'Fucking Tories on bikes'? Green Party under fire from Brighton workers
Michael Segalov reports for Ceasefire on today's sit-in protest by three hundred workers against a 'pay modernisation' scheme by Green Party-run Brighton and Hove City Council.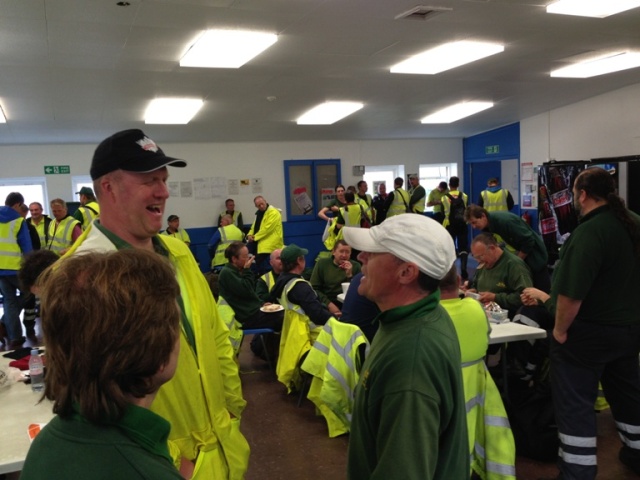 Three hundred bin men (and women), street cleaners, recycling staff and more, backed by their GMB union reps, refused to leave their depot today after a meeting with management in which the final details of Brighton and Hove City Council's 'pay modernisation' scheme were outlined.
The scheme, which applies to the 8,000-strong workforce of Brighton and Hove City Council, could mean that refuse and recycling staff at Hollingdean depot lose up to £4,000 a year. Today's sitting-in workers are demanding that the assault on pay is scrapped. They will not 'even consider working' until Council Leader Jason Kitcat and the Chief Exec address them in the depot.
Today's refusal to work comes after months of negotiation and consultation between the council and the GMB union during which, GMB branch rep Holly Smith states, council management 'haven't budged.' Instead the consultation process has apparently resulted in claims from the council that they will sack all staff facing the proposed changes and re-employ them 'on a worse contract, without compensation' if staff refuse to accept the new terms. There was also dismay amongst staff that the council, a recently accredited living wage employer, would not keep this commitment to its staff.
A spokesperson for the Green Party councillors was clear that 'the living wage will not be affected' by the 'pay modernisation' process, and that the entirety of the changes were 'not about saving money.' On the £4,000 pay cuts, Lianne made it clear that 'this is not the average to be lost. It's difficult, but that is a worst-case scenario.'
To the occupying workers, however, averages are irrelevant and the worst-case scenario for at least some will have a stark and devastating impact on their take-home pay. And while Chief Executive Penny Thompson has promised compensation to affected staff, at present the specifics of such compensation remain unclear. Holly Smith suggested this was likely to be at a maximum one years worth of lost pay: 'and then what?'
Though the workers today seemed mostly content with their union's response, which has been to put the process for ballots on industrial action into motion, there was also a predominant feeling that waiting is futile. Refuse collector Runa explained that the wildcat action starting today is to 'show the management that we're not scared, and that we are willing to do whatever it takes.' Heidi, a street cleaner in the City, was clear that her and her colleagues 'want to strike now, and we're not going to back down.' She went on, 'I can see it being a long strike, we're not going to give in, us workers, not this time.'
There is also anger resonating amongst the staff towards the Green Party councillors who voted to push through the pay cut proposals, despite having run on a platform to resist all cuts. The Green Party currently runs a minority council in Brighton and Hove, and this 'pay modernisation' was voted through by four Green councillors along with their Conservative party counterparts. (Labour councillors voted against the changes.)
A vast majority of the sitting-in workers are Brighton and Hove residents who themselves voted in the current administration. When asked, one street cleaner labeled the Greens 'fucking Tories on bikes', to mass cheers from surrounding colleagues. This is a worrying atmosphere for the Greens whose current stronghold is Brighton. It is especially strange given that ex-party leader and Brighton Pavilion MP Caroline Lucas has made her 'opposition clear' to these proposals. She has even tweeted, claiming that she 'will join picket line if Council forces pay cut on lowpaid staff.'
A spokesperson from the council insisted that while the outlined proposals announced yesterday represented the final proposition, it is 'not complete.' 'While it's not going to change a huge amount, there would be tweaks.' With an indefinite walk-out on the cards and support from Union officials, it is clear that these tweaks would need to be considerable and significant to convince workers.
In 2009, the last time these staff members faced on assault on their conditions, sustained strike action was effective and the council leadership backed down. The precedent has been set that staff will fight and win and it is clear that prolonged action is on the table until proposals to cut staff pay 'are thrown away once and for all.'
GMB suggest anyone wishing to express their concerns to the City's councillors visit the GMB Southern website, and fill in the petition against cuts. Every time this is filled in an email goes directly to all councillor's inboxes.
http://www.gmb-southern.org.uk/work-and-campaigns/campaigns/green-cuts-at-brighton-council/
UPDATE 2pm – Penny Thompson, Chief Executive of Brighton and Hove City Council, this afternoon went to speak to the staff sitting in. Upon her leaving, a unanimous decision was taken by all those walking out to continue the occupation tomorrow.
24 Comments
Leave a Reply