Special Report | Major split in Green Party as Caroline Lucas joins Brighton wildcat strike
Brighton's refuse worker wildcat strike continues into its second day with a surprising new member: Caroline Lucas, Green Party MP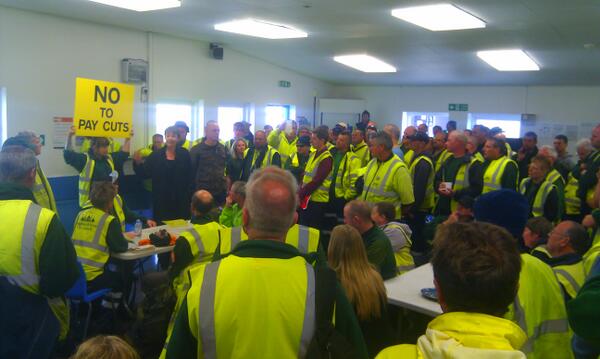 As the wildcat strike of refuse workers in Brighton and Hove continues, splits in the Green Party are becoming ever more apparent in the context of a "summer of strikes" promised for 2013.
Today, Caroline Lucas MP joined the 300-strong sit-in, expressing her "unequivocal support" and telling the workers she was doing all she could to get Jason Kitcat (the Brighton & Hove Council leader who has been labeled a "renegade councillor" by members of his own party) to rethink the pay slashes. The "pay modernisation" scheme, which affects 8,000-strong workforce of Brighton and Hove City Council, could mean that refuse and recycling staff at Hollingdean depot lose up to £4,000 a year.
Mike Jones, a local Green councillor, joined Lucas, telling the workers that he would be resigning from both the party and the council if these plans go ahead. Neither would respond, however, to a worker's question asking if they would agree to call for the resignation of Kitcat.
Meanwhile the local Green Party group has expressed its "dismay" at Kitcat's actions and have reaffirmed that they are against "any cut to the basic take home pay of Brighton and Hove Council employees." The local party is currently instructing barristers to take further action, with the Deputy Leader also speaking out. As it stands neither Jason nor Natalie Bennett (Green Party leader) have been available to comment.
It is impossible to spend time in the occupation without feeling inspired by the courage of these workers, many of whom describe how they "are living on the breadline." Grant, a refuse worker, explained that both he and his partner were to be affected with a take-home pay cut "of up to £8,000."
"We really can't afford to take this action, but we have to," he said, reflecting on the announcement that they will not be paid for the last two days of unofficial strike.
Penny Thompson, the Council's Chief Executive who earns a reported £150,000, spent the afternoon in the depot yesterday, before being escorted out of the building to a chorus of booing from the workers. Her pay will not be deducted. Strikes such as these are taken without official union backing, so not only is pay being lost, but staff are truly putting themselves on the line.
While the GMB has officially started the process to take an industrial dispute forward, it's clear that the wildcat action is already working. When the sit-in began yesterday morning two demands were made: firstly, for the Chief Executive to address the sit-it (which she did yesterday), but also that the Council leadership would, in writing, state they would review their position. As of this afternoon at 1pm, the Council has done this. There could well be a lesson here for many facing austerity on the front line: to sidestep the (often deliberately) slow and bureaucratic union process in favour of immediate and unified direct action.
This assault is not confined to refuse workers. Today, GMB announced that it will be balloting lollipop ladies (and men) who are facing pay cuts of £20 a week, a significant cut in light of the fact that many of them are only working 10 hours a week. There was clear anger amongst all workers on this issue, with a shout that management "probably spend that much on biscuits!" receiving a round of applause.
This afternoon the workers agreed to return to work tomorrow, although only on a 'work to rule basis', with ballots going out "as soon as possible." It is clear, however, that until the salaries of these workers are secured there will continue to be trouble ahead for Kitcat and the Green Party on both sides of the fence. As one worker put it: "This is just the beginning; we're not going away. This is the start of a long summer of action, and we won't be giving in any time soon."
5 Comments
Leave a Reply