August, 2018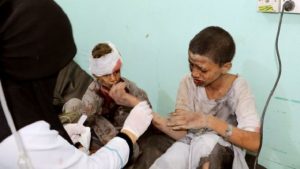 If the bombing of a school bus full of Yemeni children isn't enough to stop UK arms sales to Saudi Arabia, then what more would it take? Asks Andrew Smith of Campaign Against Arms Trade.
Doug Murphy's Nincompoopopolis is a suitably and rewardingly vicious, neat précis of the political and architectural legacies of Johnson in his time in power in London, argues Alex Baker.

If the 2017 election was unusual in that large numbers of voters changed their views during the course of six weeks, Labour's manifesto was one of the key reasons for their doing so, argues Mike Phipps.
More Ideas
More In Politics
More In Features
More In Profiles
More In Arts & Culture