November, 2010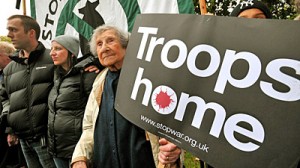 On Saturday, 20th Nov 2010, ten thousand protesters joined a march calling for the immediate withdrawal of troops from Afghanistan. Ceasefire contributor Jody McIntyre was one of the speakers. This is his speech.
In the past few days, Burma has witnessed both the exhilarating news of Aung San Suu Kyi's release after 15 years of confinement, and the crushing disappointment of discredited elections. In a powerful new interview, Melanie Scagliarini speaks to Waihnin Pwint Thon, one of the world's most prominent Burmese activists, whose father is currently serving a 65 year-sentence for his pro-democratic activities.

Rob Murray's Monday Cartoon

In just under six months, the thirtieth anniversary of the Brixton riots will be upon us. This year is also the twentieth anniversary of the Poll Tax riots, whose success presaged the end of the Thatcher reign. In a new column on race, identity and politics, Adam Elliott-Cooper looks at the coaliton government's policy on race and how we should be responding to it.

Next month sees the much anticipated return of Godspeed You! Black Emperor- one of the most vital and thrilling bands of late nineties and early naughties. In this week's Deserter's Songs music column, David Bell explains why he finds their music so hauntingly fascinating.

In this week's 'In Theory' column, political theorist Andrew Robinson looks at the concept of local and indigenous knowledge. As Robinson argues, the West, in all its modern technological glory, might not be as 'knowledgeable' as it think it is.

As part of its 'Ceasefire Sessions' season of talks, Ceasefire is very pleased to be hosting, in conjunction with the Nottingham University Arabic and Palestinian societies, the celebrated academic and scholar, Professor Norman Finkelstein. Finkelstein, one of the world's foremost experts on the Israeli-Palestinian issue, will deliver a talk entitled: 'Israel: Search for peace?'

In "Letters from Brussels", Ceasefire correspondent Emily Macintosh gives us her alternative round-up and analysis of European news. In this week's column, she looks at the Media.

A week after the Milbank student protest, a vast witch-hunt is already under way by the police to track down the 'culprits'. Using popular displays of outcry over the cuts as a pretext, the government is stepping up its efforts to spy on activists and the public. In his new column, Mikhail Goldman says resistance is essential.

A few weeks ago, hundreds of men, women and children, all inhabitants of the Western Saharan capital, Layoune, walked out of the city and established a camp in the desert. Their act of defiance against Moroccan occupation culminated, a few days ago, in savage repression and violence. Kateb Salim reports.