Interview A Burmese Story: Waihnin Pwint Thon
In the past few days, Burma has witnessed both the exhilarating news of Aung San Suu Kyi's release after 15 years of confinement, and the crushing disappointment of discredited elections. In a powerful new interview, Melanie Scagliarini speaks to Waihnin Pwint Thon, one of the world's most prominent Burmese activists, whose father is currently serving a 65 year-sentence for his pro-democratic activities.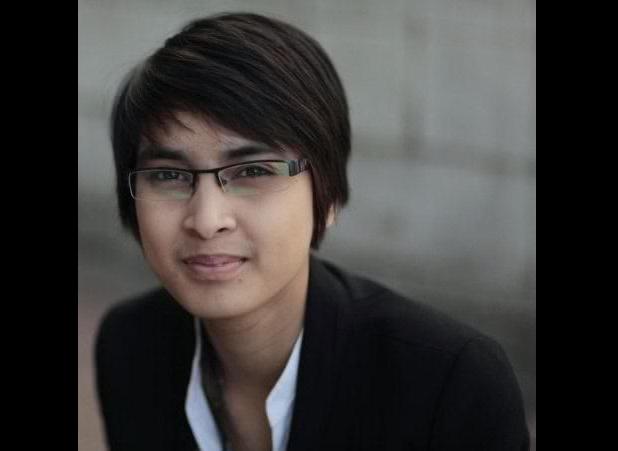 By Melanie Scagliarini
"MY NAME'S Waihnin and I'm a Refugee…My father is a political prisoner in Burma. He is in prison because he campaigns for human rights, democracy and freedom."

This statement, taken from Waihnin Pwint Thon's Amnesty profile page, gives a simple account of who she is. However, following in the footsteps of her father, Mya Aye, who is currently serving a 65-year sentence for his pro-democracy activities, this young woman is a force to be reckoned with.
A key speaker on Burma, she received a standing ovation at the last Labour Party Conference and has injected a fresh a breath of life into the campaign for freedom in her country.
As I settle down, pen poised in hand, her soft, girlish voice flows down the telephone line as she begins the complicated story beneath the succinct status.
"The first time I properly remember meeting my father was when I was four years old. I felt really strange, and I thought it would be happier. But it was totally different as he was in prison and there were iron bars between us."
One of the '88-Generation' students, Waihnin's father was first imprisoned in 1989 for taking part in student demonstrations the year before, made infamous after the military's brutal suppression of the uprising resulted in thousands of deaths.
Since 1962, the country had been under military rule by the Burma Socialist Programme Party, after a coup by General Ne Win. By 1988 economic mismanagement had left the county, one of the most impoverished in the world, with a national debt of 3.5 billon dollars.
By the time Mya Aye and his fellow students led the protest on 8 August 1988, an auspicious day in the Burmese calendar, the General had been forced to resign and Sein Lwin (otherwise known as the Butcher of Rangoon for his part in the Rangoon University Student Union massacre 26 years earlier) had taken power.
Understandably, this appointment sparked nationwide protests with monks, nuns, grandparents and grandchildren taking to the streets to march for democracy. What it led to was another military coup, the establishment of the State Law and Order Restoration Council and the arrest of key leaders of the protests, including Mya Aye.
"When my father was in prison, my mother stayed with my father's family, so my Grandparents were always very supportive to my mother and to me. I remember that every day she showed me a photograph (of my father) and taught me to call him 'daddy'."
As Waihnin settles into her story, she lets out a few giggles at the memory of herself in the school playground where she would tell all about her brave father who was "imprisoned for helping people". At this tender primary school age, she didn't understand the full extent of the regime's oppression of the Burmese people.
"There is a chance that even in school or high school you will be expelled and most of the teachers are also worried that they might lose their jobs. .. It's really hard to get a job in Burma – especially a government job, like teachers, and once they lose the job it's really difficult to get it back again. They need to take care of their families."
In Burma, a country where 84 year-old nuns are imprisoned to four years hard labour for speaking out against the regime, human rights are non-existent. In what is a strange notion for a westerner born and raised in one of the most liberal countries on the planet, Waihnin learned the concept of human rights from her father and his political allies.
Despite wanting a "normal family life", the incessant military visits to her home made her realise that it just was a matter of time before her father was re-arrested again and that they couldn't have "a proper family life and a happy ending without human rights". So, at the age of 12, she pledged her allegiance to the cause.
"I always asked my father what was going on, and whenever he was having a meeting with his friends I would always ask them if they wanted coffee and things, but really I was listening to what they were saying – I was trying to be interested. I tried to be a caring person. I didn't want to be an ignorant person; I wanted to care about the situation and the country."
When the time came for university, as the daughter of a political activist, she found the military becoming more wary of her activities. After being refused several places to study international relations and finding the military intelligence's habit of following her around an increasingly common occurrence, Waihnin realised the only way to gain an education was to leave the country.
A few days later she boarded a plane to London, knowing that return would be impossible, as the military now considered her a spy. As Waihnin describes it, "they searched my bag. I couldn't carry my family photographs; I couldn't carry any thing that belonged to my family."
But what of the difference in freedom in the UK? Was it not a shock to the system?
"I had heard about human rights over and over again and I thought I knew what it was, but when I came here I saw human rights and freedom right in front of me. When I went to my first demonstration with the Burmese community, it especially opened my eyes… there were people shouting about how they don't like the military regime in Burma and I had never seen that before.
"Until now, I felt I was not doing enough. I felt really guilty to be here in the UK with all the freedoms, so I started volunteering. I decided to put both of my feet into the campaigning world – to be a part of the movement."
Today Waihnin speaks out at various political events and has been compared to Aung San Suu Kyi – a suggestion that makes her squirm with embarrassment. However, her campaigning is bittersweet as the National League for Democracy in Burma hands out DVDs of her Labour party speech, which raises her prominence and perhaps even inspires a new wave of political activists, but brings with it concerns of repercussions on her 43 year old father – a man who has already been tortured and kept in cells alongside death row prisoners instead of in the political wing of the prison, in what she calls an attempt to "psychologically break him".
Following what is becoming the family tradition has also ensured certainty of her arrest if she ever steps foot on Burmese soil again. But don't ever suggest she is brave or making sacrifices to try and help Burma as, when I do so, she gently reprimands me:"I can't compare myself to other young people who are inside the country because I have a freedom now. There are people inside Burma who are doing this because they are brave even though they know the consequences."
With the elections now a memory and Aung San Suu Kyi walking free after 15 years house arrest, Burma's Roadmap to democracy – a route embarked upon after the junta refused to acknowledge Suu Kyi's landslide victory in the 1990 democratic elections – has finally been released. So what has it heralded? Well, according to various prominent leaders, including President Obama who called the election "stolen"; not much. With the same military leaders effectively in power – albeit under different party name – and a constitution that gives them the deciding vote on most law, perhaps Obama is right. So, why hold the elections at all?
"They (the Burmese regime) had to show the international community that they are trying to change the country and trying to change themselves", Waihnin explains. "They are trying to play the international community, as well as some people in Burma."
Despite Aung San Suu Kyi's release there are still over 2,200 political prisoners in Burma, including monks, nuns and young people. The Human Rights Watch claims that torture is commonplace and many religious people were beaten and imprisoned after the Saffron Uprising in 2007 – a rebellion crushed by the government who subsequently swept the country raiding monasteries, churches and homes searching for and arresting supposed leaders of the revolt.
During this chapter, the 88 Generation Students were once again arrested and most sentenced to 65 years in prison. Or, as Waihnin deems it; "a death sentence". Her voice softens when asked if she believes she will ever see her father again. Reminiscing over the last time she spoke to him as he marched along the street, just hours before his arrest, she pauses and says, simply, "I hope so".
Her voice breaks a little as she explains how she cannot even find out how he is from her mother and young sister, as the phone lines are tapped and go dead at the hint of anything political – even the mention of his name. Thinking of them both her voice lightens up and I can almost feel the weight lift from her shoulders, she explains how her cheeky nine year old sister has declared herself caretaker to the family, as "someone should look over our mother".
"It's really amazing" Waihnin adds. "My mother is so soft spoken and doesn't look that strong, but she is. She has always been really supportive of my father and now me. Without my mother, I don't think that my father and I would be here – we are still strong because of my mother."
It is puzzling that someone so bright, eloquent and socially aware cannot see that she has just described herself. But, whatever she see when she looks in the mirror, perhaps just what Burma needs is someone as humble as Waihnin Pwint Thon to help lead it to a bright, democratic future. As she puts it, "Even if change is not coming for my generation, my father has been campaigning for his whole life and this is my generation now and so my duty to do so. Even though I can't see my family again, it is my duty to let other families have freedom and human rights."
Whatever the future brings for Burma, it will be all the better for people such as Waihnin, her father and the other thousands of people who are standing up for democracy. Let's just hope it doesn't take another generation to succeed.
Melanie Scagliarini is a freelance journalist and activist based in London.
2 Comments
Leave a Reply