New in Ceasefire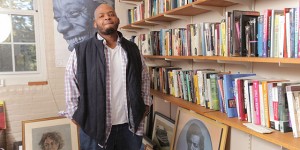 Author Kiese Laymon talks to Ceasefire's Hana Riaz and Rukayah Sarumi about his novel 'Long Divison' and using language as a tool of resistance and affirmation.
On Sunday, several hundred people gathered outside the Home Office in London in solidarity with human rights campaigner Moazzam Begg following his "politicised" arrest on terror charges last week. Sara Chaudhry reports.

In January, Haringey council revealed plans to evict hundreds of tenants from three sprawling industrial sites in Tottenham, after discovering private landlords had been renting commercial warehouse spaces to a young, London creative community for over a decade. The plans have sparked outrage from residents who are now fighting back to save their homes, and in many cases, their livelihoods.

As Israeli Apartheid Week launches across campuses worldwide, author and activist Ben White talks to Ceasefire's Sara Chaudhry about the newly released updated edition of his book, 'Israeli Apartheid: A Beginner's Guide'.

As a new documentary revisits Chile's student uprisings of 2011, one of its producers, Samuel Grove, provides the context and background behind the film.

Richard Pilgrim reviews a new production of a great classic of German pre-war theatre, Bertolt Brecht's 'The Threepenny Opera'.

Lee Salter argues our understanding of the recent upheavals in Venezuela must be placed in its proper, larger context. It's not about economics, corruption or crime, he insists, but about the ultra-rich and their supporters trying to overthrow the will of the people.

Attempts to decode the political crisis submerging Bangladesh must first survey its connections to the cultural landscape. The ever-widening gulf between the ruling class and the people under its subjugation stems from the Islamophobia of the current ruling elites, a hangover from the 19th-century Orientalism of the British Raj given a new lease of life by the 'War on Terror'.

Christopher Davidson, author of 'After the Sheikhs: The Coming Collapse of the Gulf Monarchies, talks to Ian Sinclair about the continued survival of the Gulf regimes, reasons for democrats to be hopeful and the role played in the region by the West.

In the lead up to this year's edition of the Islamophobia Awards, to be held this Friday, Azru Merali offers some reflections on what the fight against Islamophobia entails today. Whether it is advocacy against imperialist, colonial wars, or activism against anti-terror laws, or studying hate crime and discrimination, the naming and vocalising of the roots of oppression is the only way that beleaguered communities can be made to feel empowered.