Books 'On Wings of Diesel: Trucks, Identity and Culture in Pakistan'
Jamal J. Elias spent almost a decade travelling up and down the clogged arteries of Pakistan's road network studying the unlikely but fascinating subject of Pakistani truck art and culture. 'On Wings of Diesel', the resulting book, is reviewed by Layli Uddin.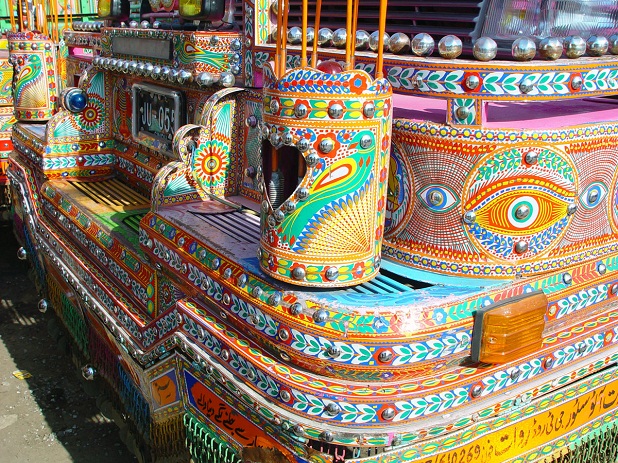 By Layli Uddin
With the roads choked by their fumes and deafened by the blare of their horns, you might not expect trucks – giant roaring hulks of metal – to be the subject of a discussion on art and cultural expression or its wider resonance in society.
But they are. Jamal J. Elias, distracted from his original research on a Kashmiri saint by the lurid and vibrant art of Pakistani trucks on the Karakorum Highway, spent almost ten years travelling up and down the clogged arteries of Pakistan's road network in Karachi, Islamabad and Rawalpindi interviewing truck drivers, union representatives and others involved in the production, decoration and maintenance of these vehicles. The result is 'On Wings of Diesel', a visually rich and masterful study on truck art and culture.
Elias shifts the academic goalposts further, going beyond the traditional scholarship that has so far focused on aesthetic sensibilities of truck act, or ethnographical accounts of the lives of truck drivers. He explains how the habitus of truck drivers and others involved in truck culture and truck designs are dynamic expressions of a visual regime reflecting the changing religious, political and social environs and the attitudes and values of individual and collective identities.
'On Wings of Diesel' challenges our common understanding of Islam as simply being a scriptural-based religion, or clichéd ideas of art in the Islamic world as simply existing in terms of geometrical designs and calligraphy. Elias shows that Pakistani trucks heavily laden with figural images, chukor partridges, the anthropomorphic horse Buraq that ascended with the Prophet to heaven, Sufi saints and other imaginary and real heroes, is part of the experienced, day-to-day reality of how people conceive Islam and how it shapes and is shaped by gender, class, ethno-lingual, cultural and political considerations.
In a country mired in high levels of poverty, illiteracy and unemployment, only about 5.5% of households own cars. It is Bedford Rockets, and newer Japanese trucks, that adorn the urban landscape instead. Truck décor appears to be a slightly puzzling affair at first; owners of these commercial fleet vehicles spend an enormous amount of money decorating them – $7000 on Bedford trucks and $16,000 on newer Japanese trucks – with there being no economic incentive in doing so.
The primary function of the truck remains to carry ballast, gravel, stone and cement and fruit. But Elias argues that truck culture and truck art is also a communicative device, an outward projection of Pakistan's tensions with its individual and collective identities. These trucks, with their bright paints, coloured reflective tape, patterned metalwork, ornate metal cowling, intricate woodwork on doors, bawdy poetry, religious inscriptions and motifs, idealised landscapes, Sufi saints and other iconic heroes, tell the story of a dystopic utopia.
Pakistan is both a land and an idea. It is a community that is constantly imagined: and these shifts of imaginings are represented in the structure and décor of trucks. The paeans to Saddam Hussain and Allama Muhammad Iqbal in the form of epigraph and portraits on trucks and the absence of Jinnah or any national politicians of any stature reflect the pan-Islamic aspirations and sympathies of the community and its frustrations or disenchantment with contemporary affairs.
The presence of talismanic objects and religiously loaded symbols in the forms of fishes (symbol of plenty), chukor partridges (symbol of warding off evil) and religious verses show the strong attachment to an intercessory form of Islam. But they also demonstrate the passivity of a community that does not perceive itself as the driver of change and reform — rather, as impotent subjects whose fortune and misfortune is directed by God or others. Meanwhile, we can read the increase of religious imagery and motifs that were initially consigned to the front (which Elias describes as the most 'semiotically charged' part of the truck because it was one's face to the world, while the back was the butt of jokes) as reflecting the ever-increasing Islamisation of Pakistani society and culture.
'On Wings of Diesel' is not simply about truck art. It is also about the culture of those who are professionally involved in the truck industry – the drivers, owners, and artisans. It tries to dispel those myths of the trade, which are often based on bourgeois perceptions and expectations than its connection with reality.
Truckers often branded as rustic idiots with lothario lifestyles are in real life socially marginal characters. They lead a rather lonely existence, driving long hours on dangerously bumpy roads with pit stops to the local shrine or rest areas where they can do a bit of drugs or have sex. The little pride they have is found in the décor and maintenance of their trucks.
Elias's account of truck culture is perhaps the weakest part of the book. It a superficial and rather glib, inoffensive insight into the lives of those involved. The reader is left wondering who these individuals are, why they do what they do, how it impacts their lives and those around them. But their voices are completely silenced by cold statistics and generalities.
Jamal J. Elias succeeds in re-appropriating a form of subaltern art, which has been fetishized, objectified and commodified by the indigenous elite. By detaching it from the wider habitus of trucks and trucks culture, truck act risks loses its meaning, the dynamism of its expression and becoming another static form of art. 'On Wings of Diesel' is therefore a critical contribution to scholarship on art and more widely the complexities of religion, politics, culture and national identity in the Muslim world.
Layli Uddin is a postgraduate at the University of Oxford, specialising in South Asian studies.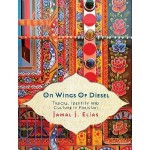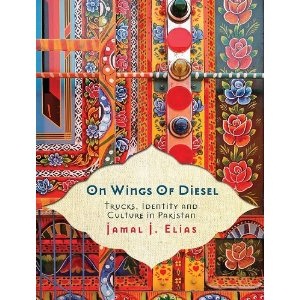 On Wings of Diesel: Trucks, Identity and Culture in Pakistan
Jamal. J. Elias.
Paperback: 336 pages
Oneworld Publications (1 April 2011)

2 Comments
Leave a Reply