Film & TV | Review: Elite Squad & Elite Squad: The Enemy Within
Murray Goulden revisits two acclaimed, powerful dramas about corruption and crime in Rio De Janeiro.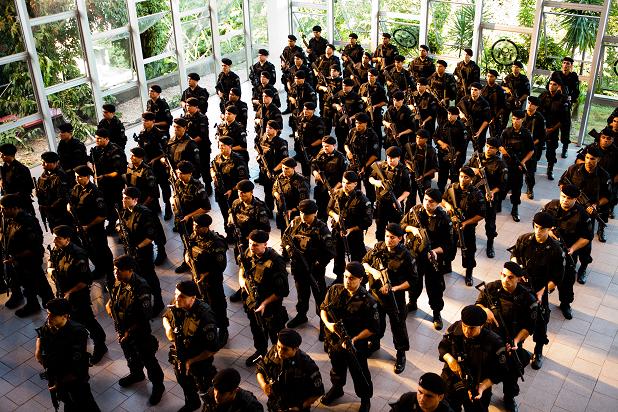 I sincerely hope Tropa de Elite sounds better to Portuguese ears than Elite Squad does to English ones, because the image it conjures in my mind is Alan Partridge in the front seat of his Rover, narrating into a dictaphone his latest pitch for an action franchise to relaunch Rutger Hauer's career. The only thing to be said in its defence it that it's not actually the worst film title ever – that honour must go to its sequel Elite Squad: The Enemy Within. You can only assume that the English distributor was engaged in some form of tax write-off at this point.
It's tempting to imagine the savagely awful title as part of a concerted effort to disguise the fact that Tropa de Elite 2 is actually a magnificent, relentless political-thriller meets action-flick. Those that aren't put off by the name on the cover though might well be by the first film.
Both films centre around the exploits of a cop called Nascimento, working in a Rio De Janeiro special forces unit, but from there they trace very different orbits. Tropa de Elite introduces Nascimento as Captain of BOPE, a quasi-military force tasked with clearing the favalas of criminal elements in anticipation of a visit by the Pope.
With fatherhood approaching, Nascimento plans to step down, and the film charts his efforts to find a replacement whilst tackling violent criminals and endemic police corruption. He is one of the few clean cops, but such is his utilitarian approach to imposing justice – often resorting to torture of suspects – that the line between himself and those he hunts is often hard to discern.
The ingredients are thus present for a classic anti-hero, but the film fails to ever figure out the moral status of this character, just as it fails to figure out its stance towards the organisation in which he works. Clearly critical comment is intended for BOPE: ruthless, on-the-take and employed to terrorise a neighbourhood so that God's envoy might walk safely through it, but that message seems lost in what at times appears a fetishisation of military discipline and violence.
It is undeniably a powerful film, but the message one is left with is a fascistic one: in a society as fucked as this, unconstrained state violence is a necessity.
The sense that director Jose Padilha inadvertently created a very different film from the one he had intended – one that glamourised its subject rather than condemned it – is strengthened by Tropa de Elite 2.
Where the first film fails to find its feet, the second plants them firmly on the throat of the system that gave rise to the favelas and BOPE alike. It's an excoriating indictment of the network of money, violence and power tying together, like barb wire, the favala street gangs, the cops, the politicians and their reactionary media allies. Nascimento returns as anti-hero and narrator of events, but this time the film adds a moral core in the shape of Fraga, both a human rights activist and a nemesis to Nascimento.
A prison hostage crisis turns into a bloodbath when a subordinate officer disobeys Nascimento and opens fire. Caught in the middle as a negotiator, a blood-soaked Fraga survives only to launch a diatribe against BOPE to the media assembled outside the prison gates.
Nascimento is quickly disowned by a political class keen for a scapegoat, but with the support of absurd, grotesque rightwing TV showman Fortunato, the general public rally behind him. The politicians duly respond, and Nascimento finds himself promoted to a position within the city's Justice Department. Little do his new-found supporters realise what they have let themselves in for. The stage is set: with a growing awareness of who the real enemy is, Nascimento sets himself on a collision course with the system itself.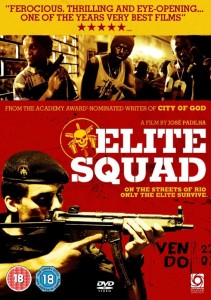 It is this higher vantage point within the city bureaucracy, in addition to the perspective brought by Fraga, that gives the sequel both its grand scope, and its moral potency. The film is not perfect, and there are several moments where one waits unrewarded for Nascimento to deliver a verbal critique of corrupt society as eloquently as the narrative arc provides.
This cannot, however, detract from the thrill of seeing a film shatter in two hours what The Wire spent five seasons pulling apart. Reaching upwards from the shanty towns of Rio De Janeiro, all the way to Brasilia's utopian seat of government, Tropa de Elite 2 puts the state itself on trial.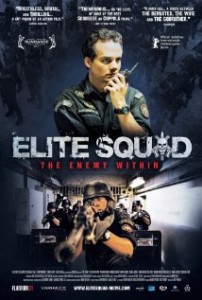 Elite Squad (2007)
Tropa de Elite (original title)
Director: José Padilha
Writers:  José Padilha, Bráulio Mantovani
Stars: Wagner Moura, André Ramiro and Caio Junqueira
Elite Squad: The Enemy Within (2010)
Tropa de Elite 2 – O Inimigo Agora É Outro (original title)
Director: José Padilha
Writers: José Padilha (screenplay), José Padilha (story)
Stars: Wagner Moura, Irandhir Santos and André Ramiro
3 Comments
Leave a Reply