Comment | Silences and cover-ups: is Jimmy Savile's past finally catching up with him?
For decades, Jimmy Savile enjoyed national treasure status, respected and adored by millions. As accusations emerge of a long history of abuse, Robin Whitlock reports on the shocking trail of evidence that had remained ignored for years, and asks why so many, including within the BBC hierarchy, seemingly colluded in covering it up.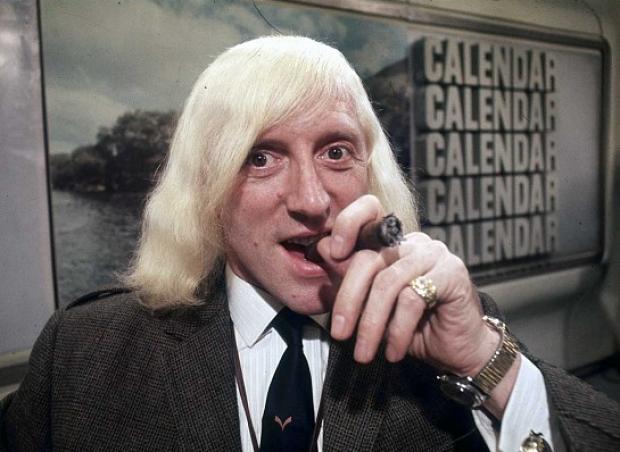 Most of us in adulthood should know who Jimmy Savile was, he could hardly be missed. Even those who are too young to remember his radio shows and his very popular TV show Jim'll Fix It, based around the premise of making dreams come true for young and old alike, could scarcely miss the flamboyant eccentricity of the man whenever he was featured on TV. Such appearances were, of course, still a regular occurrence even when he was past his prime largely due to his work for charity, his support for Stoke Mandeville Hospital in particular and his regular participation in the London Marathon.
None of us would have dared to think that this man, who was a cultural hero to many, would have been capable of vile crimes against young women. However, this is exactly the nature of the allegations that are increasingly starting to emerge into the public arena. Far from being the product of star-seeking predators keen to make money, fame and fortune, they are instead very plausible accounts from women whose trust and adoration of a man who seemed to be a friend of everybody, was so cruelly betrayed.
The main objection from those who would seek to defend Savile is perfectly legitimate. Sir Jimmy is now dead and is therefore hardly in a position to defend himself against such accusations. Nevertheless, this is not and should not be any real defence should the claims of the 'victims' prove to be true. I have to say though that I am already convinced, there is a wealth of information available, and much of it is indeed convincing.
Of course, neither I nor anyone else is yet in a position to state categorically that Savile was indeed a child molester, but we can examine the evidence and make an informed opinion. This then is an examination of the evidence that is available to the public so far, including some of the darker stories. "Speculation!" you might cry; maybe, but these voices still demand to be heard and considered; particularly given the capacity for deep trauma and damage to the victims should they be corroborated.
What we know so far is this. In late 2011 journalists working for the BBC's Newsnight programme who had nearly finished putting together a documentary film concerning various allegations of child abuse against Jimmy Savile were suddenly told by editors that the piece would not be broadcast. Instead, the BBC chose to show a number of programmes celebrating the life of the celebrity. However, rather than the perhaps naive expectation that the accusations would go away and remain in the shadows, the story emerged again when ITV decided to pick it up. The resulting documentary will be shown on tomorrow (Wednesday) night, well after the 9pm watershed. The full contents of the programme therefore remain to be seen, but some of the content has already leaked out into the wider press.
In total, the Newsnight  journalists interviewed ten people who claimed they were either abused by Savile when they were younger or were present as witnesses. The ITV documentary rests on the testimony of five women, some of whom were pupils of Duncroft Approved School near Staines which Savile visited regularly during the 1970s. Others encountered Savile elsewhere.
The material for the programme is based on research gathered by former detective Mark Williams-Thomas who was an adviser to the Newsnight team. The investigation began shortly after Savile died in October 2011 aged 84. One of the victims agreed to be filmed directly, but the others preferred to remain anonymous.
Fiona says she was abused at the BBC television centre when she had visited the studios with other girls from Duncroft School in the 1970s. She says of the visit: "we knew what was expected of us, we had to pay. He had an alcove in his dressing room that had a curtain over it and he would take you behind the curtain. He always touched my breasts but at the same time he would be touching my breasts he'd always have his hands down my knickers. There were no staff around in the room, just the girls in there and one or two other people so I suppose the privacy we got was from the curtain in the alcove but, I have no doubt that he went and told everybody else what he did afterwards."
Sue Thompson worked at the BBC in Leeds as a newsroom assistant. One day in 1978 she encountered Savile fondling a 14-year old girl who was sat on his lap. "He had his left arm up her skirt and he was kissing her" she said.
Another woman claims she was raped by Savile at the age of 14 in his dressing room at BBC Television Centre in 1974 which she says was the first of "dozens" of such incidents. Other women claim that Savile would give them cigarettes and tickets to shows if they performed sex acts on him in his car.
One woman said that Savile attacked her at the age of 14 after watching her perform in a choir at Stoke Mandeville Hospital in 1973. "After the concert, I ran up to him to let him know I was the one who had sent him a letter about the choir" she recalls "Before I knew what had happened he'd stuck his tongue into my mouth."
Deborah Cogger was also attacked by Savile when she was 14. "He pulled me back and I landed on his lap" she said. "That vile tongue, tasting of cigars, went right down my throat. He was a bad, bad man."
A former producer of Savile's radio show Teen Scene, Wilfred De'Ath, said that one night he encountered Savile with a very young girl who he judged to be about twelve. "Where did you pick her up?" he asked. "Top of the Pops" Savile replied. De'Ath asked him if that was his 'happy hunting ground' to which Savile replied "yes". Manchester local newspaper reporter Alan Leeke was with Saville on another occasion when a young girl arrived. Savile took her into another room for about ten minutes before emerging and washing himself off.
Singer Coleen Nolan of the famous Nolan Sisters found herself being groped by Savile on Top of the Pops much to the distaste of her sisters, who of course were watching in the studio at the time. "He was all over me" she said in a documentary about the group. "I could see my sisters glaring, "You touch her and we' ll kill you!" – and they would have done."
Are these accounts credible? Esther Rantzen, the well known founder of Childline certainly thinks so. "I feel that we in television, in his world in some way, colluded with him as a child abuser – because I now believe that's what he was" she said on TV recently, obviously in some anguish. "We all blocked our ears to the gossip. There was gossip, there were rumours"
The TV interviewer Louis Theroux had heard the rumours, and on the basis of them he decided to interview Savile for his "When Louis Met Jimmy" documentary in 2000. It makes very un-nerving viewing to say the least.
During the programme Savile lets slip some very interesting and likewise very disturbing comments. During a late night chat with Theroux's cameraman for instance, Savile talks of the days when he was a dancehall manager. "I wouldn't stand for any nonsense whatsoever" Savile says. "I never threw anybody out. Tied them up and put them down in the bloody boiler house until I was ready for them." Earlier in the programme, Theroux asks him about his passion for wrestling. "Still am" Saville replies, "feared in every girls school in Britain", which apparently was one of his stock phrases.
Theroux also hints at something far more disturbing in a blog piece on his website, written after Savile's death in 2011, in which he talks about 'macabre rumours'. One of these rumours concerned an entry in Savile's biography to the effect that "the few days he spent alone with his deceased mother's body during her laying out was the time of his life."[2]
Just a few lines later in the same blog, Theroux repeats the hint by saying that another of these rumours concerned Savile's  enthusiasm for spending his "spare time volunteering as a hospital porter at Leeds General Infirmary where he was known for wheeling bodies into the morgue."
It has also now emerged that Savile visited the infamous Haut de la Garenne care home on the island of Jersey. Savile sued The Sun in 2008 to cover this up and to prevent the publication of a photograph which allegedly shows Savile in the company of children at the care home. As a consequence the paper had to withdraw the article and the photograph, but the picture is still widely available on the net and the story, though not the picture, has been published by both The Daily Telegraph and The Daily Mail.
The CHRIS (Children Have Rights In Society) website also features a blog piece which claims that Sir Edward Heath, the former Conservative Prime Minister, used to visit the island in his boat Morning Cloud which apparently Heath's bodyguards dubbed 'Morning Sickness'. The story goes that Heath used to take young boys for trips on the boat. The blog piece also claims that one of the victims of Haut de la Garenne said Savile used to supply high profile MPs with children for them to abuse.
The CHRIS blog piece also claims that Savile used to hang around with Radio 1 DJ Alan Freeman who owned a large corner shop on Lea Bridge Road in London, where Freeman held parties attended by Savile and convicted paedophile Jonathan King, another former music and TV star, and that the police raided the premises when they discovered former Liberal Party leader Jeremy Thorpe also attended the parties.
Savile appeared on the hit TV show Have I Got News For You on one occasion. According to a link posted by a member of The British Comedy Guide forum, traceable to the Zetnet website, the producers had to cut a particular scene from the final programme before it was broadcast when the conversation got way out of hand:
DEAYTON: You used to be a wrestler didn't you?
SAVILLE: I still am.
DEAYTON: Are you?
SAVILLE: I'm feared in every girls' school in the country.
(Audience laugh)
DEAYTON: Yeah, I've heard about that.
SAVILLE: What have you heard?
DEAYTON: I've…
MERTON: Something about a c**t with a rancid, pus-filled c**k.
(Huge audience laugh; Awkward pause)
SAVILLE: I advise you to wash your mouth out, my friend…
MERTON: That's what she had to do! (Audience laughs)
HISLOP: Weren't you leaving money in phone boxes or something?
(Saville glares at him) Or have I got completely the wrong end of the…
SAVILLE: (To Deayton, heavily) The question you asked was about wrestling.
DEAYTON: Yes. And then you mentioned girls' schools. I don't know whe…
SAVILLE: Well I understood this was a comedy programme. I realise now how wrong I was. (Audience laugh)
DEAYTON: So were you a professional wrestler?
SAVILLE: Yes I was.
DEAYTON: (To audience) Glad we got that cleared up.(Pulls face; audience giggles)
HISLOP: Feared by every girls' school in the country…
SAVILLE: That's right.
MERTON: Due to having a rancid, pus-filled c**k.(Huge audience laugh)
DEAYTON: Erm…
HISLOP: You're on top form tonight, Paul…
Of course, it is entirely possible that the hints of necrophilia, the possible collaboration with King and Freeman and the claims concerning trafficking boys to high profile MPs are without substance, but the fact they are being discussed on a website devoted to the protection of children's rights means, in my view, that they at least have to be taken into serious consideration given the allegations that are now beginning to emerge and the confirmation by the Mail and the Telegraph of the stories regarding Haut de la Garenne.
But why haven't these accounts emerged into the open before now? Why weren't they aired while the star was still alive so that he could defend himself? The popular TV muso Paul Gambacini supplied an explanation on daytime TV yesterday. "You just didn't mess with Jim" he said. "He was the governor, because after all he had been the first great club DJ, he had been the originator of Top Of The Pops and you just let him have his turf."
Gambaccini said that on one occasion Saville issued a thinly-veiled threat against a tabloid newspaper intending to publish a story concerning his behaviour. "Well you could run that story" Savile told the editor, "but if you do there goes the funds that come into Stoke Mandeville. Do you want to be responsible for the drying up of the charity donations?" And so the paper backed down.
Gambaccini isn't surprised by the allegations, in fact he said he's been expecting them to emerge for the past thirty years.
Theroux isn't surprised either. "I can't say that I'm completely blindsided by these revelations" he wrote on his Facebook page. "Still, it's shocking and upsetting to have one's worst fears confirmed."
There is growing anger among the BBC journalists at the intervention of Peter Rippon, Newsnight's editor. Furthermore it has led to speculation in private about what senior BBC bosses actually know and are keeping quiet. There are growing accusations of a BBC cover-up. The BBC originally agreed to screen the film if it could be shown there had been a police investigation – it is now known that there was. This investigation took place in 2007 when Savile was interviewed by Surrey Constabulary under caution. The Crown Prosecution Service (CPS) however concluded that it was not in the public interest to proceed with charges against Savile. The Newsnight team were given the task of finding out why. The CPS prosecutors would only comment that they did not proceed for lack of evidence and that was enough for the BBC hierarchy to refuse to broadcast the programme.
I believe firmly that the floodgates are now well and truly open about this story and that more victims will now take heart and come forward to share their experiences of unfortunate encounters with someone who very plausibly appears to have been a most disgusting and vile individual, irrespective of his fame, power and reputation. If the claims continue to mount up and can be corroborated, it should be the duty of the BBC among others to at least launch a full investigation and possibly to issue a public apology to the victims. I also believe strongly that the government should act swiftly in such circumstances to posthumously withdraw Savile's knighthood, OBE and what other honours he may have been given.
And who really wants to see a waxworks of such an individual at Madame Tussauds? Or even in the Chamber of Horrors for that matter? I suspect somehow we've only just begun to hear the truth of the matter, and that there will be more unpleasantness to come yet.
11 Comments
Leave a Reply