Analysis | Why we must rethink women's development in Palestine
Rena Zuabi examines the challenges of the existing development framework for women and girls in the occupied territories, especially in regards to the destructive role of international and local organizations. Protecting and ensuring the rights of Palestinian women, she argues, must coincide with programs that tackle the question of Israel's colonial enterprise.
By Rena Zuabi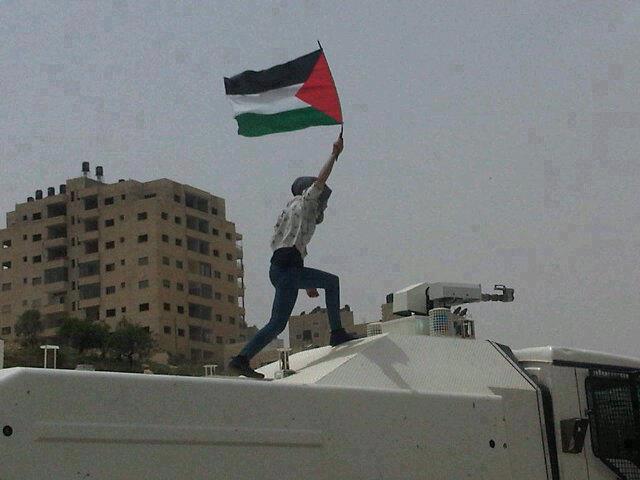 A Palestinian woman climbs on top of an Israeli skunk truck in a protest outside of Ofer prison – 1 May 2012 (Photo: Abir Kopty)
The international community has taken on women's empowerment as a worldwide development question. Two out of the eight United Nations Millennium Development Goals concern women specifically for "the promotion of gender equality and the empowerment of women," and "the improvement of maternal health." Women's rights are understood as an intrinsic part of holistic development, peace building, and sustainability.
Women and girls in Palestine, just like in the rest of the world, are subject to a number of discriminatory laws and policies, as well as a prevailing culture of patriarchal domination, all of which stereotype their roles within society and their households. The Palestinian National Authority-Ministry of Women's Affairs' strategic document (2011-2013), states that within the context of on-going occupation and Israeli colonization, "women suffer disproportionately from separation from their families, agricultural lands, water sources and school." It is clear that Palestinian women and girls face a myriad of intersecting planes of oppression based on gender, class, ethnicity, and their position as a colonized people.
In light of this, the NGO community in Palestine, local and international, has striven to promote projects and programs for women and girls that seek to  improve livelihoods, build resilience, or empower women, among other objectives.
Yet, the international development agenda, framed in light of the post-Oslo state-building efforts of the early 1990s, effectively divorce socioeconomic development from the reality of political life in the everyday lives of Palestinians, including women and girls[1]. Palestinian academics and policy makers have discussed the flawed development framework in the occupied territories for decades.
These critiques have focused on the manner in which this framework fails to address the political roots of de-development in the occupied Palestinian territories by prioritizing institution and state-building before the achievement of Palestinian rights, including those for women. This approach to development has proven to be complacent and obliging to Israeli occupation and consequently denies Palestinians the right to self-determination.
Ultimately, the occupation itself empowers patriarchy in Palestinian society by enforcing the need for informal, traditional methods through which communities maintain social order. For instance, to protect their school-aged girl from sexual or verbal harassment by Israeli soldiers at checkpoints are the way to school, families will not allow their daughter to attend school outside of their village, which will prevent her from reaching university or sometimes even high school education.
Also, the inability of Palestinian society to forge viable and enforceable laws to protect women throughout the territories compels communities to fall back on traditional forms of justice to ensure social cohesion, which often do not sufficiently ensure the health and well-being of women and girls. The internal division between the Gaza Strip and the West Bank invariably feed into Israeli policy of "divide and conquer," by making any grassroots or national level coordination regarding women's rights nearly impossible.
Local Complacency
The existing approach to women's development is continuously enabled by a local, Palestinian elite, who have used the Oslo state-building framework to advance governmental institutions, NGOs, private firms, and other organizations they lead. This has consequently meant the exclusion of popular need for democratic and national rights that can only be achieved through meaningful efforts to end the occupation.[2]
The "professionalization of the women's movement" following the Second Al-Aqsa Intifada in particular, has transformed the local women's agenda from one that was once decentralized, grassroots, and focused on the nationalist movement, to one that receives global funding to intervene in national and international policy processes and maintains more marginal grassroots connections. [3]
Women's rights in Palestine have ultimately become less connected to the broader, mass movement for national resistance and liberation, and more relevant to international and local development efforts to formalize political power, build institutions, and promote the state-building project.
The widening gap between the women's rights movement in Palestine and the now marginal, grassroots struggle for liberation, has indeed set back and eroded the cause of gender-equality in the occupied territories. Ultimately, the existing development agenda for women in Palestine seeks to improve women's lot within a fundamentally unjust political framework of occupation and ongoing colonization.
How can the international community and local Palestinian women's organizations hold the burning torch for women's rights in Palestine, when they simultaneously fail to directly challenge Israel's occupation as an overarching, structural factor in the question of gender equality?
Without first tackling the need to end Israel's colonial enterprise and to advance the Palestinian right of return and self-determination, protecting and ensuring women's rights in Palestine will remain unachievable.
Realizing gender equality in Palestine is inextricably connected to the achievement of Palestinian human rights generally – it cannot be separated from the political reality of the occupation and the Palestinian's ongoing Nakba.
Rethinking roles
Instead of simply building resilience among women and marginalized Palestinian communities, local and international NGOs must consider the value of building resistance. This includes both resistance to Israeli occupation, but also to the Palestinian leadership that perpetuate the nation's internal divisions and thus, the cause of Palestinian rights and self-determination.
Grassroots-level organizations for the nationalist cause help to build community ownership of local development by allowing communities to exercise power and agency against the occupation, and towards their own liberation. Supporting grassroots-level leadership and participation of women and girls in the planning and implementation of popular resistance efforts can help to put the local development agenda back into the hands of local communities. This type of political engagement is not new to Palestinian society, and can be most clearly observed in the years leading up to and during the First Intifada.
Moving forward, Hanadi Loubani discusses the need for "discontinuous responsibilities" in local development. That is, assigning responsibilities to various development stakeholders depending on their respective "locations of power," relative to the local context.
International women's organizations and funders who strive to support the equality for Palestinian women must face the fact that they have largely misused their power to depoliticize the women's movements in Palestine. These international organizations must rethink how to reincorporate the experiences of Palestinian women into their development framework and support an end to the occupation as a fundamental part of their program and project approach.
Towards this strategic goal, these organizations must also connect the notion of patriarchy to the role of the occupation in Palestinian women's lives, and further integrate this connection into the "theory, practice, and agenda" of all international feminist organizations.
Palestinian women in the Diaspora play a critical role in keeping international development work in Palestine relevant to the needs of local Palestinian women who must grapple with the reality of patriarchy and occupation in their everyday lives. As such, they should not strive to speak for Palestinian women living under occupation, but should instead, strive to communicate and translate the struggle of their sisters and brothers in the region to the international community.
Further, communities and women's organizations can promote the rejection of international aid that attempts to de-politicize women's development issues and detach them from questions of national liberation and occupation.
Local women's organizations can further work to advance a new framework that reflects the reality of life for Palestinian women and girls and seek international partners that will support and advance this approach to development in Palestine.
Ultimately, private and public life, the political and personal, all intersect with the everyday lives of Palestinian women and girls not only within the occupied territories, but throughout the region. Reintegrating these converging political, social, economic, and cultural realities into development approaches for women and girls, empowering resistance building, and mainstreaming their presence within a grassroots movement for Palestinian-led local development, are powerful steps that can and should be taken to reconfigure the development agenda in the occupied territories.
1 Kuttab, Eileen, "Empowerment as Resistance: Conceptualizing Palestinian Women's Empowerment," Development, Vol.53 No.2 (2010), pp.247-253.
2 Kuttab, Eileen, "Palestinian Women's Organizations: Global Cooperation & Local Contradiction," Review of Women's Studies, p.65.
3 Ibid.
Leave a Reply