Modern Times: Tabloid readership in opinion diversity shocker
Not a day passes without a newspaper headline screaming "outrage!" at us. Where does all this "outrage" come from? and who exactly is outraged by it? Isn't it a bit tiring being outraged all the time? In the spirit of journalistic research, Corin Faife goes in search of answers.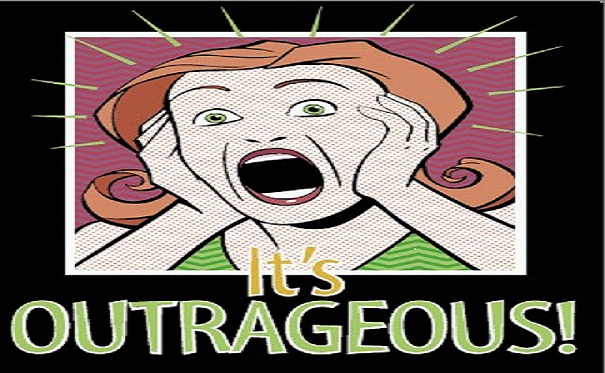 By Corin Faife,
Relativity, as Albert Einstein would have told you, is a funny old thing. In physics terms (and forgive me if my pursuit of the subject to A-level leaves me a little ill-equipped to explain), the theory postulated a four-dimensional spacetime continuum, which replaced the preceding paradigm of two discreet and unconnected fields of space and time.
If Einstein had dealt with the laws of journalism rather than physics, he might have posited the existence of outrage-space, a dimension inhabited exclusively by reporters from the tabloid media in which moral sentiments are sucked into the gravitational pull of supermassive tabloid headlines, unable to attain the necessary escape velocity to actually connect with real life.
I say this firstly because I've been reading up on Einstein of late, and secondly because I just can't bear the bandying about of the word 'outrage'. I dislike it to such a point that you could say it outrages me. Picture the scene: you pop into the newsagent for a nice respectable Guardian or the like when suddenly a flash of red catches your eye along with 40pt bold type: "FURY AT BENEFIT FRAUDSTER'S £2MILLION HOUSE", "OUTRAGE AT JAIL PARTIES FOR CRIMINALS", "SCANDAL AS NHS FUNDS GAY DOG SEX CHANGE", etc.
Where does all this outrage come from, I've often wondered, and who exactly is outraged by it? Isn't it a bit tiring being outraged all the time? In the spirit of journalistic research, I decided to seek it at a main source: the Sun (yes, I do the dirty work so you don't have to).
Lo and behold, I was surprised at what I saw. A trawl through the Sun's online archives turns up hundreds of results with 'outrage' in the title, each written in emotive, irate, grammatically challenged language – little surprise there. But what grabbed my attention was that the comments left in response reveal a clear plurality of opinion. As I write, the most recent result turned up by the search is a story on the serving of unmarked Halal meat in various venues across the country, yet many of the readers' comments point out the double standards of the article: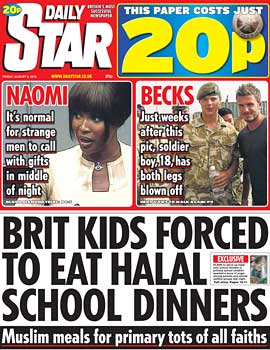 Mrdynamite: "first saw this over the weekend and thought "this is so sad". the implication is so obviously "brits are being secretly infected with islam". Like anyone really cares if the animal they are eating was bludgeoned unconcious [sic] before it was killed?"
luskentyre: "Oh spare us the mock indignation. Yes, it's disgusting and cruel – but so is just about every other form of animal slaughter."
SB1967: "As if people who eat meat could care less how the animals are killed. It's a vile industry however they die."

massie: "tbh it doesnt really make a difference to me because infact it tastes much nicer than 'normal' meat because its not full of rubbish or water but 100% pure"
Of course, these are interspersed with an unpleasant degree of xenophobia, misinformation and gratuitous Muslim-bashing, but anti-Islamophobic comments are not as few and far between as you'd imagine. Reading the comments attached to other supposedly outrageous stories left a similar impression: a right-wing majority, certainly, but a much wider range of opinions overall, many that seemed entirely reasonable.
My foray into Sun-land made me realise that when I see "OUTRAGE…" splashed in that bold font, I tend to assume that across the country swarms of Sun or Mail readers are frantically jumping up and down on their living room carpets, swearing, fuming and pushing their blood pressure to aneurysm levels. Yes, the writers are on a never-ending quest to sell stories through scandal and hyperbole, if this is anything to go by then it's far from all of the readership who actually take it to heart. Could it be rather the blanket labelling of the Sun's target market as an informationally challenged, uncritical and continually outraged bunch that is itself an uninformed stereotype?
The thought does little to dispel my loathing for the tabloids, but it does restore my faith in humanity a little.
Corin Faife is a writer and activist. His 'Modern Times' column appears every Tuesday.
1 Comment
Leave a Reply