Music London streets, a capella
French singer-songwriter June Caravel spent an entire year making a video, 'London Song', in which (almost) every word in the lyrics is the name of a London street. In an exclusive article, she explains.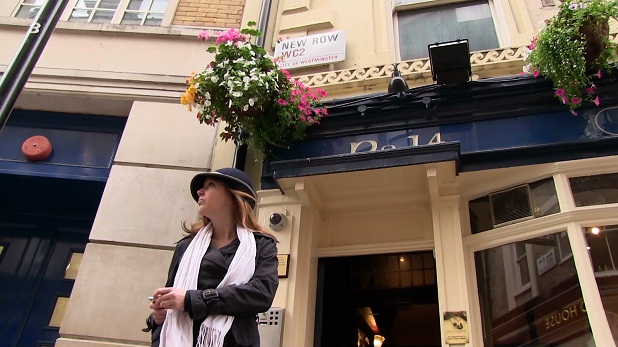 By June Caravel
French singer-songwriter June Caravel spent a whole year making a video, 'London Song', in which (almost) every word in the lyrics is the name of a London street. In an exclusive article, she explains why and how.
There's a good chance that Londoners watching 'London Song', my recently released video, may recognise some well-known Capital landmarks, or possibly their very own local street. Here's why: almost every word in my song is the name of a London street, a project that, all in all, took a whole year to complete.
I was inspired to write the song back in 2010, when cycling around Hammersmith. I stopped at the corner of Down Place and Bridge Avenue when the chorus popped into my head. I recorded it on my dictaphone, then, on my way back, on seeing Dalling Road…Dalling road, Darling Road!!! (you get the idea,) I had the bridge.
It was at that moment that the idea of writing an entire song made up of London street names was born. At first, I had no idea whether I could complete the feat whilst, at the same time, maintaining a modicum of lyrical coherence, but once I opted for a more eerie direction for the lyrics, the pieces of the puzzle all came together.
I really couldn't have written the song without The Collins London Essential Street Atlas or Google Maps. I tried several methods. I would usually look at the map itself and pick street names within a particular neighbourhood. That's how the words Mermaid, Paris Garden, Pilgrimage, Pepper, Mint and Tennis ended up in the same verse, they're all in Southwark.
I also tried to read the entire list of street names alphabetically and pick the words that I felt were funny or interesting. I don't know how many streets London has so I ended up picking sections at random, hence "There's a Violet Viking in View" at the end of the song.
Eventually, I opted for writing the song organically, as a coherent whole, constantly checking back to see if a corresponding street name existed. What if it didn't? Simple: Synonyms!
Of course, I had to go around checking whether the actual street signs existed. Coming from France where signs dot every street corner, I was always fascinated by the seemingly optional (not to say arbitrary) nature of street signage in London. I had to chance some of them as they weren't visible on the (usually omniscient) Google Maps Street View. For instance, my cameraman found the street sign for 'Batman Close' in the remotest, most unexpected corner, covered with leaves and thus pretty much invisible.
Writing the lyrics was one thing. Composing and arranging the song was a different paire de manche, altogether. The song is done entirely a capella, relatively uncharted territory for me, which means you really have to come up with melodies for every part. This took some time to arrange before the recording in June 2011.
Shooting the video, with the help of three friends, took six days in total, editing about as long. At one point, a resident at Down Place wandered nearby during filming: he had never seen a camera crew in the nine years he's been living there. Suspicious about our enthusiasm for the otherwise generic brick wall behind us, he took a picture of us, presumably as evidence of a clearly momentous event.
I'm now hoping to do another edit of the video with actual Londoners in it. So I'm calling out on everyone to get involved in London Song edit 2. Just send me a picture of yourself in front of a street sign featured in the video by November 30th, 2011 (you'll get a complimentary mp3, and may even win a copy of the glorious The Times Atlas of London!).
After the recent riots, I thought it would be wonderful to pay tribute to the London and to Londoners, who are truly wonderful people and passionate about their city. I hope it makes others smile, which reminds me: there is certainly no shortage of funny street names in this city, which is just as well!
June Caravel is a French singer-songwriter and scriptwriter who has been living in London since 2009. She is also the lead singer of the band My Car Is Black, an all female rock combo.
The A Capella Sessions EP, due to be released on 9th January 2012, can be pre-ordered here.
1 Comment
Leave a Reply