Special Report | Don't Ignore Palestine's Hunger Strikers
Earlier this year, hundreds of Palestinian prisoners took part in the biggest mass hunger strike in history, protesting Israel's illegal policy of administrative detention. Patrick O. Strickland reports from the West Bank on how Israel has reneged on the deal that ended the protest, and how current hunger strikes continue despite a total blackout in Western media.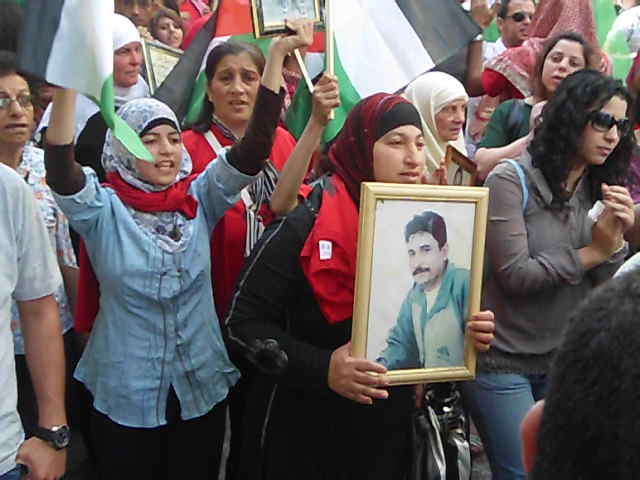 Relatives attend a protest in solidarity with hunger striking prisoners, Ramallah, April 2012. (Photo: Patrick O. Strickland)
RAMALLAH: Last spring Khader Adnan and Hana Shalabi, two Palestinian activists held as administrative detainees in Israeli prisons, launched lengthy hunger strikes that captured international attention. Shortly after, over 2,000 prisoners followed their leads and launched a mass hunger strike that forced Israel to cave into many of their demands. The ensuing media quiet, however, made it possible for Israel to renege on most of its end of the bargains.
At least five Palestinians are on hunger strike in Israeli military prisons, and Israeli forces are fresh from an illegal raid on their main supporter in civil society, Addameer Prisoner Support Network, an extremely vocal organisation and contributor to the human rights discourse surrounding Israel and Palestine.
Outside of Palestinian outlets there has been virtual silence on the plight of the five hunger strikers. This indifference once again signals that Israel, despite its supporters' ceaseless claims to the contrary, is immune from meaningful criticism in the mainstream Western media.
At the time of writing (19-12-2012) Ayman Shawarna has not eaten for 171 days, Samir Al-Issawi for 140, according to Addameer. The remaining three continue to climb in the double digits. In the last month two mass one-day hunger strikes were staged in solidarity, each of which drew the participation of thousands of fellow prisoners.
Neither the New York Times nor the Washington Post, to name two mainstream American news providers, has bothered to report on the prisoner crisis. In fact, Israeli daily Haaretz, often touted as the country's most "liberal" publication, has not published a single news brief about it. Indeed, as an Addameer representative told me earlier this month, "Where else in the world would this not be considered a major human rights crisis?"
In this way, it is not Israel alone that stands between Palestinian prisoners and their basic human rights; major corporate news sites run article after article suggesting that Israelis live under a constant state of siege. Indeed, in his last editorial, the widely-read NY Times columnist Thomas Friedman asked, "If you appreciate that Israel lives in a neighborhood where there is no mercy for the weak, how should we expect Israel to act?"
It goes without saying that this astounding bias is even more abundant in Israeli media. During Israel's latest 8-day military assault on the embattled Gaza Strip, as Israeli military rained rockets across the 365 square kilometre cage and killed over 100 civilians, the Jerusalem Post, published an article lamenting the anxiety that rocket sirens caused Israeli pets: one owner's dog, it read, "has particularly been affected by the alarms and explosions, perpetually crying and sleeping only in the family's bed, as well as needing medicine to calm her nerves."
Palestine coverage instead opts to place an endless emphasis on Hamas and the Palestinian Authority, which, again, works solely in Israel's favour.
Firstly, flooding the media with the often vitriolic statements of the Hamas leadership, coupled alongside reference to Israel as "the Jewish state" and penning in the rhetoric of security, helps cultivate a popular perception of Israel as an embattled people struggling to preserve both its supposedly democratic character and its very existence. In this way, Israel is not presented as an expansionist colonial-settler state continually dispossessing Palestinians of their lands and entrenching the institutions of occupation; rather, in the public eye it becomes a nation-state like any other that is unfairly singled out by extremists and militants.
Secondly, by tirelessly covering the diplomatic efforts of the Western-backed Palestinian Authority, readers are led to believe that the PA and the international community are marching hand-in-hand towards an inevitable Palestinian state. But not only is the present Ramallah-based regime, under the leadership of President Mahmoud Abbas and Prime Minister Salam Fayyad, an undemocratic entity imposed on Palestinians by Western governments and Israel after a fair election overwhelmingly preferred Hamas; it has become an Israeli client to which Israeli "security" and occupation violence are outsourced.
Both take place at the expense of those Palestinians conducting a genuinely grassroots struggle against decades of occupation, enforced exile, and ethnic cleansing. This movement has never been limited to armed struggle: in recent years Palestine has produced an immense campaign of strikes, marches, freedom rides, sit-ins, and economic, academic, and cultural boycotts.
Nonetheless, Western media outlets have largely neglected to cover such forms of resistance.
As Palestinian spoken word poet Rafeef Ziadah put it:
Our Spring in Palestine is born in a prison cell
Our Spring in Palestine is born shackled to a hospital bed
Our Spring in Palestine is born with an administrative order against it.
But, our Spring in Palestine blossoms even in hunger
Though most commentators have speculated that Palestinians have been immune to the "Arab Spring", hunger-striking prisoners are at the forefront of their long struggle for self-determination. It is another dark spot on the West's moral record that their empty stomachs have gone unreported this long.
See also:
Comment | Richard Falk: Palestine's hunger strikers have created a Gandhian moment
Editorial | Khader Adnan: His dignity. Our shame.
1 Comment
Leave a Reply