Politics | Hundreds turn out for London protest in support of Moazzam Begg
On Sunday, several hundred people gathered outside the Home Office in London in solidarity with human rights campaigner Moazzam Begg following his "politicised" arrest on terror charges last week. Amna Khan reports.
By Amna Khan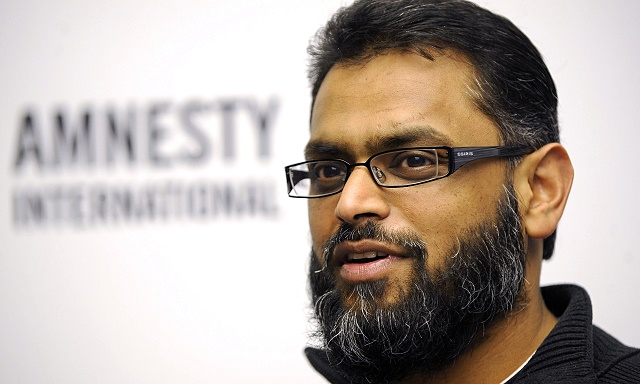 The protest was held and organised by Cage, an independent advocacy organisation working to empower communities impacted by the war on terror. The organisation highlights and campaigns against state policies, striving for a world free from oppression and injustice. The protest was aimed at raising awareness around the systemic intimidation of the Muslim community today, including the criminalisation of humanitarian activities and the silencing of dissent.
Moazzam Begg is a British citizen of Pakistani descent who spent nearly 3 years incarcerated in Guantanamo Bay. He was never charged with any offence and returned to the UK in 2005. Last Tuesday, Begg was arrested at his home and charged with terrorism offences related to his travels to Syria in 2012. Begg has denied the charges against him of "providing terrorist training" and of "funding terrorism overseas". In his own words:
"I am certain that the only reason I am being continually harassed – something that began long before any visit to Syria – is because Cageprisoners and I are at the forefront of investigations and assertions based on hard evidence that British governments, past and present, have been wilfully complicit in torture."
Cageprisoners's media officer, Cerie Bullivant, noted: "Moazzam has been very open about his international travel and his objectives, including importantly exposing British complicity in rendition and torture. …[T]he timing [of his arrest] coincides with the planned release of a CAGE report on Syria and a major news piece that was due to be televised soon."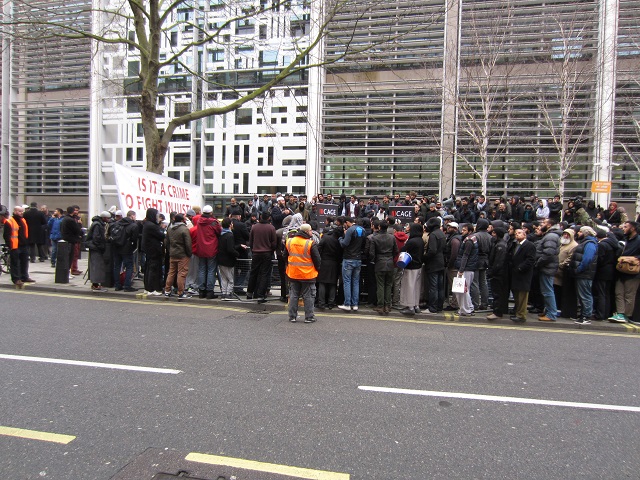 At Sunday's protest, many scholars, academics and human rights activists took to the stage and delivered passionate speeches in support of Moazzam Begg. Many of the speakers shared their own personal accounts of Moazzam and how he has been working very hard fighting against oppression and injustice. There was certainly a strong sense of unity and oneness amongst the crowd, a feeling that, regardless of age, sex, colour or religion, people must stand united and advocate justice for all British citizens.
The protest heard from Victoria Brittain, a writer and journalist (and the co-author of Moazzam Begg's Guantanamo memoir, Enemy Combatant) who has written extensively about the victims of the war on terror in her book Shawdow Lives The Forgotten Women of the War On Terror.  She spoke about the intimidation and victimisation of many of the younger protesters:
"I think that the most important thing we can do to honour Moazzam is to retain optimism and dignity and to not feel intimidated. I noticed there are a lot of people here today, particularly younger people who do feel intimidated. They do feel that they are somehow victimised, and I think that Moazzam's work around the world and here in the UK, has been to tell everybody that standing up for justice is what we all have to do and sometimes it comes with a heavy price, as it has for him. But we have to do it and doing it as a community and in groups I think will make people feel positive and less intimidated."
The echoing themes of the protest highlighted that this is not just about the release of Moazzam Begg, but that the people want to see justice prevailing for all British citizens. Our real impetus in defending Moazzam is thus to defend justice, if he goes down it goes down with him.
Leave a Reply